Chinese Tourists' Westward Wanderlust: How China's Booming Outbound Tourism Is Changing The Global Travel Industry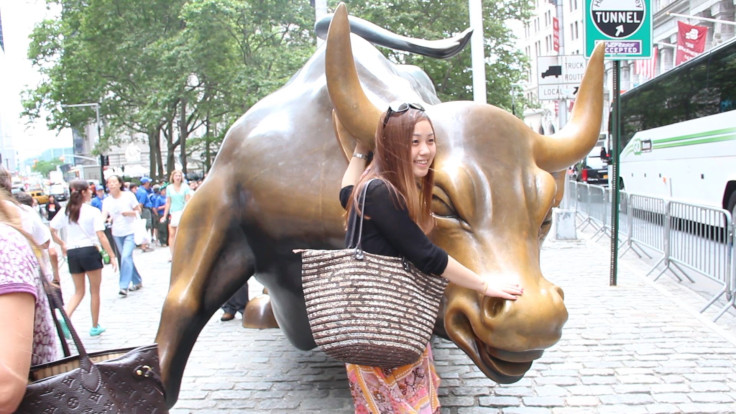 Even on a drizzly overcast day in downtown Manhattan, crowds of smiling Chinese tourists snapped photographs of their friends and family next to the "Charging Bull," a three-and-a-half-ton bronze landmark sculpture in New York's Financial District.
Each time the crowds began to thin, another Chinese group descended on the sculpture. A long line snaked down the block. Shiny patches on the bull's surface clearly indicated the spots tourists most like to touch, including the haunches and gigantic testicles. The "Charging Bull" is famous in China and replicated in several places, including Shanghai's own financial district. Noticeably missing from the Shanghai version, however, are the bull's disinguishing male features.
Among those waiting to touch, photograph or be photographed with the famous installment recently were You Songlin and his family. Traveling with his wife and son and a large tour group of fellow Chinese tourists, the first-time visitor to New York explained why he wanted to see what might appear to be a random local sight. "I heard about the Wall Street bull before, as well as Wall Street and Manhattan," You said as he stood in the plaza in Bowling Green Park with the requisite camera hanging around his neck. "I've learned about it while in school, and I read the financial magazines. Then there was 9/11, I heard about the Twin Towers [of the World Trade Center] being destroyed, and it left a deep impression on me."
Now, years later, You was making his first visit to the U.S., fulfilling a dream to personally see what he had once only observed or heard about via news media. (See "What Chinese Tourists Think Of New York City.")
The Chinese Are Coming, The Chinese Are Coming!
Workers in the Financial District are often bemused (and perhaps a little confused) by the hordes of tourists who flock to the very active area in summer. What, really, do these tourists expect to see of the mechanizations of global finance? Why is the bull worthy of a pilgrimage? And, more recently: What is up with all those Chinese faces that increasingly show up in the meandering crowds?
Clues can be found in a global economy that is altering the flow of expendable income in China, yet remains both inscrutable and intriguing to many who are in its throes. Chinese tourists now present a rapidly expanding demographic: People who for the first time have the funds and the freedom to explore the world on their own -- and where they go, and why, illustrate the changing dynamics of the world as well as the vagaries of millions of previously unexplored personal interests.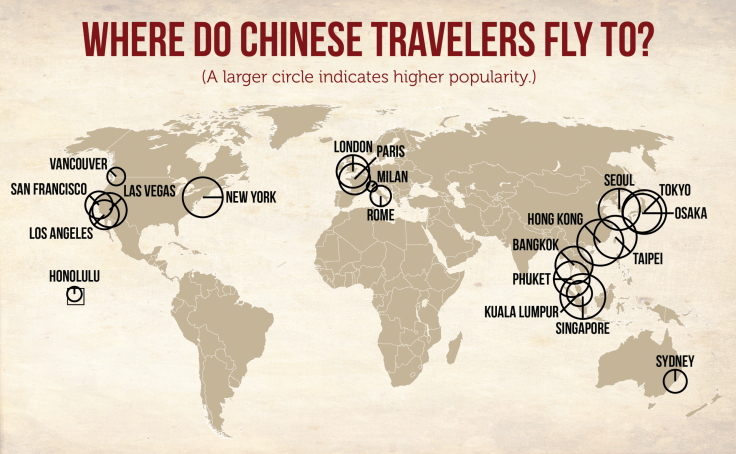 Click here for the full infographic.
China has been a dominant force in global growth during the past three decades, and that fact has begun to manifest itself in new ways in recent years. As the country adjusts to its role as an economic and political power worldwide, the tourism industry is beginning to understand the profound impact Chinese travelers are having, in numbers that are hard to ignore.
According to estimates of the China Outbound Tourism Research Institute, China is slated to become the world's largest outbound tourist market, with a projected 90 million people expected to be traveling overseas by the year's end. In addition, Chinese tourists have surpassed Americans and Germans in terms of expenditures, spending a record-breaking $102 billion last year.
Eye-Opening Economic Growth
With a population of 1.3 billion, relaxed travel restrictions and growing prosperity translating into more disposable income for average people, China seems destined to assume a greater role in global tourism. Between 2000 and 2010, its economy tripled in size, eventually ousting Japan as the world's second-largest economy after the U.S. -- and No. 2 isn't far behind No. 1. When the global recession hit and economic growth dropped dramatically in several powerful countries, China continued to grow. While tourists elsewhere reined in their travels, China's tourists mirrored their economy's breakneck growth, increasing the number of their trips about eightfold from 10 million per annum in the early 2000s to more than 80 million last year, with projections of 100 million-plus by 2020.
The booming economy, mixed with an exponential rise in the number of millionaires and a rapidly expanding middle class, has ignited a desire among the Chinese population to explore. That, coupled with increased exposure to foreign culture through books, movies and even news media, has helped spur interest in seeing what the world outside China has to offer.
Foreign governments have picked up on the travel trend and done their part to improve experiences for Chinese jet-setters, in part by cooperating with Chinese officials in establishing bilateral tourism programs based on Approved Destination Status, or ADS, which makes booking trips and obtaining travel visas easier and safer. According to the China National Tourism Administration, 140 countries and regions had been granted ADS as of late 2011. In addition, the signing of a document with the lofty (and wordy) title "Memorandum of Understanding between China and the US to Facilitate Outbound Tourist Group Travel from China to the United States" played a big role in opening the floodgates of promotional tourism between the two nations.
Aaron Huang, a New York tour guide with Puma Travel, a company that exclusively deals with Chinese tourists, has been a guide for a little more than three years. He's noticed that increased expendable incomes among the middle class and government policies have helped keep demand high in his business. "Everyone's got money in their pockets -- free money, extra money. So they can [afford to] come to the U.S. to visit, want to know this country," Huang told the International Business Times. "[B]efore, like 10 years ago, the visa was really hard [to get] ... but, right now, the American government is open," Huang said of the fluctuation in Chinese tourists over the past decade.
Marketing To Millions
Local and state governments are also hoping to cash in on the multibillion-dollar industry and have begun tailoring their pitches to the growing Chinese audience. Visit California, a state tourism body, is pulling out all the stops to woo Chinese tourists. China is currently California's No. 1 overseas tourism market by spending, and the state invests $1.6 million annually in China-targeted marketing. After the Beijing 2008 Olympic Games, the tourism group even opened two offices in China, in Beijing and Shanghai, to build momentum for California tourism. And it has embraced China's love of social media, particularly the nation's most popular platform, the Twitterlike service called Weibo. The group has been aided in this effort by a Chinese actress, Gao Yuanyuan, who has been hired as California's brand ambassador and promoted the state's sights via her Weibo account, which has 20 million followers. She also has shared the screen with other famous Chinese entertainers such as Jackie Chan.
Visit California is also sponsoring the China Ready program, an educational initiative to help the state's hotels, industry partners and local attractions properly accommodate the needs of Chinese tourists and better understand their visitors. China Ready events, drawing businesses from all over the state, allow participants to attend panels and discussions led by guest speakers and advisers who are able to educate industry leaders about Chinese-specific cultural sensitivities. "The Chinese have preferences that a lot of the business are not accustomed to from other markets," observed Dan Mishell, director of research at Visit California. "So, things as simple as wanting to have tea bags in their hotel rooms to learning how to be culturally sensitive are part of the program."
The language barrier began as the main hurdle for Chinese tourists visiting the U.S. Now, several landmarks provide Chinese-translated material, and are even hiring Mandarin-trained personnel to assist with the overwhelming numbers of tourists. "A lot of businesses in California are now employing a person who can speak Mandarin so they can communicate directly with the travelers," Mishell said.
And it all seems to be working. Visit California has reported the state has almost one-half the market share of Chinese travel to the U.S., at 47.5 percent, and that the Chinese travelers are spending about $1.5 billion a year in the state.
The Anatomy Of A Chinese Tourist
Chinese tourists -- like tourists from other countries -- aren't interested only in photos of famous sites. They also want souvenirs, including merchandise that may not be available to them back home. According to China Daily, Chinese travelers accounted for 62 percent of all luxury goods purchased in Europe in 2011, and several European destinations, particularly in France and Italy, have become extremely popular because of the brands associated with luxury-goods companies such as the privately held Chanel S.A., Gucci Group N.V. (OTCMKTS:GUCG) and LVMH Moet Hennessy Louis Vuitton SA (EPA:MC).
In the U.S., New York's famed shopping row Fifth Avenue, lined with many European luxury-brand outlets, has also been able to capitalize on China's shopping habit. During the Chinese New Year holiday, a popular travel period in China, the high-end department store Bergdorf Goodman -- a unit of privately held Neiman Marcus Inc. -- employed additional personnel on the sales floor equipped with Mandarin-language skills and specially decorated exhibits as a way of welcoming Chinese tourists. According to the World Luxury Association, 75 percent of Chinese tourists purchase more than three luxury items when traveling abroad, including jewelry, watches and other fashion items such as leather goods.
Looking Forward
Although Chinese tourists generally travel in packs, with sun umbrellas and shopping bags, their travel patterns, tastes and standards are expected to evolve from mass-planned tours to niche travel.
"As Chinese travelers become more experienced, the demand for interest-specific and in-depth experiences rather than the basic sightseeing and shopping will increase," a report by Chinavia, a Scandinavian pilot project centered on Chinese tourists, concluded. According to the study, the first-time traveler is less likely to look for specialized tours, compared with second- and third-time travelers, who tend to look into experiential vacations, such as skiing in Canada or golfing in New Zealand.
Vacations to destinations in the U.S. -- including Los Angeles, New York, Boston and Las Vegas -- are not only broadening the horizons of Chinese tourists but also benefiting the U.S. economy, in which the travel and tourism industry is becoming a crucial component. According to a report by the Bureau of Economic Analysis, the U.S. travel and tourism industry is one the fastest-growing sectors of the economy.
But for tourists like You Song, it's all about exploring, experiencing and consuming in a new world -- a world that was denied to generations of Chinese until recent years. And many hope to go beyond that, to use their visits to scope out educational opportunities for their children.
"My child is with us," You said. "I wanted him to see the world outside China. It's also a possibility to send him to school in the States." The family has plans to travel to other areas of the East Coast, including Boston, which is known for its high concentration of colleges, as well as the West Coast.
The latter sentiment was shared by many of the tourists crowded around the "Charging Bull." Although college tours were not the dominant purpose of the visit, most children from 10 to 17 had plans to look at universities during the visit. Unsurprisingly, topping the list of popular schools were Harvard University and the Massachusetts Institute of Technology.
Whether in America for educational opportunites or just to take pictures of bronze bulls they had heard of back home, Chinese travelers are becoming more exposed to the U.S. and other countries that were once considered faraway -- and they don't plan on stopping.
"We've been all over Europe already, and Canada, too. We've been to Washington, Boston, Philadelphia also, and now New York," tourist Wu Koutian said. "And we're still going West!"
FOR FREE to continue reading
✔️ Unlock the full content of International Business Times UK for free
offer available for a limited time only
✔️ Easily manage your Newsletters subscriptions and save your favourite articles
✔️ No payment method required
Already have an account?
Log in
© Copyright IBTimes 2023. All rights reserved.