Chip Shortage Forces GM To Cut Production At Silverado, Sierra Truck Plant
GM (GM) is the latest automaker to temporarily close one of its plants as the global chip shortage continues to hamper vehicle production.
The automaker will shut down its Ft. Wayne, Indiana, truck plant for two weeks in April due to the lack of semiconductor chips, which has been a supply challenge for the auto industry since late 2020, the Associated Press reported.
The plant, which produces the Chevy Silverado and GMC Sierra light-duty pickup trucks, will close from April 4 to 11, impacting more than 4,000 auto workers, according to the AP. The plant was previously running three shifts per day.
The chip shortage has hampered automakers around the globe as they have been forced to reduce production capacity or produce vehicles without certain features due to the lack of the chip.
GM said back in November that it would stop offering the Chevy Colorado, Blazer, and Silverado, GMC Canyon, Terrain, and Sierra with heated and ventilated seats as standard or optional equipment in addition to heated steering wheels on some models because of the chip shortage.
With the closure of the Ft. Wayne, Indiana plant, GM said, according to Reuters, "There is still uncertainty and unpredictability in the semiconductor supply base, and we are actively working with our suppliers to mitigate potential issues moving forward."
The company has kept its focus on producing its pickup trucks and SUVs as those are its most profitable vehicles, with most of its chip supplies sent to factories that produce those vehicles, the AP said.
Compounding the issue for the auto industry is the pressure of rare metal disruption, including neon, cobalt, nickel, and palladium, as the Russia-Ukraine conflict continues.
Auto experts have predicted that the chip disruption will ease in the second half of 2022 but may not return to normal supply levels until at least 2023.
As of Friday at 12:34 p.m. ET, shares of GM were trading at $43.78, down 57 cents, or 1.29%.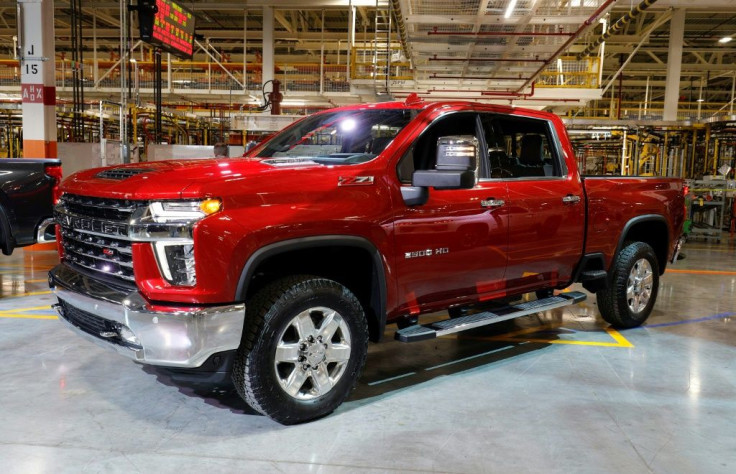 © Copyright IBTimes 2023. All rights reserved.