Chipotle's Food Safety Woes Serve Up Opportunity For Popular Burrito Chain's Competitors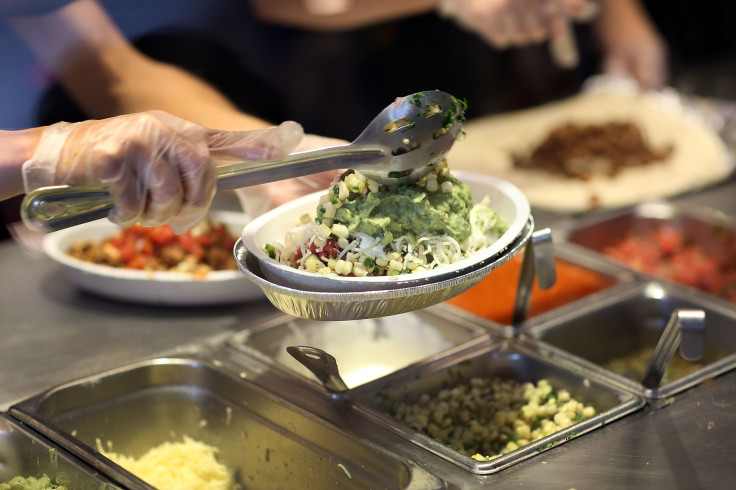 Over the past six months, customers have fled Chipotle as the popular burrito chain has struggled to overcome a string of food safety outbreaks. Industry experts and multiple reports suggest Chipotle's national and regional competitors have benefited widely from the fallout.
At least some displaced customers have dined at fast casual or fast-food competitors. However, others seem to be avoiding Mexican-themed quick-service restaurants in a "halo effect," that has stifled traffic to the most obvious substitutes, such as Qdoba Mexican Eats or Moe's Southwest Grill.
Chipotle's food safety woes began with a salmonella outbreak last fall that sickened 64 people in Minnesota, followed by two E. coli outbreaks across 14 states in October and November. Separately, the nauseating norovirus struck more than 200 customers in Boston and Simi Valley, California. On Monday, the U.S. Centers for Disease Control and Prevention concluded its investigation into the E. coli outbreaks but failed to determine a source, leaving customers to wonder where and how the contamination first occurred.
During the outbreaks, Chipotle's stock price and sales plunged. On Monday, a research firm called NPD group, showed total customer visits dropped 5 percent in the last quarter of 2015. December was Chipotle's worst month yet, with restaurants suffering a 30 percent sales drop compared to last year, according to its most recent quarterly report posted Tuesday.
So who is winning all those wary customers? Keith Siegner, UBS restaurant analyst, says there hasn't been a clear champion. But much of Chipotle's lost traffic has spread to fast casual restaurants like Panera Bread.
Bob Derrington, restaurant analyst at Telsey Advisory Group, agrees that Panera stands to benefit most from customers seeking higher-quality ingredients. But he says Chipotle's customers are seeking alternatives broadly across the industry.
"When you lose 30 percent of your customer base in December, they're going everywhere," Derrington says. "Some are just not dining out, some are going to Panera and some are going to McDonald's."
NPD group notes "no particular outlet or chain is the clear winner of the chain's visit largesse" and that the benefits were felt broadly across large fast-food companies, such as Burger King, McDonald's, Chick-fil-A and Wendy's.
Chipotle Mexican Grill Inc. (CMG) Stock Price - 1 Year | FindTheCompany
Nick Setyan, restaurant analyst at Wedbush Securities, suggests other fast casual burrito chains, including Moe's Southwest Grill and Qdoba Mexican Eats, could be the biggest winners. Chipotle itself acknowledged in its last annual report that many of its strongest competitors emulate its own successful build-your-own-burrito model.
Chipotle's issues come at a particularly good time for Qdoba, which operates 661 restaurants in 47 states, making it the second-largest fast casual Mexican restaurant chain in the U.S. The company is redesigning its restaurants and uniforms and debuting a logo that features a brand new name: Qdoba Mexican Eats, to replace Qdoba Mexican Grill.
"As customers go away from Chipotle for even a short period of time and there's some trial with new restaurants, particularly Qdoba and Panera, I think some of those guys are in a better place to capture those customers," Setyan says.
However, there's an important caveat: Siegner says Chipotle's "food with integrity" campaign has lifted customers' perception of Mexican cuisine in a "halo effect" that has long benefited competitors such as Qdoba and Moe's. But now, he warns that customers may still associate and avoid all three. Qdoba executives told investors in December that they haven't seen any increase in business that they believe could be attributed to Chipotle.
2015 E.coli Cases Linked to Chipotle | HealthGrove
Still, Setyan thinks some customers did switch to Qdoba and estimates that they will drive a 1 to 3 percent increase in Qdoba's sales in the most recent quarter. He also expects another 1 to 3 percent increase thanks to the company's recent invention of a popular new item called Knockout Tacos. Qdoba's latest financial results were reported at the start of Chipotle's troubles.
Derrington is impressed by Qdoba's sleek new look and says it will make them a more serious contender for burrito fans, even after Chipotle recovers from its crisis. "It's a dramatically redefined restaurant," he says. "If in fact that's a snapshot of Qdoba's future, that's pretty interesting."
Qdoba had shown respectable growth relative to Chipotle even before the food safety crisis took hold. For Qdoba's last fiscal year, the chain reported same store sales growth of 8.3 percent, driven largely by a new pricing structure. Chipotle, which showed an impressive 16.8 percent growth in same store sales for 2014, had already slowed to 2.6 percent in the quarter that ended just before the E. coli and norovirus outbreaks took hold.
Privately held Moe's Southwest Grill opened its 600th restaurant last spring as part of an "aggressive expansion," according to a press release. Most Moe's locations are in the southeast U.S., which was not affected by Chipotle's outbreaks. Still, Moe's Southwest Grill President Bruce Schroder says he hasn't seen a sudden wave of Chipotle transfers and thinks customers' concerns about food safety have unfairly spilled into his chain.
"We have remained pretty steady; but to be honest, we haven't experienced upticks that you might expect from customers trading over, which leads us to believe consumer perception may be that this is something affecting our entire category," he says. The company, owned by Focus Brands and based in Atlanta, recently launched a buy-one-get-one promotion to invite new customers.
Back at Chipotle, executives are scrambling to recover sales and win back fans. "While this has been an unfortunate set of events I'm confident that Chipotle will emerge as a stronger company than we were before our recent challenges," Chipotle Chairman and co-CEO Steve Ells told investors on Tuesday.
The company says it has dramatically improved its food handling procedures and will host an all-staff meeting on February 8 to brief employees on the importance of food safety. Chipotle will spend $50 million on advertising and promotions in just the first quarter of 2016 to welcome back customers.
FOR FREE to continue reading
✔️ Unlock the full content of International Business Times UK for free
offer available for a limited time only
✔️ Easily manage your Newsletters subscriptions and save your favourite articles
✔️ No payment method required
Already have an account?
Log in
© Copyright IBTimes 2023. All rights reserved.