Chris Paul, Klay Thompson Battling Injuries As Warriors, Rockets Compete To Make NBA Finals
When Stephen Curry missed two of his 13 three-pointers to start the Western Conference Finals, there was speculation that the point guard was being affected by the sprained MCL that forced him to miss nearly six weeks. As the Houston Rockets and Golden State Warriors get ready to play in Game 5 of their series, Curry appears to be healthier than other star players on both teams.
Rockets point guard Chris Paul has been dealing with a foot injury since Game 2. Warriors shooting guard Klay Thompson suffered a knee strain Tuesday night in Game 4. Both players went to the bench when they initially got hurt, but neither is expected to miss any time in this series.
Paul appeared to tweak his ankle in the fourth quarter of Houston's Game 2 victory. The point guard struggled in Game 3 four days later, missing 11 of his 16 shot attempts for just 13 points. Following the Rockets' historic 126-85 loss, Paul rebounded and helped Houston tie up the series at 2-2.
"Chris felt better. His foot felt better," Rockets head coach D'Antoni told reporters after Houston's 95-92 Game 4 victory at Oracle Arena. "I called him after Game 3, and he said, 'Coach, I'm telling you, if I can get my foot right, we'll beat these guys.' Lo and behold, he got his foot right. And just like I said, we're back to even."
Paul was the catalyst for Houston's improbable road win Tuesday night. Finishing the contest with 27 points on 10-20 shooting, the point guard scored seven points during the Rockets' fourth-quarter comeback. He also sparked a run in the second quarter, scoring 12 points in a short span to give Houston the halftime lead.
When asked about his foot, Paul admitted that days of treatment allowed it to feel much better for Game 4, though he indicated it's not 100 percent.
"It's about as good as it's going to be right now," Paul said. "But for us, it's not about that. It's about going out there and getting stops and making big plays when we needed to."
While Houston's star guard came up big in the fourth quarter, Golden State's Splash Brothers struggled. Curry missed seven of his eight shot attempts after looking unstoppable in the third quarter. Thompson didn't score in the final quarter and missed a shot to tie the game with two seconds remaining.
Thompson scored just 10 points in Game 4, going four-of-13 from the field. The shooting guard went to the locker room in the second quarter when he injured his knee, though it wasn't long before he returned to the floor.
Thompson expects to be ready for Game 5 Thursday night in Houston. He played 39 minutes in Game 4.
After scoring 28 points on 18 shots, Thompson has struggled mightily against Houston. The All-Star has posted more field-goal attempts than points in each of the last three contests, shooting just 34.2 percent.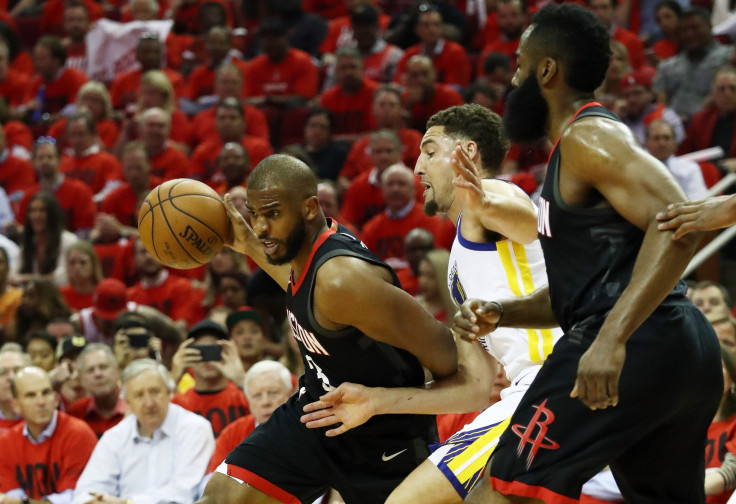 © Copyright IBTimes 2023. All rights reserved.