Christine Quinn Attack Ad: NYC Mayoral Candidate Slammed By Fellow Progressives, Asks Time Warner Cable And Cablevision To Yank TV Commercial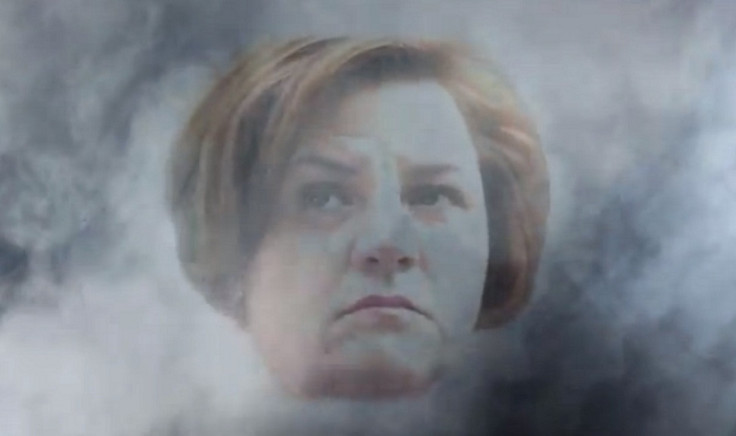 New York City mayoral hopeful Christine Quinn thinks a new attack ad is blowing smoke.
The City Council speaker and early frontrunner is putting pressure on Cablevision and Time Warner Cable (NYSE:TWC) to yank an anti-Quinn commercial paid for by the progressive super PAC "New York City Is Not for Sale," Josh Robin of NY1 reported on Monday.
The commercial, "The Smoke-Filled Room," began airing on Monday and essentially calls the Democratic candidate a flip-flopping opportunist who has spent her political career making backroom deals at the expense of her own party values. Images of Quinn's head appear shrouded in plumes of smoke as an ominous-sounding narrator takes Quinn to task for her stance on term limits, living-wage legislation and other issues.
"All that's clear when the smoke lifts is her political ambition," the narrator says. "When Christine Quinn doesn't support our values, how can you support her for mayor?"
According to NY1, which is owned by Time Warner Cable, Quinn's lawyer fired off a letter to cable companies shortly after the ad aired, calling on executives to pull the spot and threatening that the companies could lose their licenses. The letter -- posted in full by Erin Durkin of the New York Daily News -- claims the commercial deceptively portrays Quinn as being on the "wrong side" of living-wage legislation when in fact she led the City Council in passing such legislation.
In an interview with NY1, Quinn said, "You're not allowed to just put up false ads that have incorrect information about candidates. That's simply not what you're allowed to do in an election context, and we're making that clear to the news media out there."
Durkin reports, meanwhile, that Time Warner Cable responded to Quinn's lawyer by saying the commercial is under review.
"We have asked the NYC is Not for Sale group to provide, without delay, substantiation supporting the claims contained in the spot as they have the right and opportunity to defend your client's challenge and request to take their spot off the air," the Time Warner letter said. "The NYC is Not for Sale spot will continue to air as ordered unless we arrive at a decision to act otherwise."
According to its website, NYC is Not for Sale was co-founded by Steve Nislick, president of the animal-rights group NYCLASS; Arthur Cheliotes, president of trade union CWA Local 1180; and Wendy Neu, a political activist; and the group was created "with a specific goal of ensuring mayoral candidate Quinn is not elected."
NYCLASS wants to do away with carriage horses in the city. As International Business Times reported last month, Quinn has been at odds with NYCLASS for some time over what it says is her poor record on animal protection. New York City Public Advocate Bill de Blasio, also a Democratic mayoral candidate, has said publicly that he supports alternatives to horse-drawn carriages.
The anti-Quinn attack ad is the first TV commercial of the New York City mayoral campaign. Check out the full 30-second spot below.
Got a news tip? Send me an email. Follow me on Twitter: @christopherzara
© Copyright IBTimes 2022. All rights reserved.
FOLLOW MORE IBT NEWS ON THE BELOW CHANNELS