Christmas In Aleppo: Photos, Video Show Christians Celebrate Assad Victory In Syria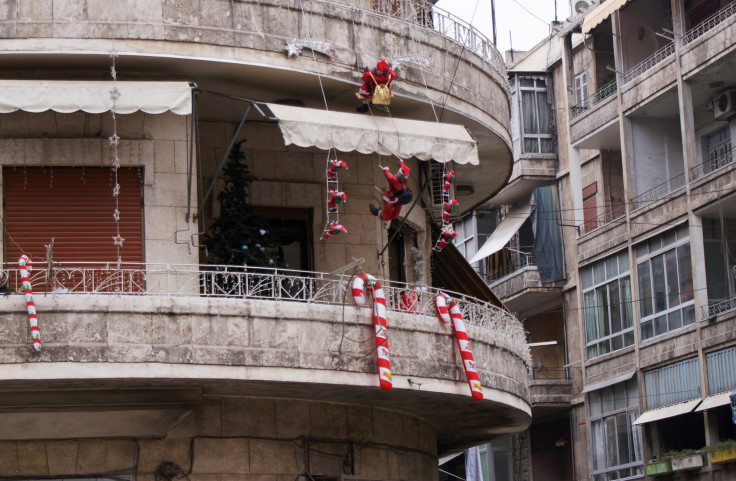 Social media users this week shared pictures and videos of Christians celebrating Christmas festivities in western Aleppo for the first time in at least four years. The images emerged as the Syrian army asserted control over the city's last rebel-held eastern pockets.
Accounts, many of which belonged to supporters of Syrian President Bashar Assad, posted photographs and footage of Syrians lighting Christmas trees in a square in western Aleppo. Celebrations were reportedly interrupted by a bombing in the city's Aziziyeh neighborhood. However, no injuries were reported. After years of conflict and continued reports of violence on both sides following an uneasy ceasefire reached between the Syrian government and the opposition, Christians expressed their hope that this holiday season would bring stability.
"Despite the harsh conditions the people of Aleppo are enduring, [for both] Christians and Muslims, Christmas brings the hope for peace that we have missed for the last five years. Although many churches have been destroyed in Aleppo, the bells of the other churches will sound and hope they bring us peace," Jesuit Father Ziad Hilal told Christian Post. "Christians are preparing themselves for Christmas in their churches and associations, along with our compatriots in Syria, so that the sound of violence overcomes the deep sound of faith that each believer enjoys — God is with us."
Hilal also pointed out the massive humanitarian efforts to evacuate civilians and remaining militants from eastern Aleppo, a former rebel stronghold mostly taken last week by the Syrian army, backed by Russian airstrikes and Iran-backed paramilitary groups. Rebels have accused the military and its allies of killing up to 30,000 civilians to take back the city. Meanwhile, the Syrian government has blamed rebels for holding up to 100,000 civilians hostage since taking the city in 2012.
Syrians can be seen singing, dancing and waving flags, with some depicting Assad and his Lebanese paramilitary ally Hezbollah. Others dressed as Santa Claus and marched in brass bands. Critics of the Syrian government responded to the footage by criticizing reported human rights abuses and war crimes committed by forces loyal to Assad. The celebrations distracted from the destruction, bloodshed and humanitarian crisis as the took control over the city's eastern neighborhoods, they said.
The Christian community in Syria, about 400,000 people or around 10 percent of the population, is one of the oldest in the world. They have experienced heightened levels of persecution since the beginning of the conflict, especially in territory held by the Islamic State group, also known as ISIS, and in rebel-held areas from jihadist groups such as Jabhat Fatah Al Sham and Ahrar Al Sham. Syrian and Russian airstrikes have also damaged Christian sites, leading some within the minority group to criticize the tactics of the Syrian military and its allies.
© Copyright IBTimes 2022. All rights reserved.
FOLLOW MORE IBT NEWS ON THE BELOW CHANNELS