Chuck Hagel Resigning 'Under Pressure': Defense Secretary Stepping Down As Obama Refocuses National Security Efforts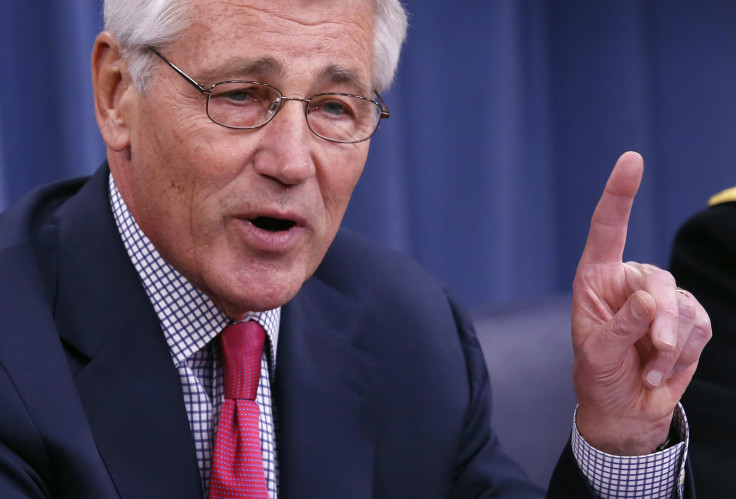 Defense Secretary Chuck Hagel is resigning "under pressure" from the Obama administration amid criticisms about his department's response to the rise of the ISIS militant group now known as the Islamic State and the Ebola crisis, the New York Times reported Monday. The defense secretary handed in his resignation to Obama on Monday, according to Politico.
Hagel, a 68-year-old former GOP senator from Nebraska and Vietnam War veteran, was appointed as Obama's third defense secretary in 2013. At the time, the draw-down of American troops in Afghanistan was the most pressing issue for the Defense Department. ISIS wasn't on the radar for most Americans back then, and Hagel created tension within the administration for going off-message about the group that controls large swaths of territory in Iraq and Syria, according to the Times. While Obama likened ISIS to a junior varsity basketball team, Hagel called the group an "imminent threat to every interest that we have." Indecision about the strategy for dealing with ISIS was a problem for the administration.
The shifting priorities was one reason given for Obama asking Hagel to step down, an anonymous administration official told the Times. "The next couple of years will demand a different kind of focus," they said.
The Ebola virus -- and its implications for national security -- is another issue that factored into the decision. The source said the administration wants a defense secretary with a different skill set than Hagel's to handle the situation.
Hagel, the only Republican in the national security portion of Obama's cabinet, was the one who reached out to Obama about stepping down, according to the Times. The move was in the works for about two weeks, with the president asking Hagel to step down on Friday, the paper reported.
© Copyright IBTimes 2023. All rights reserved.
FOLLOW MORE IBT NEWS ON THE BELOW CHANNELS