Citibike Fine Print: Watch The Clock, Bring Your Own Helmet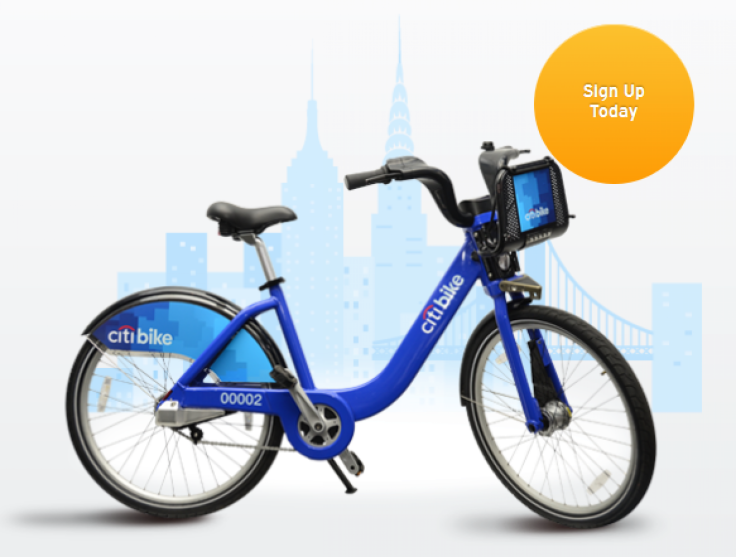 New York City's new bike-sharing program rolled out for members over Memorial Day Weekend, and anyone else looking to try out the Citibike service will be able to put the rubber to the road starting this coming Sunday, June 2. But keep these tips in mind before you ride:

1) Check your bank balance before you bike: Citibike puts a $101 security hold on your credit or debit card for each daily or weekly pass you purchase. You can put a max of two passes on each card.

2) Check your watch: Late fees can add up. Annual members ($95 per year – though for residents of public housing and certain community credit unions, the annual fee is reduced to $60) can ride for 45 minutes without additional charges; daily ($9.95) and weekly ($25) passes get you 30 minutes of uninterrupted pedaling. If you're half an hour late, that'll be an extra $2.50 for annual members and an extra $4 for daily and weekly passholders; returning a bike an hour late will incur a $9 fee for annual members and $13 for non-members. After that, every additional 30 minutes beyond an hour is an extra $9 for annual members and an extra $12 for people with 24-hour or 7-day passes.

So, for example, if you're on a day pass and you lose track of time, two hours of tardiness would cause you to rack up $37 in late fees on top of your $9.95 day pass.

For longer and more leisurely cycling trips around the Big Apple, you're better off renting from a bike shop.

3) Do not lose the bike! If you don't bring the bike back within 24 hours, you'll be charged $1,000.

4) Cycle safely on the street: Citibike and Bike New York are offering classes that include tips on riding in New York City streets. Classes come with a free 24-hour pass to Citibike.
Bike New York and the New York City Department of Transportation also offer guides to cycling in the street and outline the rules of the road.
5) Bring your own helmet: Citibike doesn't offer bike helmets at its kiosks, but the DOT frequently gives away helmets at events around the city.

There's no question a helmet will help reduce your likelihood of injury if you fall on your head, but there's still some debate over whether they should be required. A 2006 British Medical Journal paper reviewed data from places across the globe that ramped up compulsory helmet use, mainly from Canada and Australia.

The study found that while cyclists who choose to wear helmets tend to have fewer head injuries than helmetless cyclists, enforced helmet laws discourage cycling but do not seem to significantly affect head injury rates. Study author D.L. Robinson suggests any number of reasons for this result: Cyclists wearing helmets may take more risks thanks to the perceived benefit of the helmet, or people might not be wearing their helmets correctly.

The injury data further shows that helmeted riders involved in crashes with cars tended to have much less serious injuries over their entire bodies – not just at the head – suggesting that they tend to be involved in lower-impact crashes. So it might just be that people who wear helmets tend to be safer cyclists overall.
To cut down on cyclist injuries and fatalities, "governments should focus on factors such as speeding, [drunk] driving, failure to obey road rules, poor road design, and cycling without lights at night," Robinson wrote.
Most studies find that injury rates among cyclists trend downward when there are more bicycles on the road, so the influx of blue branded bikes may end up making the city's streets safer for all cyclists.
© Copyright IBTimes 2023. All rights reserved.
FOLLOW MORE IBT NEWS ON THE BELOW CHANNELS