Is Ciudad Juárez Safe? After Years Of Brutal Killings, Pope Francis Visit Comes Amid Border Town Campaign To Win Back Tourists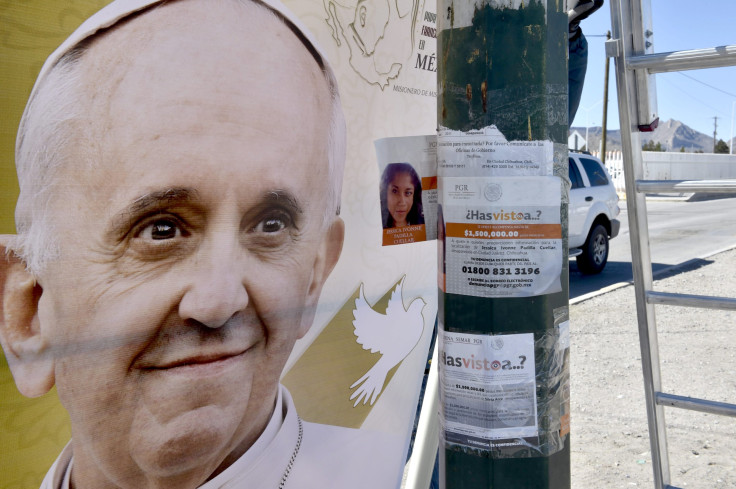 CIUDAD JUÁREZ, Mexico — They killed him in his home in front of his children. At the funeral days later, they returned for further revenge, opening fire and killing the man's oldest daughter as friends and family watched in horror.
These are Nicolas Chavez's memories of his hometown of Ciudad Juárez, Mexico, where his uncle and cousin were fatally shot after encounters with local criminals. Chavez's brother eventually met the same end when he was killed in a restaurant.
But times apparently have changed in Juárez. After years of violence and a reputation as the drug war capital of the world, residents here are determined to start a new chapter and win back business investors and tourists who abandoned the city amid waves of brutal killings. The declining homicide rate and coats of new paint splashed across downtown have done little so far to convince Americans and Mexicans that the battle-hardened border city on the U.S.' southern edge is safe to visit or do business in. With Pope Francis arriving in Juárez Wednesday after a tour of Mexico where he called for an end to narco-related violence, this city known as the birthplace of the Margarita cocktail is anxious to use its moment in the international spotlight to persuade the world that it is once again open for business.
"The people live a little more in peace," said Chavez, 54, owner of the Casa de Huespedes Del Pinar, a downtown hotel that, like many businesses here, depends on border tourism. "People come here with so much fear even though all that is behind us."
Where the Rio Grande meets the arid landscape of the Chihuahuan Desert, more than 3.6 million passenger vehicles and 300,000 commercial vehicles cross into Juárez from El Paso, Texas, every year. The impoverished border town is the largest city in the state of Chihuahua and the fifth-largest city in all of Mexico. The combined metropolitan area of Ciudad Juárez and El Paso is home to more than 2.6 million people and is the second-largest community on the U.S.–Mexico border. Last year, the Ciudad Juárez crossing was the No. 1 border port for passenger traffic, with nearly 5.3 million visitors in September 2015.
City Hall launched in April its "Juárez is Waiting for You" tourism campaign with the help of a $400 million federal program to strengthen social structures and civil society. At the same time, international manufacturers have built up their presence in Juárez. Lear, a Michigan-based Fortune 500 company that builds automotive seating and electrical distribution systems, provides jobs to more than 14,300 people in Juárez. Delphi, a British manufacturer of automotive parts, employs 12,500 locals. In all, 40,000 jobs were created last year in a city of 1.3 million residents, said Omar Saucedo Macías, director general of Desarrollo Económico de Ciudad Juárez, a nonprofit association made up of local business leaders aimed at improving the quality of the city.
"It's a major transformation," said Saucedo Macías. "In the past, Juárez would bring people from southern Mexico to meet production goals, but last year when we saw this increase in production, we started competing with central Mexico for workers. A lot of the people who moved to El Paso to escape the violence are moving back to Juárez. It is a city transformed."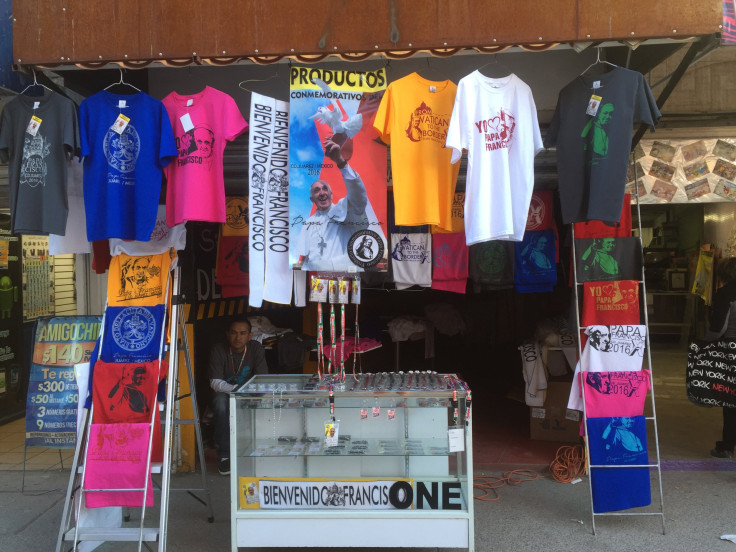 Amid the heralded recovery, Juárez has erected billboards across the city proclaiming "Juárez es amor," or "Juárez is love." The murder rate has dropped by nearly 40 percent in two years and a handful of new restaurants, stores and entertainment venues across the city offer the promise of a bright future. The makeover will culminate in Pope Francis' visit Wednesday, when he will celebrate Mass for tens of thousands after a six-day tour of Mexico.
For many, however, Juárez remains the violent city where hundreds of young women disappeared and battling drug cartels slaughtered thousands of residents caught in the crossfire. Starting in 2007, nearly 11,000 people were killed, sending residents and businesses fleeing as border crossings from Texas dropped.
Visitors willing to overlook the U.S. State Department's travel warning last month urging Americans to "exercise caution in traveling to the business and shopping districts in the northeast section of Juárez and its major industrial parks" will find a grittier alternative to the sun-kissed vacations foreigners often seek in Mexico. With the Hueco Mountains towering over the city from the east, crumbling facades and abandoned buildings dot the downtown area where vagrants demand spare change from strolling tourists. In a small park adjacent to the Cathedral of Our Lady of Guadalupe, the heart of Juárez with its stunning neoclassical towers, homeless men sleep on dirty benches. Images of missing girls remain plastered across street posts and military police armed with machine guns patrol the area.
A handful of museums focusing on local geography and history are the main attractions recommended by tourism officials. The nearby sprawling market area bursts with activity, with vendors selling fresh corn slathered with chili powder, margarine and cheese, taquerias booming bachata music and vegetable stands offering piles of ripe avocados, peppers, onions and tomatoes. A few blocks away, near a border checkpoint into El Paso, the historic Kentucky Club, the birthplace of the margarita cocktail, welcomes locals and Americans alike with hearty libations and a mirrored mahogany bar built during Prohibition.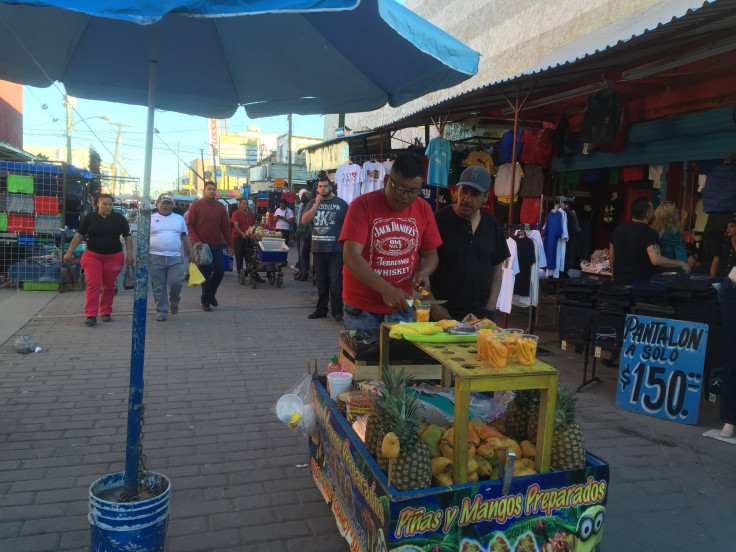 Many Juárez residents tell of a changed city. Ezekiel Cruz, 24, was a teenager at the height of the city's murder crisis. He lived in fear of the cartels and local police officers, who would pat down his friends on the street and take their money. High unemployment drove local crime, and kidnappings for ransom, robberies and shakedowns of local businesses were part of everyday life.
"It was everything. If you looked at them bad, they would just kill you because of that. If there was a cartel person, you wouldn't want to go there," he said.
After federal authorities sent in droves of police to fight off the cartels, Cruz opened Motel Vic-Mar four miles from the El Paso border in a quiet area just outside downtown Juárez. In recent weeks, the hotel serving tourists from the U.S. and southern Mexico has boasted about the papal visit on its Facebook page. Cruz, who was raised Catholic, said he doesn't believe in the church, but has faith that God will protect him.
"Things have changed. The violence is still in the city but it's not as bad as it was some years ago," said Cruz, who spends his weekends dancing and drinking with Americans and Mexicans at local bars and nightclubs. "There are more small businesses that create attractions, like restaurants, bars."
Cruz recalled meeting up-and-coming Puerto Rican rapper Galante El Emperador at a recent party in El Paso and convincing him to visit Juárez. "It's dangerous there," Cruz said the rapper told him. When he finally persuaded him to cross the border, the men had a good time exploring the desert landscape and drinking local Mexican beers, Cruz said.
Cruz said he wants to ensure everyone enjoys Juárez. When his guests arrive, he picks them up at the airport or bus station so they feel safe. "People are afraid of this city. We stress security. We will take care of you once you arrive here," he said. "If you live here, you know where you can go and where you cannot go here."
Cruz is transparent about his motivations. "We live off of tourism. We live off of people who are coming from the United States to spend money here," he said.
For others, restoring Juárez's reputation is about creating a community locals can take pride in. Karen Alamo said local investors opened La Rodadora children's museum in downtown Juárez in 2013 because they wanted children to feel good about their city.
"There was no pride in the community," said Alamo, 35, executive director of the museum. "There's a lot of poverty in the city and this is an opportunity for the children to have inspiration toward a better future. We want to encourage children to stay in the school. We want them to fall in love with learning."
Alamo refused to leave her house with her small children during the height of the violence. "Everything was left abandoned because there was so much fear. You would walk down the streets and it looked like a ghost town with all the businesses closed," she said. "You were worried something would happen at the crosswalk on the street. Before that, there had only been violence in some areas."
Families can leave their homes and spend a few hours in the park these days. La Rodadora is now the third largest museum in Mexico, with more than 120 interactive exhibits, including a dinosaur dig soundscape where children can pretend to be paleontologists. About 15 percent of its visitors are foreign.
"We want to say, 'hey, we are here alive, we are here, we are working toward a better future,'" Alamo said.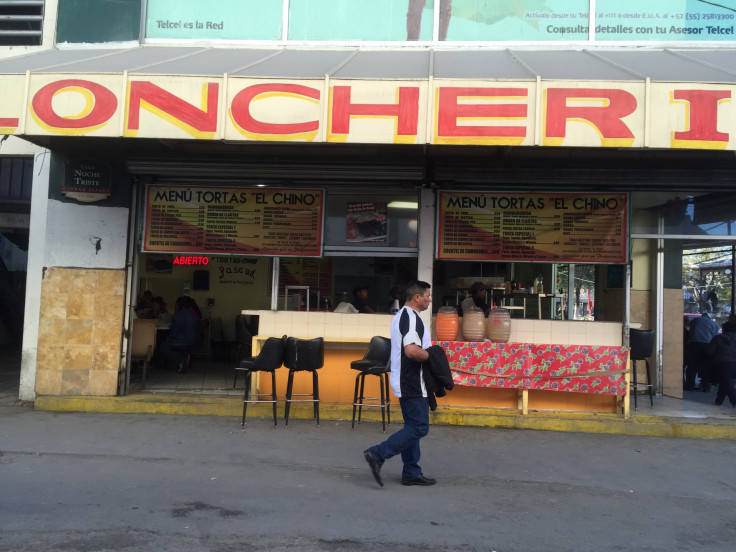 Juárez was never a place where you left your doors unlocked, but before the drug cartel war, residents walked around freely to buy spices and vegetables at the market and drink a cold Sol beer at the local taqueria. Americans arrived on weekends to visit upscale nightclubs, buy cheap Mexican goods and gorge on tacos. When the turf war between local narcos and the Sinaloa cartel began, the city was thrust into chaos.
"You couldn't go out to restaurants because they were killing people in restaurants," said Giovanna Barron, 32, who was born in El Paso but has spent most of her life in Juárez. "Many, many families fled to the U.S. or to other parts of Mexico. The ones that stayed, they weren't allowed to leave their home."
When Barron drove her two young children to school every morning in El Paso, she listened for the sound of gunfire. "You would have to tell them to duck when you were driving down the street and the shooting would start," she recalled. "I would take them to the school and go home and that's it."
Neighborhoods erected gates around clusters of homes to block the violence, but it was difficult to keep the drug war out.
"They would come to your house and have you at gunpoint," Barron recalled. "Whole neighborhoods got robbed. People would come home to ransacked homes."
Barron said she knew the drug war was coming to an end when the local newspaper began to publish fewer pictures of corpses left on the street.
"When the war was going on, you would always see grotesque, really grotesque, pictures of whatever had happened. It was horrible, horrible, and then afterwards when things started calming down, you wouldn't see that as much in the newspaper, and then you saw more people going out," she said. "There were hip restaurants that were booming and then later on you saw more discotheques. Little by little, it's getting better every day."
Her family business, the Hotel Montecarlo, located on a main thoroughfare known in English as the "Triumph of the Republic," stayed open during the violence by housing the many federal police who came to Juárez to shut down the drug cartels. When the police left, the hotel served visitors coming to take care of personal business at the local U.S. consulate, the largest consular operation in the world.
"You don't see a lot of people come for tourism yet," she said.
If tourists do return, Juárez wants to be ready. The city recently shut down a main street to encourage pedestrian walking downtown between the cathedral, local restaurants and area markets. Ahead of the papal visit, Juárez lined its main thoroughfares with new street lights and repaved its roads.
Pope Francis visiting Juárez is the best advertisement the city could wish for, Barron said. "I hope it's going to draw attention and just give a sense to visitors to come here," she said.
Not everyone has faith in the new Juárez. Chavez, still mourning the three family members killed during the drug wars, said the city has been revived by the manufacturing jobs and stronger police presence. But he doubts Juárez is on its way to becoming the next Cancún or Playa del Carmen, popular Mexican locales that draw international tourists looking to spend their vacation hours with a piña colada under the sun. The cultural and structural problems that allowed Juárez to become a drug haven in the first place still lurk around the edges, Chavez said.
"It's still Juárez," he said. "Corruption will keep Juárez from growing."
FOR FREE to continue reading
✔️ Unlock the full content of International Business Times UK for free
offer available for a limited time only
✔️ Easily manage your Newsletters subscriptions and save your favourite articles
✔️ No payment method required
Already have an account? Log in
© Copyright IBTimes 2023. All rights reserved.