Cleveland Browns' Super Bowl, AFC North Odds Improve With Deshaun Watson's Suspension
News that a judge has recommended that Deshaun Watson be suspended for six games in the 2022 NFL season has actually helped the Cleveland Browns' chances of winning a championship. There's been speculation that the quarterback might miss the entire year for accusations of sexual misconduct and assault, and the latest decision means that Watson could start the majority of Cleveland's games.
The Browns' odds of winning the AFC North improved from +275 to +230 at DraftKings Sportsbook, following Monday's announcement regarding Watson's suspension. Cleveland now has +2500 odds to win the Super Bowl, compared to its previous +3000 Super Bowl odds.
Watson could still be suspended for well north of six games. The league has three days to appeal the decision, and NFL Commissioner Roger Goodell ultimately makes the final call on Watson's suspension.
If Watson does only sit for six games, the Browns can potentially withstand his absence and finish the season in first place. Cleveland has one of the least challenging schedules in the league through the first six weeks of the season.
The Pittsburgh Steelers and New England Patriots are the only opponents on the Browns' schedule in the first six weeks who made last season's playoffs, and both teams were blown out on Wild-Card Weekend. The Browns kick off the 2022 campaign against the Carolina Panthers and New York Jets. They are projected to be among the NFL's worst teams after going a combined 9-25 in 2021.
The Browns play the Atlanta Falcons in Week 5. Atlanta has the lowest projected win total of any NFC team.
The Baltimore Ravens are slight AFC North favorites with +165 odds. The reigning AFC North champion Cincinnati Bengals have +210 odds to win the division again.
Cleveland is now one of 14 teams that has +2500 odds or better to win the Super Bowl. They are tied with the Bengals and the Philadelphia Eagles.
Backup quarterback Jacoby Brissett is set to be Cleveland's starting quarterback for the games that Watson misses. Brissett went 2-3 as the Miami Dolphins' starter in 2021, throwing for 1,283 yards, five touchdown passes and four interceptions. Brissett has a 14-23 record and an 83.0 passer rating for his career.
The Browns went 8-9 and missed the playoff last season. Baker Mayfield struggled at quarterback, playing most of the year with an injured shoulder that required offseason surgery.
In the 2020 season, Cleveland went 11-5 and won its first playoff game in 26 years.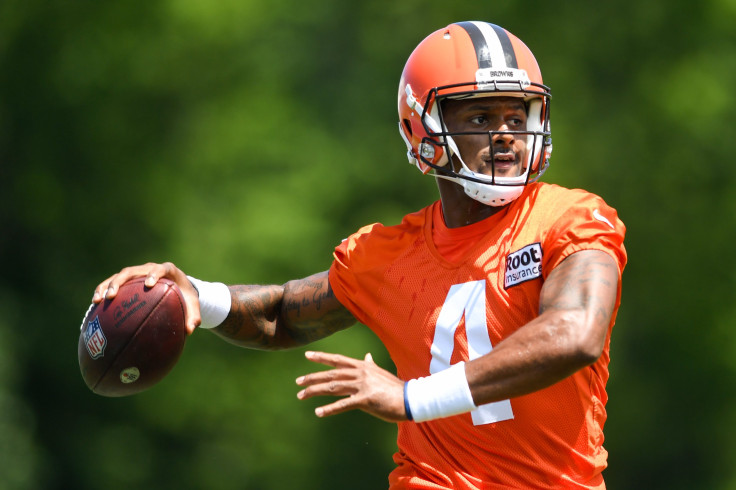 © Copyright IBTimes 2023. All rights reserved.