Clinton Pushes India To Cut Iran Oil Imports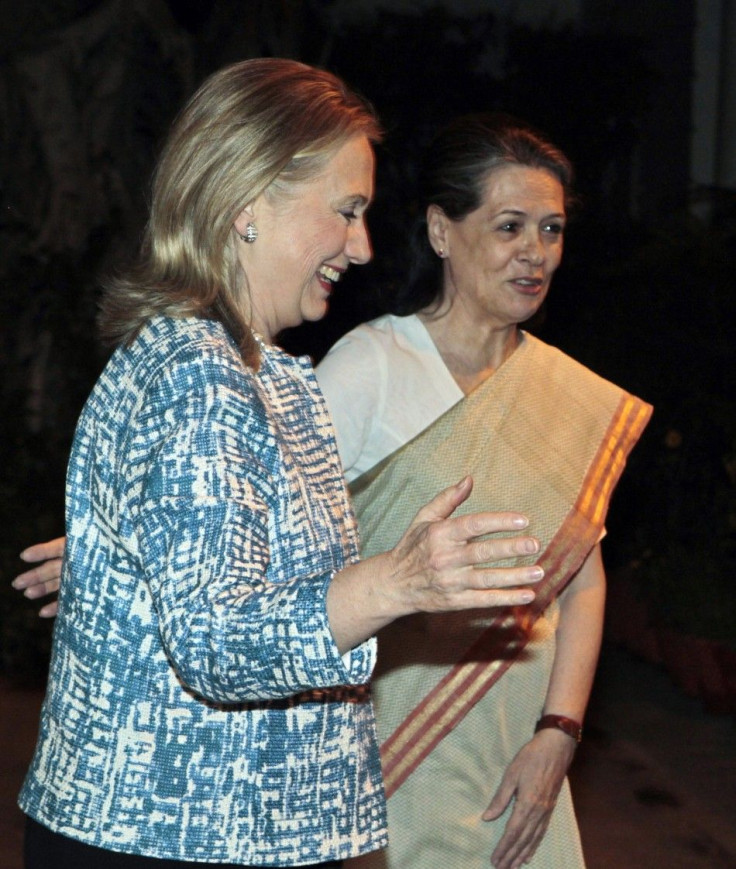 The U.S. is pushing India to cut its imports of Iranian oil. But even as Secretary of State Hillary Clinton arrived in Kolkata on Sunday to discuss the issue along with U.S.-India economic ties, a larger Iranian delegation was simultaneously travelling through New Delhi.
The stage appears to be set for a diplomatic tug of war.
Clinton told reporters on Sunday that India is certainly working towards lowering purchases of Iranian oil. We commend the steps they have taken thus far. We hope they will do even more.
Clinton pressed for India to make further cuts and to look elsewhere: We believe there is adequate supply of oil in the market place [in locations such] as Saudi Arabia.
India imported about $11 billion worth of oil in 2011 from Iran, the country's secondlargest source for oil after Saudi Arabia. In 2010 and 2011 India imported around 13 percent of its oil from Iran.
Representatives of the 56-member-strong Iranian delegation said that their trip coincided with the U.S. visit by chance. Observers believe that the trip is in response to an 80-member-strong Indian trade mission that went to Iran in March.
According to Western media, the Indian government may have already pushed companies to move towards a 15-20 percent reduction in Iranian oil imports, eager to avoid U.S. sanctions from being levied against its companies. Indian companies Mangalore Refinery and Petrochemicals Ltd. and Essar Oil together account for about three-fourths of all the oil their country imports from Iran. The former is a state-owned company while the latter is privately owned.
The U.S. has already given exemptions from sanctions to some European states and Japan, which have demonstrated significant reductions of imports from Iran. China, India, South Korea, Turkey, and South Africa have not yet been offered exemptions.
How successful the U.S. Secretary of State will ultimately be in persuading the Indian government to wean itself from Iranian oil remains to be seen. Iran is strategically important for India in more ways than just through its energy resources: it is a gateway for India to access other important regions. Iran serves as a geographic corridor for India to access Central Asia and Afghanistan; lucrative energy deals and pipelines for Central Asian oil and gas would need to be built through Iran to reach India, since they are unlikely to go through Pakistan or China.
As India's appetite for automobiles grow, the demand for gasoline has also pushed up the country's trade deficit. By the end of March 2012, its trade deficit had gone up more than 50 percent to $185 billion over the past year. India is now the world's fourth-largest importer and consumer of oil after the U.S., China, and Japan, according to the CIA World Factbook.
© Copyright IBTimes 2023. All rights reserved.