CNN GOP Debate: Carly Fiorina Attacks Hillary Clinton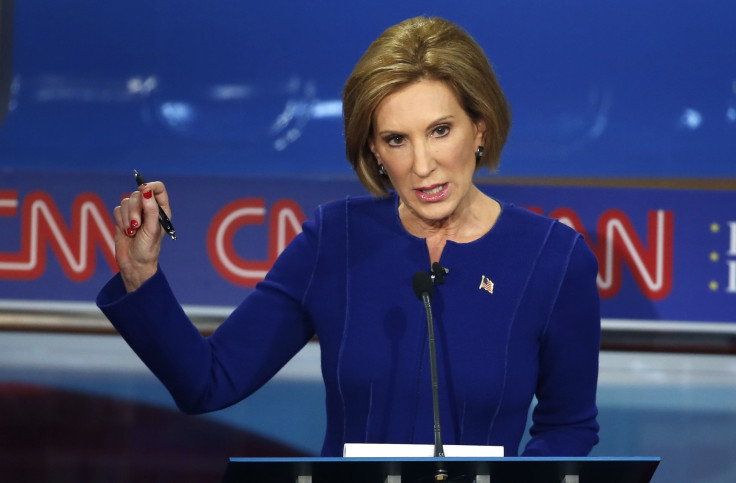 Former Hewlett-Packard CEO Carly Fiorina slammed Democratic front-runner Hillary Clinton's use of her private e-mail during her tenure as secretary of state Wednesday night during a Republican candidate debate hosted by CNN. Fiorina, whose debate performance has helped her stand out in a crowded field, blasted Clinton for lying about her e-mail server activity and Benghazi. In response to comments Clinton made about flying to over 200 countries, Fiorina said that flying all over the world was an activity and not an accomplishment.
New Jersey Gov. Chris Christie also fiercely attacked Clinton, saying that a federal prosecutor should investigate her Benghazi scandal, while Ohio Gov. John Kasich implemented a different strategy when asked about his chances of winning the presidential election. Kasich preferred to talk about his own economic policy and record, Vice reported.
"Don't worry about me and Hillary," said Kasich, who expressed confidence that he could beat Clinton in Ohio.
The prime-time Republican debate Wednesday evening included the top 11 GOP candidates. Along with Fiorina, Kasich and Christie, the other candidates were businessman Donald Trump, former Florida Gov. Jeb Bush, Wisconsin Gov. Scott Walker, retired neurosurgeon Ben Carson, U.S. Sen. Ted Cruz of Texas, U.S. Sen. Marco Rubio of Florida, former Arkansas Gov. Mike Huckabee and U.S. Sen. Rand Paul of Kentucky.
The debate was held at the Ronald Reagan Presidential Library in Simi Valley, California and was moderated by Jake Tapper, CNN's chief Washington correspondent, with Dana Bash, CNN's chief political correspondent, and conservative radio host Hugh Hewitt asking additional questions.
Trump is currently in the lead with 27 percent, according to a poll released Tuesday, with Carson coming in second with 23 percent. "A panic has set in on a number of campaigns. I'm expecting this next debate could more resemble roller derby than a debate," said John Weaver, an adviser to the Kasich campaign, the Washington Post reported.
The debate aired at 8 p.m. EST on Wednesday.
© Copyright IBTimes 2023. All rights reserved.