Coburn Breaks GOP Ranks; Geithner Ready to 'Cliff-Dive'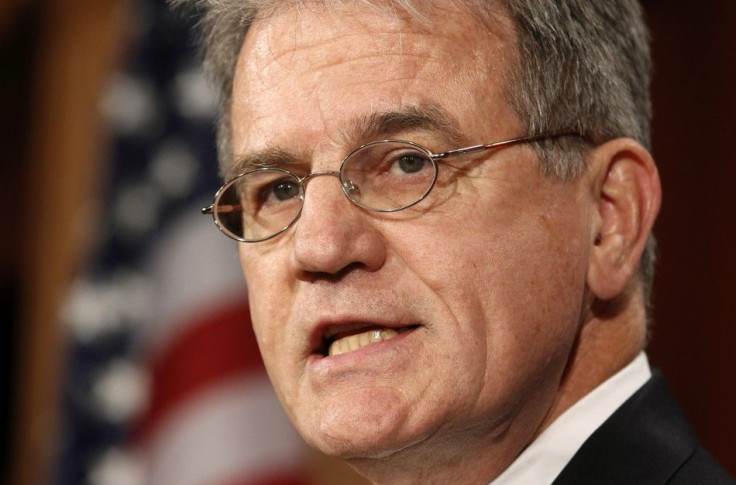 Sen. Tom Coburn of Oklahoma, a leading conservative and deficit hawk, became the latest Republican to break ranks Wednesday, saying he'd rather boost revenue by hiking tax rates, rather than by limiting deductions.
Later Wednesday, Treasury Secretary Timothy Geithner said that the administration was prepared to dive off the "fiscal cliff" if Republicans insist on not raising tax rates on the rich.
"Personally, I know we have to raise revenue; I don't really care which way we do it," Coburn said on MSNBC's "Morning Joe." "Actually, I would rather see the rates go up than do it the other way, because it gives us greater chance to reform the tax code and broaden the base in the future."
That puts Coburn at odds with the leaders of his party, who have insisted that a tax rate increase on the wealthy is a non-starter, the Los Angeles Times notes. On Monday, top House Republicans proposed a deficit reduction package that would bring in $800 billion in new revenue over 10 years through limiting deductions for top earners.
"I think they're arguing over semantics. $800 billion is $800 billion," Coburn said. He stressed that he was no fan of either approach, adding "it's still going to be a negative drag on the economy."
Democrats were quick to jump on his comments as a sign the GOP was wavering.
"Senator Coburn is an unquestioned conservative," said Sen. Charles E. Schumer, D-N.Y. "If he doesn't provide cover for the Republicans to finally shift on tax rates, I don't know who does."
Another Oklahoman, Rep. Tom Cole, has also strayed from the Republican hard line against rate increases. Last week, he urged his Republican colleagues in the House to join Democrats in extending the Bush tax cuts for all but the highest earners — and wrangle over the rest later.
Geithner was asked on CNBC: "When it comes to raising taxes on the wealthy, those making more than $250,000 — if Republicans do not agree to that, is the administration prepared to go over the fiscal cliff?"
"Oh, absolutely," the secretary replied. "There's no prospect in an agreement that doesn't involve the rates going up on the top 2 percent of the wealthiest."
"The size of the problem in some sense is so large it can't be solved without rates going up," Geithner said. "I think there's a broad recognition of that reality now."
It's the strongest statement to date from the Obama administration that they're willing to swallow the combination of spending cuts and tax increases that experts say could plunge the country back into recession, Politico noted.
Other Republicans seem to be wavering as well, signing a letter calling for exploration of "all options" on taxes and entitlement programs, a signal that some rank-and-file members are ready to bargain, Bloomberg reports.
One of the petition leaders, Rep. Mike Simpson of Idaho, says he could accept higher rates for married couples earning more than $500,000 a year, in exchange for an overhaul of spending on entitlements such as Medicare.
Separately, Rep. Kay Granger, R-Texas, is endorsing Cole's call to extend all tax cuts for middle-class earners as "just the right thing to do."
The letter's approximately 80 signers are half Republicans, half Democrats, Simpson spokeswoman Nikki Watts told Bloomberg News.
© Copyright IBTimes 2023. All rights reserved.