Coffee: Stimulating Price Shot On Brazil's Dry Weather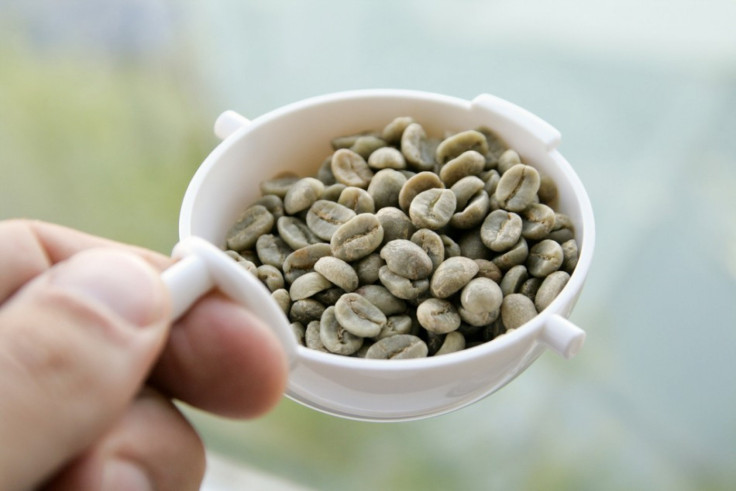 Arabica coffee beans staged their largest one-day percentage jump in eight years on Monday, driven by unexpectedly dry weather in Brazil, reports the Wall Street Journal.

Coffee prices in the $7 billion futures market rose 8.6 percent on Monday and hit $1.3595 per pound on the ICE futures U.S. exchange. That's the largest one-day percentage gain since September 2005 for that futures contract.

Reports of consistently dry weather in Brazil's Minas Gerais, a key coffee-rich region of Brazil, wrongfooted analysts, who'd expected a bumper harvest this year in line with the past two years. Estimates from commodities analysts ranged as high as 60 million bags of coffee for this year's harvest, though Brazil's government crop unit Conab forecasted a crop of 46.5 to 50.2 million bags.

Brazil is the world's largest producer of Arabica coffee beans, accounting for about a third of global coffee production, the USDA estimates. Coffee's other variety of bean, the Robusta, is produced heavily in Vietnam.

"There are really two things that move coffee: a drought and a freeze," Fain Shaffer, president of the commodities brokerage Infinity Trading Corp., told the Journal. "I wouldn't be surprised to see some really wild swings."

It was the hottest January on record for parts of southern and southeastern Brazil, according to Somar Meterologia. Rain may not fall in Minas Gerais until mid-February, after rainfall in January was 60 percent below usual levels in January.

It's unclear how long a rally will last, however. 2014's harvest is an "on year" for coffee harvests, which alternate between more productive and less productive "off years." Even in off years, Brazil's coffee harvest has recently hit records, thanks to dry and frosty weather in Minas Gerais.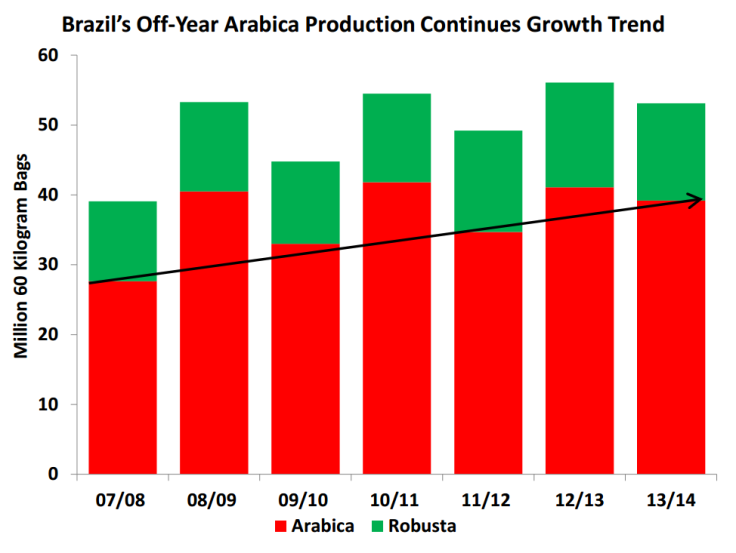 There's also an ongoing global surplus of coffee, which fueled a 23 percent drop in coffee prices in 2013. Colombia, another key coffee producer, also saw a strong start to its 2013-to-2014 harvest, according to a Societe Generale note from November.

"We maintain that [coffee supply] tightening will not be seen until at least the 2015/2016 marketing year, barring any significant drop in Central American coffee production due to leaf rust disease," Societe Generale said in that earlier note.

Analysts have watched Brazil's weather closely, eyeing forecasts for a hint on harvests, despite significant weather uncertainty recently. Societe Generale forecasts an average coffee price of $1.08 cents per pound in 2014, just below an average cost of production of $1.20 per pound. Stockpiles are estimated to end the harvest season at 16.3 million bags.

Production of Brazilian naturals, a form of Arabica bean, rose 19.3 percent in exporting countries from 2011 to 2012, according to the International Coffee Organization's latest market report. Global coffee exports were worth $15.4 billion in 2010, according to the group.

Robusta coffee traded in London also fared better, trading up to $1,896 per metric ton, according to Agrimoney. Coffee has jumped 24 percent since the start of 2014, heading toward the best start of a year since 1997, reported Bloomberg.
© Copyright IBTimes 2022. All rights reserved.
FOLLOW MORE IBT NEWS ON THE BELOW CHANNELS