Cold War Between US Airlines And Gulf Carriers Turns Hot At DC Conference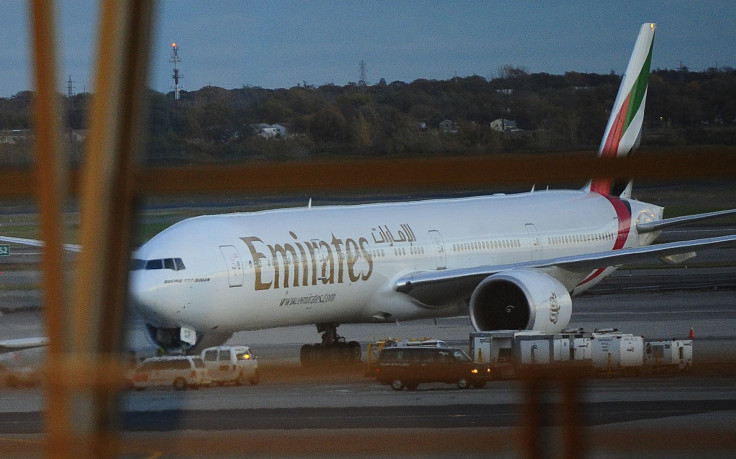 The three legacy U.S. airlines -- American, Delta and United -- have complained for years that their Persian Gulf rivals enjoy unfair advantages in the form of government subsidies, allowing Emirates, Etihad and Qatar Airways to steal market share by playing dirty. That rift has heated up in recent months, as American carriers launched a campaign urging the U.S. government to re-examine the terms of the Open Skies agreements with Gulf nations that allow airlines to decide where and when to fly without government restriction. On Tuesday, the mudslinging continued in person at a high-profile event in Washington attended by aviation industry bigwigs.
Executives from the world's airlines converged at the U.S. Chamber of Commerce Foundation's annual aviation summit to discuss the future of the industry, but the subject with the most buzz was the feud between the two airline factions.
American Airlines CEO Doug Parker didn't mince words in his address to conference attendees. "[Emirates, Etihad and Qatar Airways] are not just owned by their governments -- these airlines are arms of the state," he said. "Qatar and the UAE [United Arab Emirates] are violating the aviation trade agreements between the U.S. and those countries by providing enormous subsidies to Qatar Airways, Emirates Airline and Etihad Airways -- subsidies in amounts that are unprecedented in the history of international trade."
Parker went on to allege that the subsidies to Emirates, Qatar and Etihad, which have increased their combined passenger capacity by 1,500 percent since 2000, totaled more than $42 billion in the past decade alone. The airlines published a white paper last week detailing these allegations.
Parker added that the unfair competition posed by the Gulf carriers was a real threat to American jobs and the U.S. economy. Because Persian Gulf carriers can continue to flood international routes to the United States without having to "worry about a bottom line," he said, U.S. carriers would be forced to drop routes and cancel plans for expansion, resulting in lost jobs and revenue.
'An Impossible Task'
United Airlines CEO Jeff Smisek echoed Parker's sentiments, telling reporters at the conference, "We're not competing against airlines. We're competing against the treasuries of Gulf nations, and that's an impossible task."
But Etihad Airways CEO James Hogan argued in his address at the conference that Gulf carriers have won customers through superior service and a quality product, characterizing Etihad as a scrappy underdog that earned market share against all odds.
"As one of the newest national airlines anywhere in the world, we've had to create everything from scratch: every bit of product, every bit of our operations, every bit of our infrastructure," Hogan said. "Etihad is a David, a David who's been facing Goliaths since 2003, when we started."
According to Hogan, Etihad faced an uphill battle overcoming existing competition that had plenty of advantages of its own. "In many cases, those established airlines were gifted amazing infrastructure -- airports, terminals, slots, landing rights -- over decades," Hogan said. "To take them on, we've had to work harder and we've had to work smarter. That's called competition."
Addressing government support, Hogan argued that the UAE's government is a shareholder and investments in the airline are just good business, not subsidies. "Our shareholder, like any rational shareholder in the world, has made that commitment to us because it expects a return, and as it sees greater success from our business, it sees the opportunity for even greater returns in the future," he said.
Hogan added that his airline helps boost the U.S. economy through its relationships with many American businesses, such as Boeing. He cited Etihad's first Boeing 787 Dreamliner route to the United States, which started Sunday from Abu Dhabi to Washington, D.C. The aircraft is the second of 71 Dreamliners on order from Boeing, part of total orders of almost 120 aircraft worth more than $36 billion with the American manufacturer.
Emirates CEO Tim Clark was not at the conference -- but hosted his own concurrent webcast and news conference just blocks away at the National Press Club on Tuesday afternoon.
"The allegations are incorrect," Clark said, adding that the Gulf carriers would issue a line-by-line refutation of the paper published by U.S. airlines alleging the $42 billion subsidies, though he didn't specify details or provide a timeline for the rebuttal. Clark also suggested that U.S. carriers would owe Gulf airlines an apology once all the facts had come to light.
"At no point did we have any form of subsidy given to us either in-kind or cash or whatever," Clark said. "The requirements of the government of Dubai remain today … [that] there will be no support for the operation."
Fears Of An Oligarchy
While Etihad and Emirates made strong cases defending their positions, many speakers at the conference favored the U.S. industry stance. Lufthansa CEO Carsten Spohr, whose own German-based airline -- the largest in Europe by passengers carried -- has lost international market share to the Gulf carriers' expansion, warned that they could become an oligarchy that would destroy competition and eliminate consumer choice. Spohr said he was set to meet with U.S. government officials in an effort to support U.S. airlines in their fight.
U.S. Rep. Bill Shuster, R-Pa., chairman of the U.S. House Committee on Transportation and Infrastructure, also told the assembled audience that the allegations by U.S. airlines seemed valid and required deeper examination. "They're state-owned companies, and they're getting what we believe are infusions of cash, which is not fair," Shuster said.
But until government officials could examine the dispute, American Airlines CEO Parker told the audience that he and his counterparts at United and Delta have urged the U.S. government to freeze new U.S. routes by Middle East carriers until the government examines the complaint and a final decision is reached.
"We are simply asking for consultations on our Open Skies trade agreements with Qatar and the UAE based on the compelling evidence we have provided," Parker said. "If, in fact, the playing field really is level, those consultations will come to that conclusion. We just don't believe that will be the case."
FOR FREE to continue reading
✔️ Unlock the full content of International Business Times UK for free
offer available for a limited time only
✔️ Easily manage your Newsletters subscriptions and save your favourite articles
✔️ No payment method required
Already have an account? Log in
© Copyright IBTimes 2023. All rights reserved.