Colin Kaepernick Contract Details: Will San Francisco 49ers Cut Quarterback For Football Reasons After Anthem Protest?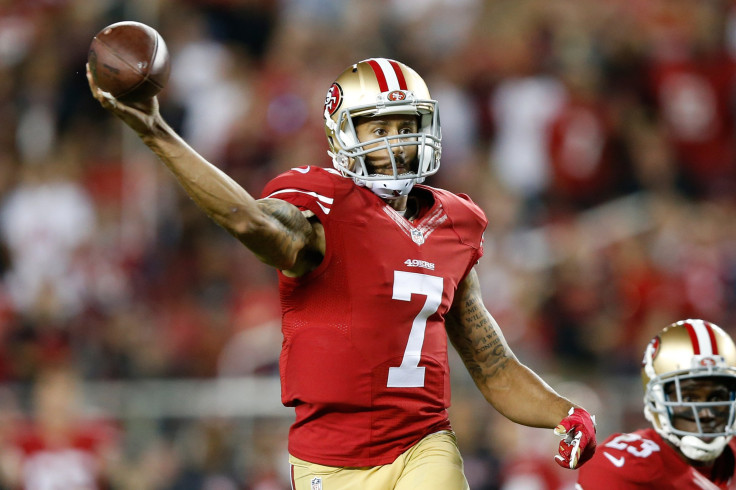 Following his decision to sit for the national anthem during the first three preseason games and stated plans to continue to do so, San Francisco 49ers quarterback Colin Kaepernick has ignited a national firestorm and debate just as the rebuilding franchise was hoping to turn a corner.
Kaepernick told reporters he won't stand or honor the flag of a country he feels oppresses blacks and people of color, a protest that has seen current stars like New Orleans quarterback Drew Brees and even former 49ers wide receiver Jerry Rice condemn Kaepernick's actions. But there's also been praise and support around the league. Even the 49ers, in a statement, said they support Kaepernick's right to sit for the anthem.
However, because of Kaepernick's declining production due to injuries and his expensive contract, the 28-year-old's future with the 49ers may have already been set well before his protest began.
San Francisco and Kaepernick agreed to a six-year, $114 million contract extension two years ago, and his salary for this season ($11.9 million) was already guaranteed after the 49ers opted not to cut him before April 1 this year. Still, the 49ers could release Kaepernick before Saturday afternoon's 53-man final roster deadline and save his $1.125 million roster bonus for making the team.
That's not a huge sum, but keeping Kaepernick runs the risk of another injury, which could result in a much heavier payout.
His recent injury history suggests he may not be able to compete for a full season. Kaepernick suffered a shoulder injury that required surgery last year, and in January he also underwent procedures on his right thumb and left knee. The wear and tear was evident last season, when Kaepernick appeared in only nine games, completing 59 percent of his passes for 1,615 yards, and six touchdowns to five interceptions. Kaepernick posted a career-low 78.5 passer rating and was eventually pulled in favor for Blaine Gabbert, who redeemed his career after three disappointing seasons as Jacksonville's first-round savior quarterback.
NFL injuries are quite common, but in the case of Kaepernick and the 49ers it's very risky and expensive. Should head coach Chip Kelly decide to keep Kaepernick as the second or third-string quarterback and he somehow gets into a game and endures a serious injury, the 49ers could then be on the hook for Kaepernick's $14.5 million salary in 2017 and another $5.2 million of his 2018 salary.
However, when Kaepernick signed the deal he reportedly took out an insurance policy that would hand the 49ers $20 million.
The chances of Kaepernick making 2016's roster, though, appear very slim. According to Yahoo, the team hasn't been pleased with Kaepernick's recovery and it hoped he would adapt quickly and reinvigorate his career under Kelly's quick-firing offense.
Unfortunately, the injuries limited Kaepernick in practice and training camp, resulting in only one appearance thus far in the preseason. He completed just two of his six pass attempts for 14 yards and rushed four times for 18 yards, and it now appears like Gabbert has the starting job with rookieJeff Driskel and former Minnesota Viking starter Christian Ponder as the primary backups.
© Copyright IBTimes 2023. All rights reserved.