Colin Kaepernick News: No Redskins Offer, Ready To Play For Any Franchise
The Washington Redskins desperately need a top quality quarterback after two of their starters, Alex Smith and Colt McCoy, were ruled out for the season with serious injuries. The former was sidelined about a month back, while the latter suffered a broken fibula during their Week 13 loss against the Philadelphia Eagles.
The Redskins stuck with Mark Sanchez, who was signed a backup when Smith got injured and signed Josh Johnson on Wednesday as a backup for the former. Sanchez had a game to forget on Sunday night as the Washington franchise was destroyed 40-16 by the New York Giants.
Meanwhile, according to Yahoo Sports, Colin Kaepernick is said to be ready and waiting if the Redskins are still interested with sources revealing that he is ready to play for any franchise that gives him a chance. The former San Francisco 49ers signal caller has been without a team since March 2017 when he opted out of his contract.
It is believed that Kaepernick is willing to play for the Redskins despite the franchise's owner Dan Snyder being one of the biggest critics of players kneeling during the national anthem to protest. The former NFL quarterback was one of the first players to start the trend in order to protest social injustice and racial inequality issues.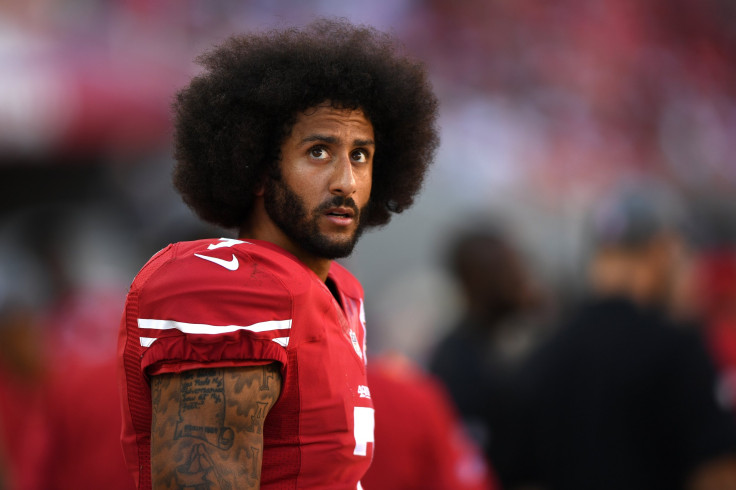 "He's a professional Super Bowl-caliber quarterback and in the best shape of his life and he would play if given the opportunity on any NFL team," a source close to Kaepernick was quoted as saying by Yahoo Sports.
The quarterback is said to be in peak physical condition despite not having played in the NFL for over a year with the source revealing that his conditioning and throwing regimen has not altered in the event of a sudden call-up.
Kaepernick's name was first on many people's lips when McCoy suffered the broken fibula last Monday, but Redskins coach Jay Gruden admitted at the time the former 49ers quarterback was not an option. He revealed the team considered Kaepernick but decided to go in another direction as too many changes would have to be made to accommodate him.
"He's been discussed (internally) but I think we will probably go in a different direction," Gruden said. "Had this been Week 1, maybe he would probably be a greater possibility but since it's week 13 with four games to go, in order to really utilize somebody like Colin Kaepernick's skill set, you're talking about a whole new group of formations and run concepts and all that good stuff."
However, both the sources close to the player have confirmed that the Redskins did not make an approach to Kaepernick with an offer a workout, stating: "No call for a job, no call for a tryout, no calls period – nothing."
Kaepernick, meanwhile, is in the final stages of his collusion case against the NFL which alleges that the league conspired to keep the quarterback out of the game after he began the kneeling during the national anthem trend, which was even criticized by the president of the United States Donald Trump.
© Copyright IBTimes 2023. All rights reserved.