College Football Preview 2012: Heisman Trophy Favorites; Barkley, Ball Lead Candidates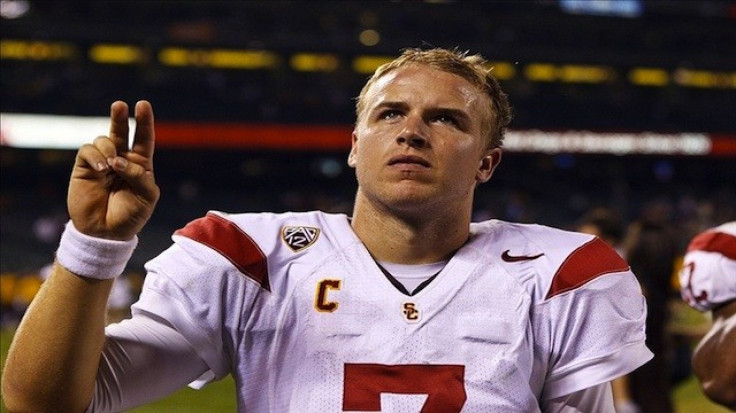 The 2012 college football season gets underway on Thursday, Aug.30, with a slew of games. No.9 South Carolina visits Vanderbilt in the night's marquee matchup.
Most teams open their seasons on Saturday, when the favorites to win this year's Heisman Trophy make their debuts.
Out of all the potential candidates to win the award, Matt Barkley is most experts' top pick to win the award.
The USC quarterback is the favorite to win the trophy, according to the online betting Web site, Bovada. His odds are set at 3/1.
Barkley is heading into his fourth year with the Trojans, where he looks to lead his team to a national title. Southern California is once again eligible to win a championship, with their postseason ban over. USC was voted first in the nation in the AP Top 25 poll.
The senior has improved every year that he's played NCAA football. 2011 was his best season, by far. He threw for 3,528 yards with 39 touchdowns and seven interceptions. Barkley is expected to be the top pick in the 2013 NFL draft.
Montee Ball is the second favorite to take home the Heisman. He'll try to win the award, after losing to Robert Griffin III as a finalist last year.
At 6/1 odds, the Wisconsin star would be just the third running back to win the award since 2000. He had one of the most productive seasons in college football history in 2011. He tied Barry Sanders' record by scoring 39 touchdowns in one year.
Denard Robinson's 15/2 odds put him third on the list of candidates. Entering his senior season, the quarterback has already had some of the most impressive games in Michigan history. He has eight of the top nine single-game performances in total yards in the school history.
Quarterbacks Landry Jones and Geno Smith round out the top five candidates, with 8/1 odds of winning the Heisman.
Jones leads No.4 ranked Oklahoma, while Smith is at the helm for No.11 West Virginia. The two are scheduled to face each other on Saturday, Nov.17 in a match that could potentially determine who wins the coveted award.
All of the five favorites are in their final seasons. Mark Ingram in 2009 was the last winner to not spend four years in college.
Clemson wide receiver Sammy Watkins has the 13th best odds at 40/1. He's looking to become the first player, other than a quarterback or running back, to win the award, since Charles Woodson in 1997.
© Copyright IBTimes 2023. All rights reserved.