Colombia Peace Talks With FARC Rebels Could Collapse As Negotiations Head Into Final Stretch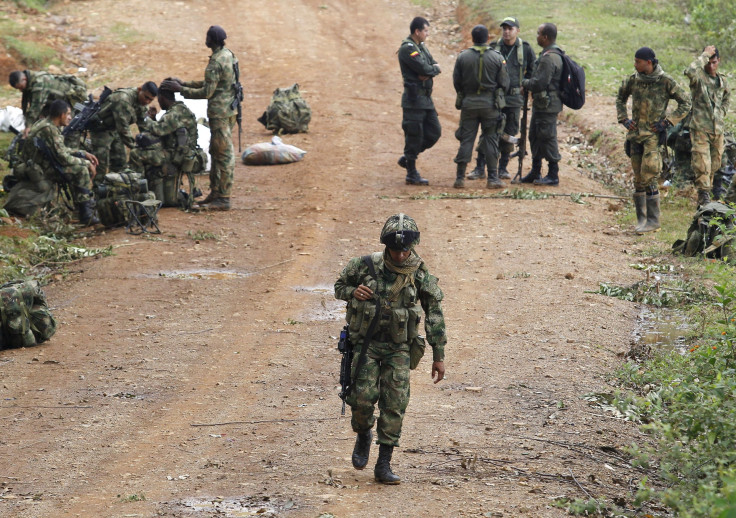 Colombia is lurching into the home stretch of high-stakes peace talks with guerrilla fighters in hopes of putting a close to 51 years of civil strife. But the continued fallout from an abrupt attack and disrupted ceasefire earlier this year has put the talks in the most jeopardy since the peace process began nearly three years ago. With intensified fighting and flagging public support for the negotiations, government leaders and experts said the peace process is at risk of collapsing for a fourth and potentially final time.
Humberto de la Calle, Colombia's chief negotiator, emphasized the critical situation at hand Sunday in his first public comments on the talks since they began in 2012. "We must have the honesty to tell Colombians the peace process is at its worst point since we started the talks," de la Calle told journalist Juan Gossain in an interview.
The Colombian government and members of the Revolutionary Armed Forces of Colombia, or FARC, are in the final phase of negotiations after 32 months of talks in Havana. Analysts project a final peace accord could be presented in the first half of next year. But the toughest issues, including agreements on judicial measures against those who committed human rights abuses during the war, are still unresolved. Meanwhile, the uptick in attacks from both sides in the past two months has taken its toll on critical public support for the process.
"I want to tell the FARC in all seriousness: 'This can end. Someday it is possible that they won't find us at the [negotiating] table in Havana,'" de la Calle warned. "What is happening right now is unbearable for Colombians."
There is a "pretty serious possibility" the process could break down given the recent escalation in fighting, said Adam Isacson, senior associate for regional security policy at the Washington Office on Latin America, a Washington think tank. If the talks fail, violence from both sides could intensify since neither side will have to worry about disrupting negotiations.
But it could also exhaust future attempts at peace: "The other scenario is that the Colombian government and public opinion will say, 'We'll never even try to try this again. Let's obliterate the process,' and then a decision is made to throw human rights out the window and result in a lot of collateral damage," Isacson said.
Just a few months ago, public optimism on the talks was at a high. A February Gallup poll indicated for the first time since the process began in 2012, a significant majority of Colombians said they believed in the possibility of a final peace accord with FARC.
That goodwill began to unravel April 15 when FARC launched an attack in the southwestern district of Cauca that killed 11 soldiers. In return, the government resumed aerial strikes on FARC territory, and the guerrillas formally ended a unilateral ceasefire in late May following a government attack that killed 27 rebel fighters. In subsequent weeks, FARC stepped up attacks against energy infrastructure, including oil pipelines and electrical towers.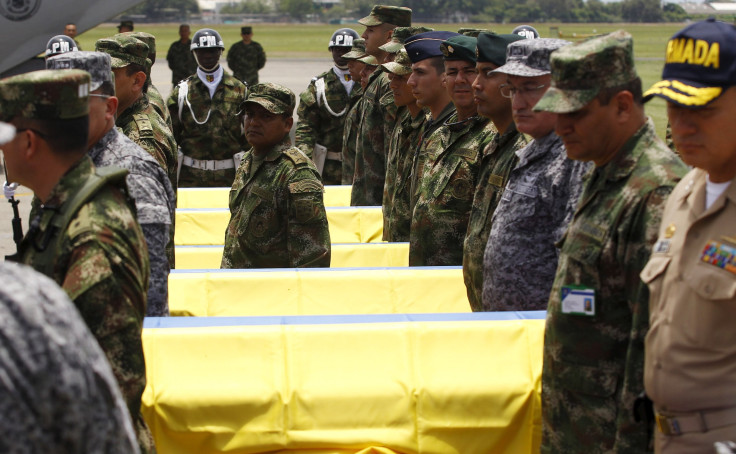 Public opinion has shifted along with the fighting: A Gallup poll released last week indicated 54 percent support for the talks, down from 72 percent in a February poll. More worryingly, the number of Colombians favoring a military solution outweighed those who supported dialogue. The margin was slim: 45 percent of respondents said they favored talks while 46 percent favored military action. The result was the first time in several years more Colombians supported a military solution.
Amid the public fatigue, President Juan Manuel Santos and other leaders have debated the idea of setting a final deadline for the talks, with April 9, 2016, as a potential target.
But the International Crisis Group, a nongovernmental organization in Brussels, has warned against rushing the process. "Hastily hammering out a deal might satisfy political demands, but the resulting accord could easily be impossible to implement and of limited effectiveness," the group wrote in a report released Thursday. With such important issues still to be resolved, "a deadline would add little and could throw the process into limbo if missed," the report said.
The negotiations have made some gradual steps forward in the months since the attacks began intensifying. Both sides agreed last month to set up a truth commission to air human rights violations that have occurred during the longstanding civil war between the government and FARC. Rebel leaders Sunday proposed moving forward with procedures to implement elements of an anti-drug plan to which it had agreed with the government, one day after the United Nations released a report detailing a 44 percent increase in coca cultivation in the country last year.
While Isacson said many of the gestures were for "public consumption" to show progress, he remained optimistic the government and rebel leaders could still come to an agreement. "They've gotten this far, and at least the moderates, the majority of the current negotiating team, want to keep this going," he said. "They really are in a pretty advanced stage of the talks."
De la Calle, meanwhile, has made it clear the long and painstaking process will soon come to a close, either in success or failure. "I am not able to give a deadline because that is the million-dollar question," he said in Sunday's interview. "But it seems clear to me this process is coming to an end, for better or worse."
© Copyright IBTimes 2022. All rights reserved.
FOLLOW MORE IBT NEWS ON THE BELOW CHANNELS