Confederate Flag Backlash: University Of Texas Students Demand Removal Of Jefferson Davis Statue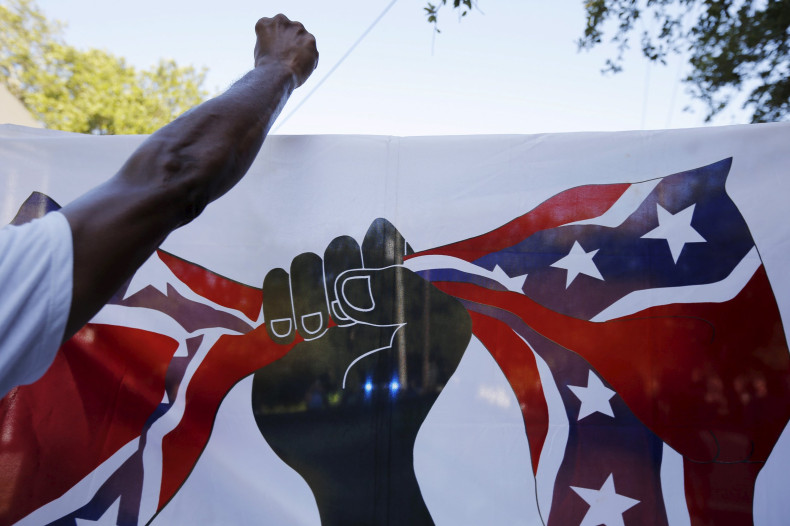 The backlash against government-sanctioned displays of Confederate history and culture spread Tuesday, as University of Texas students demanded that officials remove a statue of Jefferson Davis, the president of the Confederate States of America during the U.S. Civil War who supported slavery. Students said he is a symbol of white supremacy.
The statue has been on display for decades at the foot of the school's famous UT Tower in Austin. But in the wake of the hate-motivated massacre at Mother Emmanuel African Methodist Episcopal Church in Charleston, South Carolina, last week, the students are joining a rapidly growing movement to have Confederate symbols removed in Southern states.
Taral Patel, head of the University of Texas student government, told ABC affiliate KVUE in Austin that the Davis statue "represents slavery and bigotry toward so many people that now attend the University of Texas." Patel and others cite Charleston shooter Dylann Roof's espousal of racist ideas and Confederate symbols for why the Davis statue should be removed.
"[It] is apparent from headlines across the country that there is still much more room for progress," reads a Change.org petition started by the student government on Sunday. "In light of recent events, there has been a national conversation about the meaning and place of the Confederate flag and symbols of the Confederacy. In the same way that the Confederate flag projects values of racial hatred, the Jefferson Davis statue memorializes a man who stood for racial inequality and bigotry."
As of Tuesday afternoon, the petition had been signed by more than 2,200 people. UT's Austin campus enrolled 51,313 students in 2014.
University officials did not comment on the petition, and it's not the first time students urged the removal of Davis' statue. But the move comes as a debate swirls around the displays of the Confederate flag in South Carolina, Georgia, Mississippi and Virginia.
South Carolina Gov. Nikki Haley on Monday called for the removal of the Confederate flag from the state capitol grounds in Columbia. Haley, a Republican, made the announcement after Democratic and GOP leaders, including President Barack Obama, former Secretary of State Hillary Clinton and former Republican presidential nominee Mitt Romney urged removal of the divisive symbol.
Authorities say Roof, the 21-year-old attacker arrested the morning after he allegedly killed nine Emanuel church members during a Bible study session Wednesday night, had created a personal website that contained a racist manifesto. The website, which surfaced over the weekend, also contained several photos of Roof posing with the Confederate flag and at historic Confederate sites.
Roof faces nine murder charges and one weapons charge. Since the shooting, a Confederate monument and a statue of Vice President and Sen. John C. Calhoun, a leading slavery advocate, in Charleston have been vandalized with the words "racist," "slavery" and "black lives matter."
© Copyright IBTimes 2022. All rights reserved.