Confederate Statue Vandalized With Graffiti In Charleston As Emanuel AME Church Reopens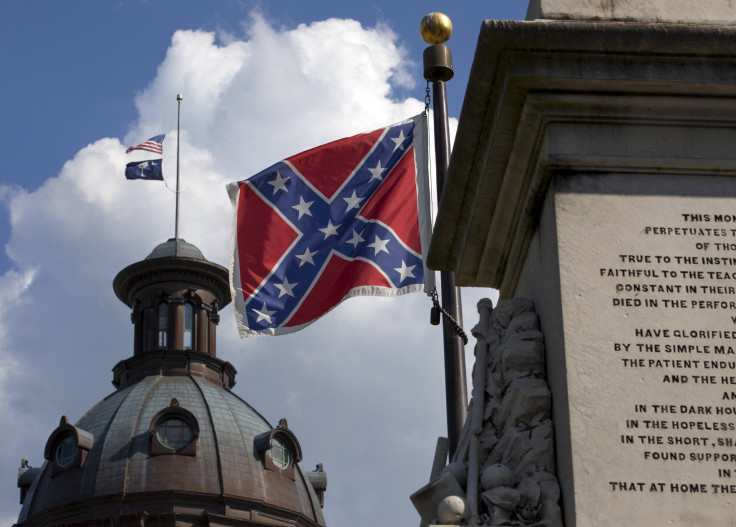 A Confederate statue in Charleston, South Carolina, was vandalized with graffiti Sunday, days after nine people were shot and killed at the city's historic Emanuel African Methodist Episcopalian Church in what was apparently a racially motivated attack. The monument was defaced on the same day Emanuel AME opened for its first service since the shooting.
The words "Black Lives Matter" and "This was the problem #racist" were written on the statue in red spray paint, WCIV, Charleston, reported. The graffiti also lambasted South Carolina Gov. Nikki Haley and Charleston Mayor Joe Riley with the words "Riley and Haley -- why defend this evil -- This is the root of our evil."
Located in Charleston's White Point Gardens, the statue was dedicated "To the Confederate Defenders of Charleston -- Fort Sumter" in a reference to the U.S. Civil War. The defaced statue was briefly covered with a tarp, but the tarp has since been removed, exposing the graffiti to bystanders.
Emanuel AME Church's first prayer service since the attack drew large crowds Sunday morning. Banners adorned buildings near the church as hundreds of congregants gathered both inside and outside to mourn the shooting victims' deaths, the New York Times reported. Gov. Haley was in attendance. Approximately 6,000 people were expected to attend a "Bridge to Peace" rally at Arthur Ravenel Jr. Bridge near Emanuel AME Church on Sunday night, the Post and Courier reported.
Dylann Roof, 21, was arrested Thursday morning, hours after he allegedly killed nine individuals who attended a bible study at Emanuel AME Wednesday night. He faces nine murder charges and one weapons charge.
Roof's personal website, which contained a racist manifesto and several photos of Roof posing with the Confederate flag and at historic Confederate sites, surfaced this weekend. Law enforcement officials confirmed Saturday the website was authentic.
"I have no choice. I am not in a position to, alone, go into the ghetto and fight. I chose Charleston because it is [the] most historic city in my state, and at one time had the highest ratio of black to Whites in the country," Roof wrote, according to the Washington Post.
© Copyright IBTimes 2023. All rights reserved.