Confederate Flag License Plate Battle Reaches US Supreme Court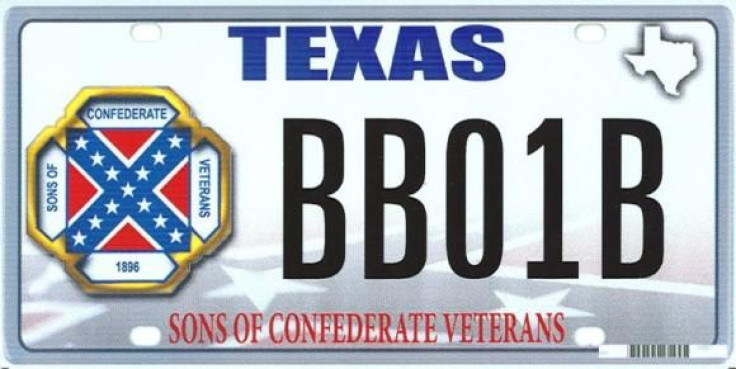 (Reuters) - The U.S. Supreme Court on Monday takes up a free speech case on whether Texas was wrong in rejecting a specialty vehicle license plate displaying the Confederate flag - to some an emblem of Southern pride and to others a symbol of racism.
The nine justices will hear a one-hour oral argument in a case that raises the issue of how states can allow or reject politically divisive messages on license plates without violating free speech rights. States can generate revenue by allowing outside groups to propose specialty license plates that people then pay a fee to put on their vehicle.
The group Sons of Confederate Veterans says its aim is to preserve the "history and legacy" of soldiers who fought for the pro-slavery Confederacy in the U.S. Civil War. Its proposed design featured a Confederate battle flag surrounded by the words "Sons of Confederate Veterans 1896." The flag is a blue cross inlaid with white stars over a red background.
The group's Texas chapter said its members' free speech rights were violated when the state rejected the plate. Several other states have approved similar plates.
When Texas rejected the proposal in 2010, the state said it had received public comments that suggested "many members of the general public find the design offensive" in large part due to the Confederacy being synonymous with the institution of slavery.
A black Texas Democratic state senator, Royce West, said in 2011, "Ill-intended or not, why would African Americans want to be reminded of a legalized system of involuntary servitude, dehumanization, rape and mass murder?"
The New Orleans-based 5th U.S. Circuit Court of Appeals ruled that Texas officials did not have grounds to reject the plate, prompting the state to seek high court review.
The legal issue is in part whether messages on state-issued license plates represent speech by the government or an endorsement of a private message. If determined to be private speech, the state's rejection could violate the U.S. Constitution's First Amendment free speech guarantee.
Steven Shapiro, legal director of the American Civil Liberties Union, which backs the Sons of Confederate Veterans, said although the flag "served as a banner for those who supported slavery and segregation ... Texas cannot pick and choose the plates it approves on ideological grounds."
A ruling is expected by the end of June.
The case is Walker v. Sons of Confederate Veterans, U.S. Supreme Court, No. 14-144.
(Reporting by Lawrence Hurley; Editing by Will Dunham)
© Copyright Thomson Reuters 2023. All rights reserved.
FOLLOW MORE IBT NEWS ON THE BELOW CHANNELS