Was Charleston Shooting A Hate Crime? Kareem Abdul-Jabbar Says Church Massacre Was 'Racist Fantasy'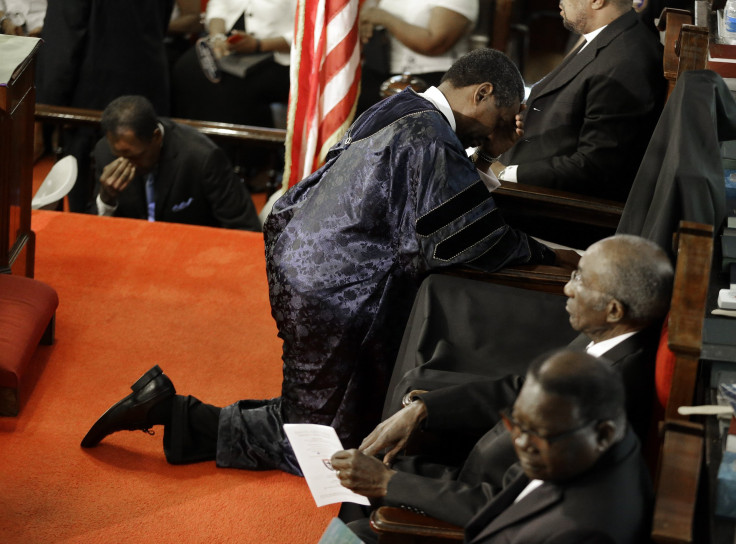 Retired NBA superstar Kareem Abdul-Jabbar had some choice words for people who have claimed the mass shooting at a church in South Carolina's Charleston wasn't about race: Stop denying that Dylann Roof, the 21-year-old charged with shooting and killing nine people at a Bible study session June 17, was a racist who explicitly said he wanted to kill black people. In a column for Time, Abdul-Jabbar took aim at those in the media who have said the shooting was not about a white man's hatred for African-Americans but an attack on Christianity or faith.
"In his mind he was a terrorist, but in reality this was nothing more than hate crime using terrorist tactics to enact his racist fantasy," Abdul-Jabbar wrote. "Those who refute the clear racial element in these attacks are like Holocaust deniers who say there were no gas chambers, no mass genocide, that the world is just conspiring against the poor misunderstood Nazis."
He indicated "political gain" was the reason for the "lingering racist undercurrent" in the U.S. "By convincing Americans that racism doesn't exist, politicians are able to divert funds from programs that combat racism and create equal opportunities for everyone to other projects that would most benefit their political power base," Abdul-Jabbar wrote.
The shooting that rocked the South Carolina city last week has sparked nationwide conversations about racism, so-called Southern pride and the reasons why Roof targeted a historically African-American church. Many have said the shooting suspect harbored racist beliefs, including one holding that whites were superior to blacks, based on a manifesto that surfaced Saturday in which he supposedly said he "chose Charleston because it is most historic city in my state, and at one time had the highest ratio of blacks to Whites in the country."
Photographs of Roof have surfaced online in the wake of the shooting. Some show him brandishing the weapon he allegedly used to kill nine people; others show him posing with the Confederate flag, seen by many as an enduring symbol of racism in the South.
In a manifesto posted on a website believed to belong to Roof, the suspect described the moment that he said changed his life: the shooting of 17-year-old Trayvon Martin in Florida in 2012. "[T]his prompted me to type in the words 'black on White crime' into Google, and I have never been the same since that day," Roof wrote. "How could the news be blowing up the Trayvon Martin case while hundreds of these black on White murders got ignored?"
Many, including the state's Gov. Nikki Haley, have called the killings a hate crime, but it's unclear whether Roof will face hate-crime charges. Authorities in the state charged Roof with nine counts of murder Friday.
"This is an absolute hate crime," Haley said on NBC's "Today" show Friday. "We absolutely will want him to have the death penalty. This is the worst hate that I've seen and that the country has seen in a long time."
© Copyright IBTimes 2022. All rights reserved.
FOLLOW MORE IBT NEWS ON THE BELOW CHANNELS