Congress Deadline Looms For U.S. Border Funding Bill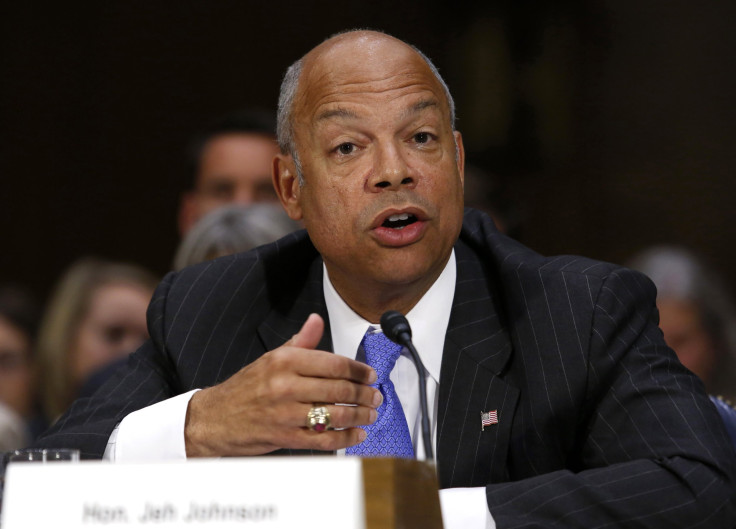 Congress is coming down to the wire to assemble enough votes to pass funding measures to deal with the surge of Central American migrants at the border. If it remains deadlocked when its five-week recess begins Friday, it will have to divert funds from other programs to keep border enforcement and processing operations afloat.
Homeland Security Secretary Jeh Johnson has said that without supplemental funding, the agencies tasked with apprehending, transporting, and processing migrants at the border would soon run out of money. "At the current burn rate, ICE [the Immigrations and Customs Enforcement agency] is going to run out of money in mid-August, and we project that CBP [Customs and Border Protection] is going to run out of money in mid-September," he told the Senate Appropriations Committee earlier this month. "If there is no supplemental, we're going to have to go to some very dramatic, harsh form of reprogramming." Johnson did not specify what programs the diverted funds would come from.
Since the swelling numbers of Central American migrants crossing the U.S. border came under the national spotlight earlier this year, lawmakers from both parties have traded barbs over how to best address the crisis. The Democrat-controlled Senate and Republican-controlled House of Representatives both issued funding plans that concentrate on beefing up Border Patrol operations, shelters for unaccompanied children, legal services, and repatriation for tens of thousands of migrants. But the two parties remain staunchly at odds over the size and timeframe of the funding, as well as a Republican-supported legislative change that would roll back immigration hearings for unaccompanied children.
The Senate's $2.7 billion bill -- which falls far short of the $3.7 billion President Obama requested earlier this month -- divides funds mainly between the Department of Homeland Security for enforcement and detention operations and the Department of Health and Human Services (HHS), which runs temporary shelters for unaccompanied children.
House Republicans' much slimmer $659 million plan, introduced Tuesday, devotes most of the funding to Homeland Security detentions, transportation, and enforcement operations, with much smaller allocations for HHS shelters and immigration courts. It also includes $12 million for National Guard troops to assist with border enforcement.
More notably, however, the GOP bill includes an amendment to the 2008 William Wilberforce Trafficking Victims Protection Act that would put unaccompanied children from Guatemala, Honduras, and El Salvador in the same category of treatment as those from Mexico and Canada. If the amendment passes, Border Patrol agents would be able to screen and repatriate unaccompanied children within a span of 48 hours, rather than give them all immigration court notices.
Changes to the 2008 act have been the most significant barrier to agreement between Congressional Democrats and Republicans. Republicans say that the law has created a loophole that allows child migrants to stay for extended periods of time. But many Democrats say that expediting repatriations without a court hearing would deny due process for children fleeing violence in Central America.
The Congressional divisions on the border crisis run deep, and the hours are ticking down, leaving many observers skeptical that any agreement will be reached before the August 1 recess. But even as the impasse continues, lawmakers and officials are adamant that Congress must act to deal with the border situation.
"It has to get done by the August recess," said Rep. Kay Granger (R-Texas), who led the GOP group that drafted the House bill, last week. "You don't walk away from something like this and say we'll come back in a month, when kids are coming across that border."
© Copyright IBTimes 2023. All rights reserved.