Texas Gov. Rick Perry To Send 1,000 National Guard Troops To Border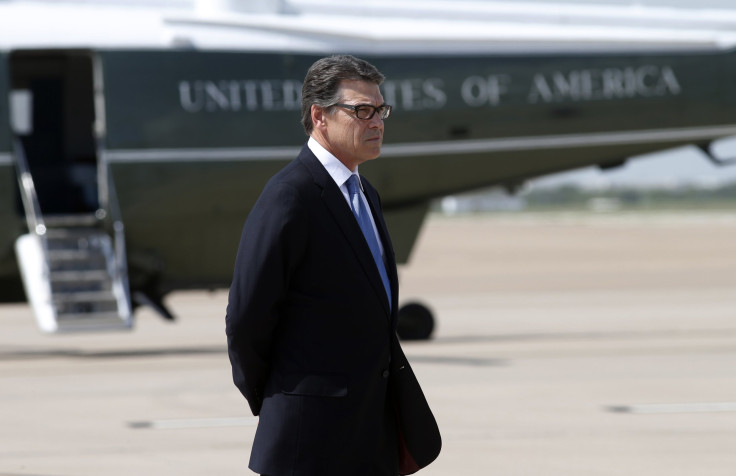 Texas Gov. Rick Perry announced Monday he would activate as many as 1,000 National Guard troops along the southern U.S. border to deter "criminal aliens" operating in the area.
Perry, flanked by a number of other state officials, including the director of public safety and attorney general, spoke at a press conference in Austin, describing how the deployment, dubbed "Operation Strong Safety," would unfold in the next month. The governor emphasized the troops would target criminal activity and elements tied to Mexican drug cartels operating between entry points.
"Since 2008, more than 203,000 criminal aliens have been booked into Texas county jails," Perry said. "Over the course of their criminal careers, these individuals have committed more than 640,000 crimes. And that is in the state of Texas alone."
Perry said the National Guard troops would act as a "force multiplier" for local law enforcement and Border Patrol agents already on the ground.
Steve McCraw, the state's director of public safety, said the deployment was not targeted at the unaccompanied child migrants, but on criminal activities that have proliferated along the border.
"Mexican cartels are exploiting the fact that Border Patrol is occupied with unaccompanied children," he said.
Perry previously called on President Barack Obama to send the National Guard down to enforce additional security at the border. The two officials met earlier this month during the president's visit to Texas, but Obama said there were "philosophical differences" on how to handle the situation.
The governor and several of the other officials who spoke alongside him criticized what they described as the federal government's inaction on border security.
"It's our responsibility to act independent of the federal government if the federal government fails to do the job that it's required to do," McCraw said.
The officials also emphasized although Texas would initially fund the deployment, the state would eventually expect Washington to pay for the operation.
"Texans are willing to put our boots on the ground, but we expect Washington to foot the bill," Texas Attorney General Greg Abbott said. The deployment is expected to cost $12 million per month.
The McAllen Monitor, a newspaper in the southern border town of McAllen, Texas, reported on an internal memo Sunday that outlined the announcement.
Some Texas officials were quick to criticize the decision after the Monitor's report.
"Militarizing our border is the wrong response to the arrival of children," Texas Rep. Joaquin Castro told Politico. Texas State Sen. Juan "Chuy" Hinojosa also opposed the move, saying, "The National Guard are not needed here."
Others supported the announcement, including Texas Rep. Jeff Leach, who tweeted: "Glad to hear @GovernorPerry is calling up the National Guard to help secure the border and protect our state."
© Copyright IBTimes 2023. All rights reserved.