Congress Syrian Refugee Vote Live Updates: US Republicans To Reject Asylum Plan, As Obama Promises Veto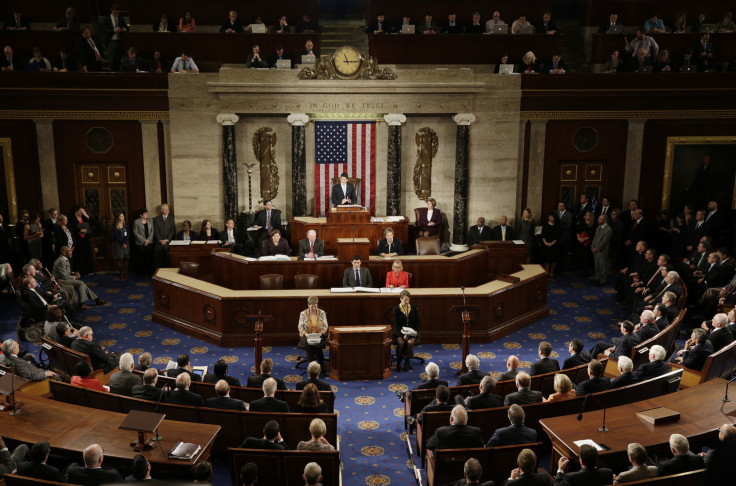 UPDATE: 4:33 p.m. EST -- "47 Dems" trended Thursday afternoon after dozens of House Democrats joined Republicans to demand more vetting of Syrian refugees.
UPDATE: 3:15 p.m. EST -- Attention turned to the U.S. Senate Thursday afternoon, as it was expected to consider a House-approved bill that restricts the acceptance of Syrian and Iraqi refugees into the U.S. if they haven't been thoroughly vetted by national security agencies. President Barack Obama, who in September committed to letting in 10,000 refugees over the next year, has threatened to veto the measure.
But Senate Minority Leader Harry Reid, D-Nev., doubted the House measure would even get through the Senate. "Don't worry, it won't get passed," Reid told reporters Thursday, according to the Washington Post.
During a Senate debate on unrelated measures earlier Thursday, members used some of their allotted floor time to speak for and against admitting Syrian refugees. Some cited concerns about Muslim extremists arriving in the U.S. among refugees, particularly in the wake of last week's deadly Paris terror attacks, which were claimed by the Islamic State group.
In the House, which voted 289-137 to impose new layers of background checks for refugees, there was broad support among Republican and Democrats to amend visa policies for people who have lived or visited Syria and Iraq in the last several years. The Congressional Black Caucus said Thursday national security concerns were no reason to reject vulnerable refugees. "To turn a blind eye to the struggles of others, regardless of where they are from, is sad and has no place in American society," Rep. G.K. Butterfield, D-N.C., the caucus chairman, said in a statement.
UPDATE: 2:30 p.m. EST -- Reaction continued to pour in Thursday following a vote by the U.S. House of Representatives to restrict the admission of Syrian and Iraqi refugees into the U.S. if they haven't been thoroughly vetted by national security agencies. The American Civil Liberties Union denounced the 289-137 bipartisan approval of legislation to curb President Barack Obama's plan to admit 10,000 refugees over the next fiscal year.
"This un-American bill's supporters falsely claim it will simply pause U.S. resettlement of refugees," said Karin Johanson, director of the ACLU's Washington legislative office. "In fact, it will bring resettlement of Syrian and Iraqi refugees to a grinding halt by adding layers of bureaucracy to an already rigorous process." She added: "Supporters of this bill want us to turn our backs on refugees who are seeking safe harbor from the very terrorism we all abhor."
Human Rights First, an international refugee advocacy organization, said most of the refugees that U.S. lawmakers seek to ban are women and children, torture survivors and other vulnerable individuals who have struggled to survive at camps in Jordan, Turkey and other refugee-hosting countries in the region. "This bill sends exactly the wrong message to the world, to U.S. allies in the Middle East and Europe, and to persecuted people fleeing violence and terror," Eleanor Acer, senior director of refugee protection for Human Rights First, said in a statement. "This is not what U.S. global leadership looks like."
UPDATE: 2 p.m. EST -- The U.S. House of Representatives approved Thursday a bill that would halt the admission of Syrian and Iraqi refugees into the U.S. unless their backgrounds are thoroughly vetted by national security agencies. In the 289-137 vote, Republicans and Democrats ensured the bill would move along to the Senate, where it was also expected to go up for a vote.
Pro-refugee advocates had already condemned the House legislation before its approval Thursday. Wade Henderson, president and CEO of the Leadership Conference on Civil and Human Rights, criticized "widespread fear-mongering" against Muslims in general and Syrian refugees. "The public discourse offered by some in the wake of the Paris attacks is as shameful as anything I've ever heard," he said in statement.
UPDATE: 1:30 p.m. EST -- House Speaker Paul Ryan, R-Wis., said Thursday the legislation to halt the acceptance of Syrian refugees is "an urgent matter" to protect Americans from threats by Islamic State militants, according to Reuters. Ryan also told reporters that he had conferred with Senate Majority Leader Mitch McConnell, R-Ky., who will push for the bill in his chamber.
Procedural voting was underway on the floor of the House, which was expected to adopt the measure that adds new layers to refugee background checks conducted by the Federal Bureau of Investigation. The U.S. has already admitted approximately 2,000 Syrian refugees since the beginning of conflict in their country four years ago.
Original story:
The House of Representatives was expected to vote Thursday to halt President Barack Obama's plans to increase the number of Syrian asylum-seekers admitted into the country. Republicans and some Democrats banded together in opposition to the plan following the deadly Paris terror attacks Friday, which were claimed by the Islamic State group.
The measure would keep Syrian and Iraqi refugees out of the country, unless they are thoroughly vetted by three government agencies, including the Federal Bureau of Investigation, and the Department of Homeland Security. The measure also requires the agencies to provide Congress with a monthly report of who's been let into the country.
Those opposed to admitting refugees noted that a Syrian passport was found near the body of one of the Paris attackers, but it is uncertain if any of the terrorists were actually Syrian asylum seekers. Those identified so far, including the suspected ringleader, have all been European citizens who were radicalized.
European nations have already accepted tens of thousands of Syrian and Iraqi refugees, through an initiative of the European Union, in response to the waves of migrants arriving on their shores and over the summer. But the EU has also looked to other countries to handle the millions who have fled violence in the Middle East.
The House legislation against refugees, which Obama said he was certain to veto should it make it past the Senate, aligns the people's chamber with at least 30 states whose governors have announced that Syrian refugees are unwanted in their states. That includes 29 Republican governors and one Democrat, in New Hampshire.
Obama said in September that the U.S. was willing to take in at least 10,000 Syrians, as Europe grapples with a migrant wave stemming from war and civil conflicts in the Middle East and North Africa. About 2,000 Syrians refugees already have been resettled in the country since the beginning of the Syrian civil war four years ago through the U.S. Refugee Admissions Program, a federal initiative working with all 50 states.
Clark Mindock contributed to this report.
Asylum-Seekers from Syria by Country in 2015 | FindTheData
FOR FREE to continue reading
✔️ Unlock the full content of International Business Times UK for free
offer available for a limited time only
✔️ Easily manage your Newsletters subscriptions and save your favourite articles
✔️ No payment method required
Already have an account? Log in
© Copyright IBTimes 2023. All rights reserved.