Conor McGregor Gives Credit To Floyd Mayweather, Explains Strategy For Fight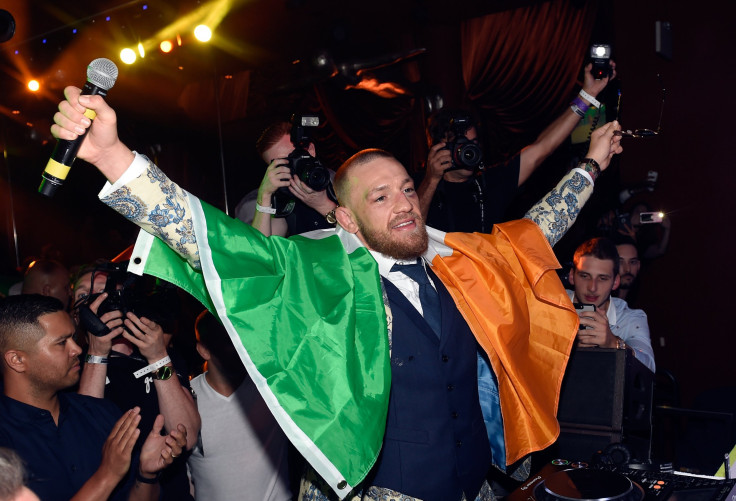 Conor McGregor has made his first public statements since the night of his fight against Floyd Mayweather. In a lengthy Instagram post, the UFC lightweight champion thanked the fans for supporting him and gave credit to his opponent, who stopped him in the 10th round of his first ever boxing match.
The feud between McGregor and Mayweather got ugly at times, especially during their four-stop promotional tour in July. Despite all the name calling and the war of words that lasted over the period of a few months, McGregor praised Mayweather's fighting skills.
"Congrats to Floyd on a well fought match," McGregor wrote. "Very experienced and methodical in his work. I wish him well in retirement. He is a heck of a boxer. His experience, his patience and his endurance won him this fight hands down. I always told him he was not a fighter but a boxer. But sharing the ring with him he is certainly a solid fighter. Strong in the clinch. Great understanding of frames and head position. He has some very strong tools he could bring into an MMA game for sure."
McGregor made multiple predictions in the build towards the fight. First, he said he'd knock Mayweather out in four rounds. When it was decided that the fighters would use eight-ounce gloves, he said Mayweather probably wouldn't survive two rounds. McGregor even indicated that he felt he could score a first-round KO.
That, of course, was highly unlikely, given that Mayweather is the greatest boxer of his generation. Even at 40 years old, Mayweather's experience allowed him to perfectly execute his gameplan against the first-time boxer, withstanding some punishment in the first few rounds and taking control from there.
McGregor was rather impressive to start the fight, arguably getting the better of Mayweather in the first three rounds. He landed more punches in Round 1, Round 2 and Round 3, and both fighters landed 16 shots in Round 4, per CompuBox.
But Mayweather was dominant in the second half of the fight, landing 142 punches to McGregor's 69. The UFC lightweight champion usually spends less than 10 minutes inside the octagon, and McGregor didn't have much left after he showed some resolve with a strong eighth round.
"Getting to 12 rounds alone in practice was always the challenge in this camp," McGregor said. "We started slowly getting to the 12 and decreasing the stress in the rounds the closer it got to 12. I think for the time we had, 10 weeks in camp, it had to be done this way. If I began with a loaded 12 rounds under much stress I would have only hit a brick wall and lost progress as a result and potentially not made the fight. A little more time and we could have made the 12 cleanly, while under more stress, and made it thru the later rounds in the actual fight. I feel every decision we made at each given time was the correct decision, and I am proud of everyone of my team for what we done in the short time that we done it."
Even after guaranteeing a victory, it's not difficult to see why McGregor is handling the loss so well. He was a heavy underdog in his professional boxing debut, and the loss earned him his biggest payday ever.
McGregor is expected to make more than $100 million for his role in the biggest fight of all time. The final pay-per-view numbers aren't in yet, but there are rumors that it shattered the old record, possibly selling 6.5 million buys.
McGregor will return as an even bigger star to the UFC, where he can get back to winning fights.
© Copyright IBTimes 2023. All rights reserved.