Conor McGregor UFC 196 Next Opponent: Diaz, Cerrone Lead Candidates After Dos Anjos Withdraws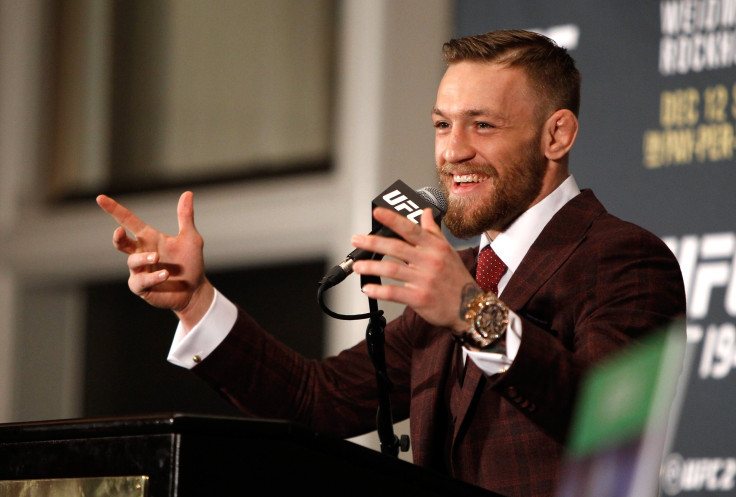 Lightweight champion Rafael dos Anjos has been ruled out of UFC 196 on March 5 due to a broken left foot, forcing top-draw fighter Conor McGregor to search for a new opponent.
According to Ariel Helwani of mmafighting.com, dos Anjos was hurt on Friday, and he had hoped the injury would get better over the weekend. The injury won't require surgery, but dos Anjos' coach, Rafael Corderio, said the Brazilian fighter won't be able to put any pressure on his foot for at least three weeks.
McGregor will still fight in the main event in what has received as much anticipation as almost any pay-per-view in UFC history. Not only is McGregor looking to become the first fighter in UFC history to hold belts in multiple weight classes at the same time, but Holly Holm will defend her bantamweight title for the first time since knocking out Ronda Rousey.
Even though he doesn't know who he's fighting less than two weeks before the PPV, McGregor will still highlight the PPV. With McGregor's next fight just 11 days away, a few fighters are looking to get their shot at the biggest name in the sport.
Donald Cerrone, who in December lost the lightweight championship fight against dos Anjos, has already thrown his hat in the ring. Cerrone's manager, Josh Jones, told ESPN that his 174-pound fighter is interested in getting a shot at McGregor and would cut as much as weight as possible. Cerrone fought on Sunday, needing less than one full round to defeat Alex Oliveria in a welterweight fight.
A more realistic possibility might be Nate Diaz, who defeated Michael Johnson by unanimous decision in December. Diaz called out McGregor after his latest victory, and he went the distance against dos Anjos in a defeat in Dec. 2014.
Former lightweight champion Anthony Pettis has also offered to fight McGregor. Pettis lost the belt to dos Anjos in March, and was defeated in January by Eddie Alvarez.
Weight limits might be the overriding factor in McGregor's search for a new opponent. McGregor has been training for a fight at the 155-pound lightweight limit, but he's made his name as a featherweight. He knocked out Jose Aldo with one punch just 13 seconds into their 145-pound title fight on Dec. 12, and there had been speculation he could face featherweight Frankie Edgar. However, the most likely scenario has McGregor facing a lightweight that would replace dos Anjos.
A case could me made for McGregor to face Aldo in a rematch, but the former champ isn't likely to move up a weight class on such little notice. Even if he wanted to, Aldo might not be cleared for a fight. Meanwhile, Edgar is on a five-fight winning streak, but an injury may prevent him from competing anytime soon.
McGregor finds himself in a familiar position, scrambling to find a new opponent in less than two weeks before a PPV. Aldo suffered a rib injury before he was initially supposed to fight McGregor in July, and Chad Mendes replaced him on just 11 days' notice. McGregor defeated Mendez with a second-round TKO.
This marks the fourth time an opponent has withdrawn from a UFC fight with McGregor.
© Copyright IBTimes 2023. All rights reserved.