Copper Delivery Prices Shoot Up Despite Oversupply As Warehouses Hoard Industrial Metal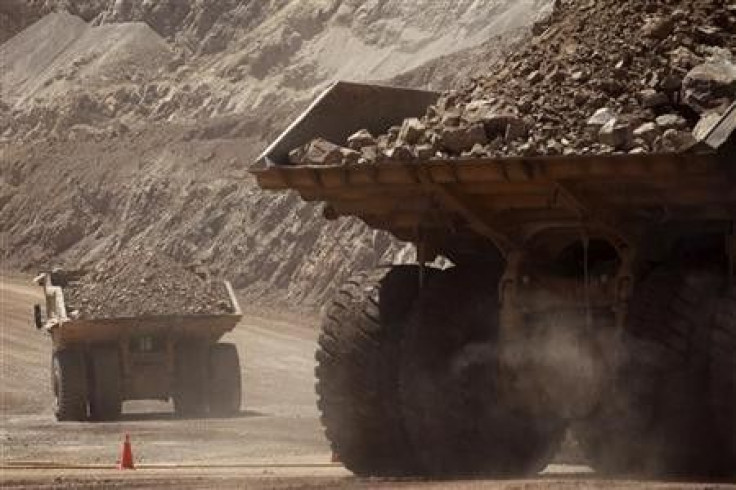 If you are in the market for copper and need it immediately, prepare to pay a hefty premium.
Prices for copper are on the rise, forcing buyers to pay sizable premiums for immediate delivery, because warehouses are hoarding the red metal -- a crucial raw material, the Wall Street Journal reported.
"Anyone who wants to get metal has to pay more than the warehouse. The warehouses are absorbing anything they can" Ryan Belshaw, a metals analyst with Macquarie Group Ltd, told the Journal.
Fees to get immediate delivery of copper in the U.S. have risen more than 40 percent in the last two months as financing deals lock up supply and much of the metal is being diverted to warehouses.
Copper is one of the most important industrial metals and trades on a number of global markets including the London Metal Exchange, or LME, which licenses more than 700 warehouses.
Operators such as Southwire Co., Encore Wire Corp., and Luvata are paying premiums for immediate delivery despite over-supply because most of the metal is locked up in warehouses reducing available supply to the market.
Inventories at LME warehouses have more than doubled in the past year. And, two trading firms -- Glencore International PLC and Trafigura Beheer BV – which own most of the warehouses in the LME network are at the center of the current inventory controversy.
Trafigura has said that the accumulation of copper in warehouses this year was because of higher mine production and falling demand from China, which is one of the biggest consumers of the metal, according to the Wall Street Journal.
"The main casualties will be the consumers. Historically, higher stocks, higher supply would result in lower premiums. But we have circumvented the normal laws of economics," Robin Bhar, a veteran metals analyst at Societe Generale, told Bloomberg.
Premiums were further boosted by supply disruptions such as a landslide at the Bingham Canyon copper mine in Utah last month and port strikes in Chile. But, the outage amount accounts for less than 1 percent of annual copper production.
"Everybody is concerned" about the metal's rising cost, Bill Hyman, president of Burton Wire & Cable Inc., in Manchester, N.H., told the Journal.
The market "has been distorted" for industrial consumers like his company, he added.
Hyman noted that it's natural for gold and silver, which are targeted by investors, to be hoarded. However, "copper has changed from an industrial metal to an investment metal. That's the world we live in," he said.
In response to complaints filed by companies such as Southwire and Encore, the LME introduced new regulation in April to free up metals such as copper that had been stuck behind backlogs of aluminum or zinc.
According to the new regulation, storage sheds must start loading out metals at the rate of 500 tonnes a day. However, the new rule backfired as the wait time to get the copper out of warehouses increased to 23 weeks from 18 weeks.
"I can't say that [the rule] had any real impact," David Wilson, a director of metals research with Citigroup Inc. in London, told the Journal.
© Copyright IBTimes 2023. All rights reserved.
FOLLOW MORE IBT NEWS ON THE BELOW CHANNELS