Coronavirus Update: World Health Organization Names South America 'New Epicenter' For Pandemic
KEY POINTS
South America was named the "new epicenter" for the pandemic in the World Health Organization's Friday report
Brazil was highlighted as the biggest hotspot on the continent and becoming the country with the third-highest number of coronavirus cases in the world
Local officials have warned that Brazil's health system is on the verge of collapse while criticism has been levied at President Jair Bolsonaro by political rivals and other world leaders
The World Health Organization named South America the epicenter of the coronavirus pandemic in its Friday report, with cases in Brazil skyrocketing, placing it third in infections worldwide. As of Friday, Brazil had 314,769 confirmed cases and 20,267 deaths from coronavirus.
"We've seen many South American countries with increasing numbers of cases and clearly there's a concern across many of those countries, but certainly the most affected is Brazil at this point," WHO emergencies program executive director Mike Ryan said at a briefing. "In a sense, South America has become a new epicenter for the disease."
This follows a week where the virus surged to record heights in Brazil, with highest number of new cases in 24 hours recorded on Wednesday. The Ministry of Health of Brazil first reported 19,951 new cases, but it was later adjusted to 21,472.
Two of the country's most populous cities -- Sao Paolo and Rio de Janeiro, in particular -- have become hotbeds for the virus to spread, with large favelas located in each. The two areas account for nearly a third of all confirmed cases in Brazil.
Sao Paolo has had 69,915 confirmed cases and 5,363 deaths during the pandemic.
Rio de Janeiro has had 30,379 confirmed cases and 3,237 deaths.
The pandemic has put a massive strain on the country's healthcare infrastructure. Most state officials have warned that hospitals are becoming overwhelmed and are on the verge of collapse because of the boom in new cases.
President Jair Bolsonaro's seemingly dismissive attitude toward the pandemic has made him a target for criticism by political rivals and around the world. He has referred to COVID-19 several times as a "little flu" and has been seen at several rallies flaunting social distancing practices recommended by the WHO and other health organizations. He has also echoed U.S. President Donald Trump in pushing to use hydroxychloroquine as a treatment, despite studies showing a higher risk of death in patients who take it.
"President Bolsonaro likes to copy, to repeat President Trump's actions," Luiz Inacio Lula da Silva, former President of Brazil, told "PBS News Hour." "That is, President Bolsonaro believes President Trump is a higher being, so he simply copies everything Trump says."
Silva has been a vocal critic of Bolsonaro since he was released from prison in 2019 after his conviction in 2017 on charges of money laundering and corruption. He has pointed to the coronavirus pandemic as proof of the danger he believes Bolsonaro is to Brazil and said impeachment should be considered.
"I think, if Bolsonaro continues to act irresponsibly, as he has been doing, the people will not accept him for three more years," Silva said. "I am not in favor of removing a president every year through an impeachment process. I am in favor of a government that truly governs the country, respecting democracy."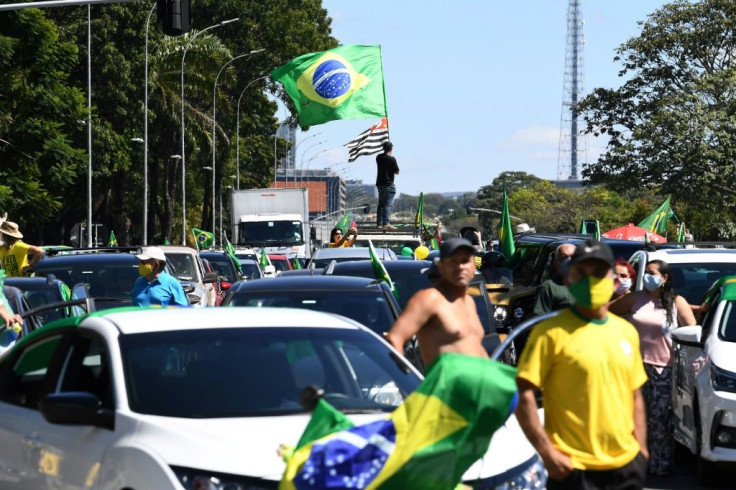 © Copyright IBTimes 2023. All rights reserved.