Cossacks In Russia Burn Effigies Of Obama And Erdoğan To Support The Kremlin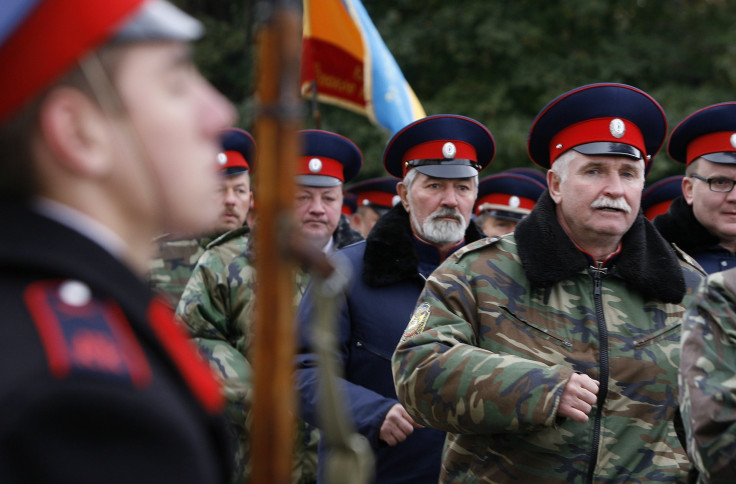 Cossacks in southern Russia over the weekend burned effigies of Turkish President Recep Erdoğan and U.S. President Barack Obama, along with those nations' flags, in a rally for President Vladimir Putin's foreign policies, the Moscow Times reported. The ethnic group in Russia has served as security patrols for the Kremlin and is looking to step up its involvement in government.
"Tomorrow things will flare up in Cossack villages and farmsteads, and common citizens will hide under benches and behind wardrobes, while we shall be on the front lines," said Cossack leader Ivan Bezugly. "Because today in the evenings, when citizens are drinking their tea and playing with their kids, it is Cossacks who are on the front lines, protecting public order."
The rally came after Turkish forces last month shot down a Russian war plane that allegedly crossed into its airspace near the Turkish border with Syria. Russia instituted sanctions on Turkey, and relations between the two countries over an ongoing conflict in Syria have been tense ever since.
The U.S. and Russia have also disagreed about the best course of action for peace in Syria. But in the weeks since the Paris terror attacks, which killed 130 people, the U.S. and Russia have increasingly looked to work together in Syria.
A tweet from Wall Street Journal reporter Yaroslav Trofimov purports to show a video from the weekend's rally.
Cossacks have served as a paramilitary group within Russia for several hundred years, patrolling the nation's borders as far back as czarist Russia. The group more recently was instrumental in the capture of Debaltseve and other cities in eastern Ukraine, in a move that violated the Minsk peace agreement, which set out a ceasefire between Russia and Ukraine during the ongoing war between pro-Russian rebels and Kiev.
The legacy of the Cossacks is deeply rooted in this paramilitary history as well as in its dedication to protection of the nation-state. Their military actions are often sanctioned by the Kremlin.
© Copyright IBTimes 2023. All rights reserved.