Could Saudi-Iran Tensions Destabilize Bahrain? Unrest Sparks Protests In Sectarian-Divided Gulf State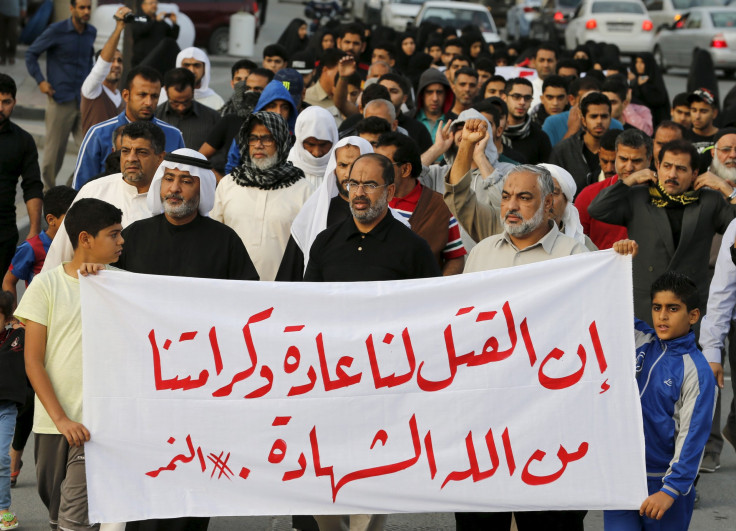 Hundreds of Shiites in Bahrain have taken to the streets, lashing out at Saudi authorities for the high-profile execution of a prominent Shiite cleric over the weekend. Peaceful protesters held images of Sheikh Nimr al-Nimr as rioters set fire to cars, and authorities in the Persian Gulf nation opened fire with tear gas.
Saudi Arabia's execution of Nimr may have been intended to show resolve against a Shiite opposition, but now Bahrain, which neighbors Saudi Arabia and has experienced significant sectarian unrest in recent years, will have to deal with the fallout, Middle East analysts said. As the Bahraini government has sided with the Saudi monarchy amid growing international backlash, the conflict has further enraged the country's Shiite majority, who already complain of second-class treatment. The implications for the Bahraini government could be major, particularly as it continues to struggle with a financial crisis brought on by the drop in oil prices.
"When the sectarian flag goes up in the eastern province [of Saudi Arabia], people on both the Sunni side and the Shiite side in Bahrain pay attention," said Jon Alterman, Middle East program director at the Center for Strategic and International Studies, a Washington-based think tank. "The fault lines are there."
Bahrain is a small Gulf state, consisting of more than 30 islands. Aside from being an important geopolitical ally to Saudi Arabia, Bahrain is also the site of the U.S. Navy's 5th Fleet, where more than 5,000 Marines and sailors assigned to operations throughout the Middle East are based.
The execution of Nimr Saturday sparked a regional crisis, deepening a sectarian divide across the Middle East as protests swept across Shiite communities. Nimr was a prominent Shiite cleric who condemned both Saudi Arabia and Bahrain's treatment of their Shiite minorities and backed calls for the removal of the Saudi monarchy in 2011. Saudi Arabia announced Sunday that it was cutting all diplomatic ties with the Middle East's strongest Shiite power, Iran, after protesters targeted the Saudi Embassy in Tehran, and both Bahrain and Sudan followed suit. Both countries are strong allies of Saudi Arabia.
As the protests swept across the Middle East, nowhere were the stakes higher than in Bahrain, where a Shiite majority complains of disproportionate power and wealth in the hands of a Sunni minority. Some Shiite families have done well in the system and make up part of Bahrain's elite, but most complain of marginalization and accuse the government of systemic discrimination. In 2011, the Saudi-backed authorities crushed a largely Shiite-led protest movement, which called for reforms and greater parliamentary openings. Since then, smaller-scale protests have sporadically broken out and have met with harsh repression.
"There are simmering tensions," Alterman said. "There are Shiite villages and many people in them feel systematically discriminated against, and they have grievances ... and the Sunni community feels besieged because they live as a minority in their own country."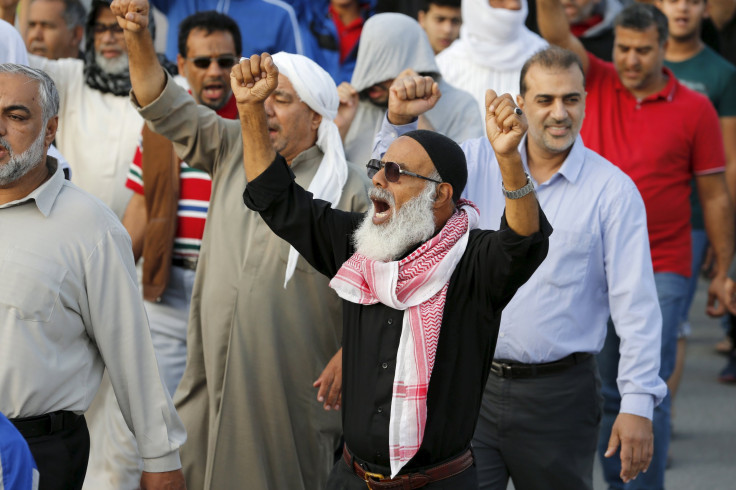 Bahrain not only neighbors Saudi Arabia's eastern province, where Nimr was from, but it is also deeply connected with the eastern Saudi region. People regularly travel between the two countries, and some have referred to Bahrain as a "province" of Saudi Arabia, given how heavily Bahrain's government relies on Saudi support.
If large-scale protests were to erupt again, Bahrain could be ill-equipped to cope with them, analysts said. Gulf states have been struggling to deal with a massive financial crisis brought on by a steep drop in oil prices over the last year, and Saudi Arabia has recently announced a series of cuts meant to ease its deficit. Bahrain has faced a budget deficit every year since its military cracked down on protesters four years ago, and a budget deficit was expected to climb to nearly $4 billion this year. The troubled financial outlook is at least in part due to boosted expenditures on defense and security, a Middle East Eye report from late 2014 said. At least a quarter of the government's spending has been earmarked toward the police and military.
While Bahrain's economy is more diversified than Saudi Arabia's, with a somewhat well-off financial sector, it remains highly susceptible to disruptions in Saudi Arabia's market. The Saudi economy is 20 times the size of Bahrain's, and Bahrain's political situation has made it increasingly reliant on Saudi funding in recent years. Following the 2011 uprising, Saudi Arabia and three other Arab states concerned with Bahraini stability pledged $10 billion dollars to the nation.
But with oil production now exceeding demand, Saudi Arabia and other oil-producing nations are facing major financial problems. Part of the excess in oil is due to Saudi Arabia's flooding of the market in an effort to counter Iran's oil potentials. After years of record profits, the price of a barrel of oil dropped by roughly half in 2015.
"[Bahrain] is dependent on financial support from the [Gulf Cooperation Council] members, which I would expect to continue given its political importance," Robin Mills, a nonresident fellow for energy at the Brookings Doha Center in Qatar, told International Business Times by email. "It has relatively small sovereign wealth holdings, a large deficit and significant debt."
Bahrain Overview | FindTheData
In the past, Shiites have regularly cited their economic marginalization in the country, noting that unemployment is considerably higher among Shiite citizens. A series of recently announced subsidy cuts in Bahrain could worsen discontent, Mills said.
Just how long protests over Nimr's death could last among Shiites in Bahrain remains to be seen, however. While Nimr was a prominent figure, he did not necessarily command a wide following, according to Toby Jones, a professor of Middle Eastern history at Rutgers University in New Jersey. At the same time, many of the protest movement leaders from previous conflicts have been arrested, which could further mitigate some of the spillover to Bahrain.
The controversy surrounding al-Nimr's death "has played into all the sectarian symbols and language, and the anti-Shiism that's felt," Jones said. "But I think people decided several years ago the risk and violence they faced was too much to bear."
© Copyright IBTimes 2023. All rights reserved.