Countering Anti-Islam Rallies, Muslim Groups Launch Voter Registration Initiative While Ramping Up Mosque Security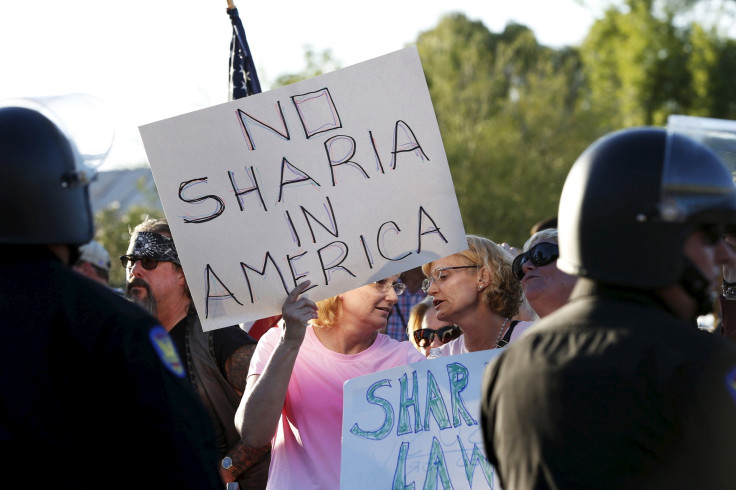 Responding to anti-Islam rallies planned for tomorrow across the country, Muslim organizations are not just calling on mosques to ramp up security but also encouraging Muslims to register to vote. A coalition of national American Muslim organizations has announced a yearlong voter registration campaign that aims to sign up at least 20,000 new voters before Super Tuesday primaries in March, the Muslim civil rights and advocacy group the Council on American-Islamic Relations (CAIR) said Friday.
"In registering voters, American Muslim organizations nationwide are challenging Islamophobia with community organizing, coalition building and civic empowerment," CAIR Government Affairs Manager Robert McCaw said in a statement by the organization. "In the face of hatred, the Muslim community will respond by asserting its rights as American citizens and voters."
The initiative comes as at least 20 anti-Islam rallies are scheduled outside mosques around the country this weekend, some of which have encouraged protesters to bring their weapons. The demonstrations are set to coincide with a rally in Washington D.C. that the controversial Nation of Islam leader Louis Farrakhan was expected to headline, though none of the protests are scheduled to take place outside Nation of Islam sites.
The rallies, loosely connected through the name "Global Rally For Humanity," appear to mostly be organized by Facebook, with limited indication of how widespread they might be.
CAIR has encouraged mosques to inform their community members of the upcoming protests and to consider hiring security tomorrow. Sikh organizations, who have also been the target of hate crimes intended for Muslims, have also called on their communities to exercise caution during the weekend.
Muslim leaders said the voter registration initiative would launch at mosques and Islamic community centers around the country. "Through the voter registration campaign, Muslim community leaders say they are demonstrating their commitment to challenging Islamophobia and other forms of hate and bigotry. The campaign will be accompanied by the hashtag #HateUnchecked," the statement by CAIR said.
© Copyright IBTimes 2023. All rights reserved.
FOLLOW MORE IBT NEWS ON THE BELOW CHANNELS