Cowboys vs. Saints 2018 Prediction: Drew Brees, New Orleans Will Blow Out Dak Prescott, Dallas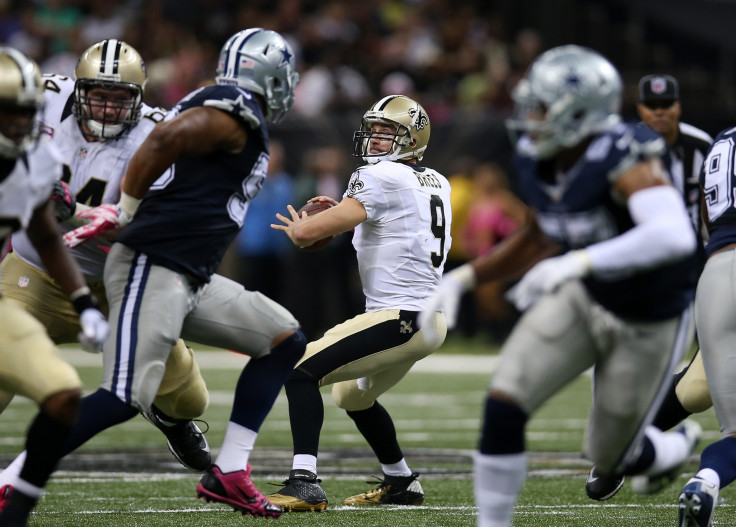 Home teams have performed extremely well on "Thursday Night Football" in the 2018 NFL season, but that trend shouldn't continue in Week 13. Expect the New Orleans Saints to have their way with the Dallas Cowboys on the road.
New Orleans has proven to be the best team in football with a league-best 10-1 record. They are the NFC's No.1 seed with a 10-game winning streak that includes five straight victories by 10 points or more. The Saints have outscored their last three opponents 130-38.
Dallas has a winning streak of their own, though it's only existed for three weeks and hasn't been nearly as dominant as the one New Orleans is currently riding. The Cowboys have beaten three straight mediocre opponents by no more than one score, and only one of their six victories has come by multiple scores.
Beating the Saints by any margin would be impressive for the Cowboys. They can even cover the spread with a seven-point loss since the betting line is up to 7.5 points, according to OddsShark. But no team has come close to beating New Orleans since mid-October, and it's hard to imagine Dallas can do so with this offense.
As well as Dallas' defense has played this season, the unit is not going to stop New Orleans' offense. Drew Brees is the MVP frontrunner, and he might very well rip the Cowboys' No.3 scoring defense to shreds.
Brees had a 114.9 passer rating against the Baltimore Ravens' No.1 ranked defense. Against the Washington Redskins and Minnesota Vikings, both of whom rank in the top 10 in points allowed, New Orleans scored 73 points. The Saints' quarterback has 29 touchdown passes with just two interceptions and 82 incompletions this year.
The only way for the Cowboys to compete with the Saints would be in a high-scoring affair. That's how the Tampa Bay Bay Buccaneers handed New Orleans their only loss of the season. Ryan Fitzpatrick threw for 417 yards as the Bucs upset the Saints in the Superdome 48-40.
The problem is New Orleans' defense has rounded into form, and Dallas doesn't have an offense that's built to win a track meet. Even with the addition of Amari Cooper, the Cowboys aren't going to light up the scoreboard in most weeks.
It doesn't help Dallas that New Orleans has allowed the fewest total rushing yards and the second-fewest yards per carry. Ezekiel Elliott will only impact the game so much when Brees and the Saints' offense is marching down the field and picking up nearly nine yards per passing attempt.
Only two road teams have won on a Thursday night this season. Both of those contests were blowouts, and the visiting team was favored. This week's game should feature a similar result.
Prediction: New Orleans over Dallas, 37-23
© Copyright IBTimes 2023. All rights reserved.