Crash: India's Roads Are The Deadliest In The World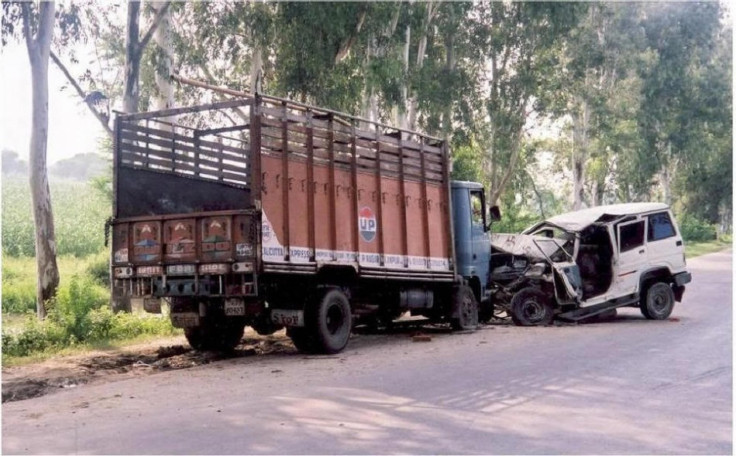 More than thirty people died when an overloaded passenger bus plunged into a deep gorge in the northeastern Indian state of Meghalaya, underscoring India's unfortunate role as having the world's deadliest roads.
According to reports, the bus driver (who died himself) was driving erratically in rainy weather. Another thirty passengers were injured in the accident.
More than 110,000 people died in Indian road crash every year – a tragedy sparked by reckless driving and poor roads, among other ills.
Just last month, 30 people perished when a truck collided with another vehicle in Haryana, in northern India.
The World Bank estimates that the actual carnage on India's roads is closer to 200,000 (or about 550 deaths every day), if one includes pedestrians and cyclists who are hit by passing vehicles. This figure would indicate that India alone accounts for 15 percent of global road fatalities, although it only has 1 percent of all motor vehicles on the planet.
These figures also do not include the hundreds of thousands --- perhaps millions – of Indians who are seriously injured by these frequent mishaps.
"Many of these deaths are preventable by improved road design and management," the Bank said.
"As India's rapid economic growth enables more people to own cars and scooters, the death toll on the country's roads will rise unless efficient measures are implemented. India has now overtaken China to top the world in road fatalities and continues to pull steadily ahead."
Roads unsuited for high-density traffic, political corruption that leads to unqualified people receiving drivers licenses, a disregard for auto safety rules and speed limits are all contributing factors to the rising death toll on India's highways and byways.
World Bank Country Director Roberto Zagha commented: "No other country has ever had such a high number of vulnerable road users. Given the scale of this unique challenge, India cannot afford to emulate the slow path to safer roads taken by the high-income countries; rapid and innovative action is needed."
Unless safety measures are instituted across India, the carnage on its roads will continue unabated. Consider that the number of cars in India has skyrocketed from just 5 million three decades ago to more than 75 million today.
Indian road safety expert G. Gururaj wrote in a study: ''Generally, poor people are involved more often in road crashes, while their access to quality health care is limited,'' adding that most victims are men between the ages of 15 and 44 years who come from the ''poorer sections of society'."
The Savelifefoundation estimates that road accidents are now the leading cause of death for Indians in the 15-40 age group and that these deaths shave off 2.5 percent of India's annual GDP.
© Copyright IBTimes 2023. All rights reserved.