Cricket World Cup Final 2015: Match Time, Live Streaming Info, TV Channel For Australia vs. New Zealand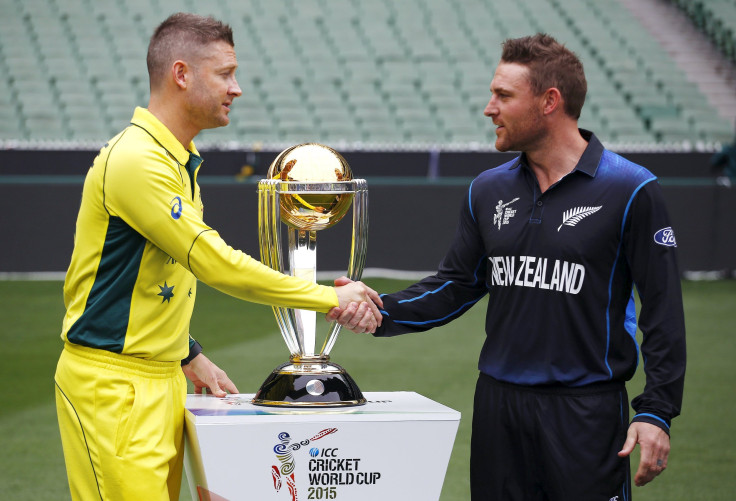 Already preparing for the chance to lead his country to World Cup glory on home soil, Australia captain Michael Clarke has revealed that Sunday's final against New Zealand at the Melbourne Cricket Ground will be his last ever One-Day International. Clarke made the announcement that he will be stepping away from the limited-overs format -- he will stay on as Test captain -- just 24 hours before the two 2015 World Cup co-hosts face off for the trophy, admitting that he had only just come to the decision himself.
"I'm extremely grateful and thankful," he said in Saturday's news conference. "I just found out that tomorrow will be my 245th One Day game for Australia. It's certainly been an honor and a privilege to represent my country in One-Day cricket for that amount of games, and I'm grateful to every single player I've been lucky enough to play with, and this team is certainly no exception to that. I think it's the right time for me and the Australian cricket team."
Clarke, 33, is one of three players on the current team who were also present when Australia last lifted the World Cup in 2007. And it has been quite a tournament, having faced a race against time to simply make it to the event, after a hamstring injury that forced him to sit out Australia's opening match of the competition. Clarke, who took over the captaincy following the last World Cup, admitted later that the injury had led him to consider immediate retirement. Instead he has come back to lead Australia through to the final, having impressively seen off defending champions India in a 95-run win in the semifinals. Yet, Clarke is adamant that the focus now be on the matter at hand of beating New Zealand, rather than his farewell.
"It's a special game, no doubt about it, but it needs to be about the team and I want it to be about the team," he said. "I just said it to my teammates then. And I've been the one to come out and say, it's not emotion, it's skill that helps you win major games and major tournaments, and tomorrow will be no different."
Australia's one defeat so far in the competition came against the team it will now face in the final. Indeed, New Zealand has won all eight of its matches so far in this World Cup. And against South Africa last time out, it finally, at the seventh attempt, triumphed in a semifinal, with a thrilling win in which Grant Elliott hit the winning runs with a six off the penultimate ball. Along the way the team has captivated its home country and fueled belief that it can put New Zealand on top of the cricket world for the first time.
"It's been the greatest time of our lives," captain Brandon McCullum said. "We dreamed right from the start to now give ourselves a 50-50 chance in the final is an amazing achievement. We've had some tremendous support back home, and also from around the world as well. I think the brand of cricket that we've played has really touched a lot of people and endeared ourselves to a lot of people who follow this game. We've got one more big hurdle tomorrow. We'll give it everything we've possibly got."
But the challenge facing New Zealand on Sunday is its biggest yet. For the first time in the World Cup, it will play away from home soil and, instead of the smaller venues in New Zealand, it will compete in its great rivals' backyard in front of a predicted crowd of 100,000. McCullum, though, insists his players will welcome the grand stage.
"Obviously it's got a different look to it. But in this day and age, with bigger bats as well, it still brings into play the fours and sixes. So we'll adapt accordingly. It's something that we'll relish, I think. We'll look forward to the opportunity to play in such a big stadium and a different kind of cricket ground, and we'll give it a good shake."
Match Time: 2:30 p.m. Sunday local time. 11:30 p.m. Saturday EDT.
TV Channel: Dish Network, Mediacom and Time Warner Cable subscribers can watch all matches via pay per view. More info here.
Live Streaming Info: The Cricket World Cup final between Australia and New Zealand will be available via ESPN's digital subscription service, costing $19.99.
© Copyright IBTimes 2023. All rights reserved.