Critics Blast US Farm Subsidy Recipient Rep. Stephen Fincher For Backing Food Stamp Cuts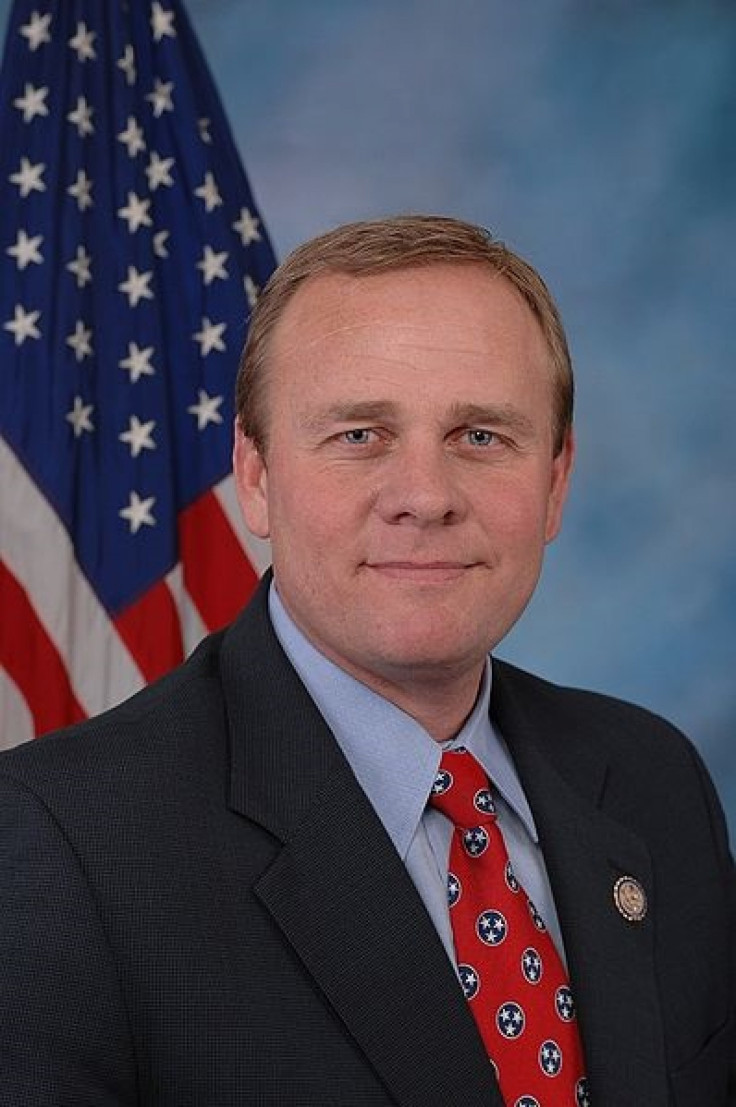 Rep. Stephen Fincher, R-Tenn., is refusing to respond to critics who accuse him of receiving millions of dollars in farm subsidies while supporting billions of dollars in cuts to food stamps.
Fincher is one of the largest recipients of federal farm subsidies, according to the Environmental Working Group, a research and advocacy organization that also investigates government subsidies. By EWG's count, the Republican congressman received nearly $3.5 million in federal subsidies between 1999 and 2012. In one year alone, he was given nearly $560,000 in commodity subsidies -- government cash payments used by farmers to supplement their income. Those types of subsidies affect the cost and supply of crops.
He was among dozens of lawmakers on the House Committee on Agriculture who last week voted 36 to 10 to pass the 2013 farm bill. The bill proposes $40 billion in savings and a $9 billion increase to the crop insurance program. Half of the savings would result from a $20 billion reduction in the Supplemental Nutrition Assistance Program, commonly known as food stamps.
"To me it is just hypocrisy with a capital 'H,'" said Donald Carr, senior adviser at EWG. Fincher's office has not responded to multiple requests for a comment.
Reducing food stamps by so much will eliminate approximately 2 million people from the number of food stamp recipients, according to the Center on Budget and Policy Priorities, a non-partisan think tank based in Washington, D.C. Currently, food stamps provide support to more than 47 million Americans, including low-income families, the elderly and the disabled.
Fincher, who lives in Frog Jump, Tenn., and is a managing partner at Fincher Farms, a seventh-generation agribusiness in west Tennessee that grows cotton and other crops, used the Bible to argue for food-stamp cuts, saying that Scripture points out that those unwilling to work will not eat.
"But more than that, the role of citizens, of Christians, of humanity, is to take care of each other," Fincher said at a Memphis event last week. "But not for Washington to steal money from those in the country and give it to others in the country. Our role is out of control."
That is exactly where critics take issue with the congressman, noting that it appears as if he opposes government handouts in the form of food stamps but not in the form of government farm subsidies.
"I do think it is hypocritical for him to say that people taking from the government are stealing when he takes a $70,000 check -- whether he needs it or not," Carr said. The government handed Fincher that $70,000 check last year.
It is not the first time Fincher's receipt of crop subsidies has been an issue. During the 2010 primary, Donn Janes, a candidate for the GOP nomination, was among the first to speak out about a potential conflict of interest if Fincher won the seat and went to work on a farm bill.
Janes, who was backed by the Tea Party then, was concerned about Fincher's platform to reduce federal spending while being a recipient of farm subsidies. Now a self-identified Libertarian, Janes finds "hypocrisy" among both Republicans and Democrats. He thinks they are both self-serving and that the government should cut federal spending as a whole.
"That means basically the welfare programs and the subsidies for business and also the farm industry," Janes said. "The entitlement programs make up a huge portion of the money that we are required to spend by law and of course, being that [Fincher] is a farmer, he is going to look out for the best interest of himself. And quite frankly, he got tons of support from farmers just like him that are making millions of dollars every year in farm subsidies. So they're not going to cut their own throats. They are going to continue those programs, but let's go ahead and cut programs for everybody else."
Cotton prices have remained high for years. In 2011, cotton for immediate delivery was being traded at $2 per pound. Last week, its price rose while output in the U.S. declined. Cotton for July delivery went up 1 percent, closing at 86.92 cents a pound, Bloomberg reported.
Janes thinks now is the time to be cutting farm subsidies. And food stamps shouldn't escape the cutting board either. "There's a lot of waste and bloat in those programs that need to be cut," Janes said. "Now [Fincher] is preaching to the conservative mindset saying, 'we need to get these food stamps cheaters off and get people working,' but yet turn around and give subsidies to farmers and oil companies. I think it's hypocritical."
Hypocrisy, double standard or however, critics want to define it, Fincher's action highlights a bigger problem. The food and farm policy is in need of reform, critics say. Perhaps it is most evident in the $24,000 a year cut off limit for food stamp eligibility versus the $750,000 income eligibility cap for farm subsidies.
"This is a clear-cut example of how the playing field is tilted toward the haves and not the have nots at the highest level of Congress," Carr said. "The bulk of the money that we spend, that we send to support farmers in America, the bulk of it goes to the largest most profitable operations. It doesn't go to the small struggling family farms like we're sold. And that's wrong and that is why these programs need reform."
FOR FREE to continue reading
✔️ Unlock the full content of International Business Times UK for free
offer available for a limited time only
✔️ Easily manage your Newsletters subscriptions and save your favourite articles
✔️ No payment method required
Already have an account?
Log in
© Copyright IBTimes 2023. All rights reserved.