Cruise Ship To Be Used As Shelter For Displaced Ukrainian Refugees Arrives In Glasgow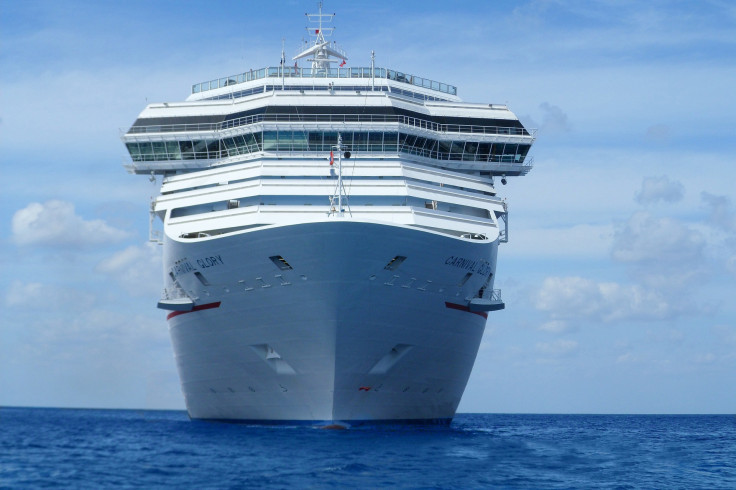 KEY POINTS
The MS Ambition, which was chartered for six months to house Ukrainian refugees, has arrived in Glasgow, Scotland
It will provide passengers access to restaurants, child play facilities, shops, cleaning and communal spaces
Plans for how the ship will be used are still being finalized as of late
A cruise ship that has been chartered to temporarily house Ukrainian refugees in Scotland has arrived in the country's west central lowlands, according to reports.
Ambassador Cruise Line's MS Ambition is now at King George V docks, located along the River Clyde in Glasgow, Scottish newspaper The Scotsman reported.
As part of a £100 million ($115.67 million) contract awarded by Scotland's government to Corporate Travel Management (North) Ltd to source and provide travel-related services for displaced people from Ukraine, the vessel has been chartered for six months to accommodate Ukrainian refugees.
Another cruise ship, MS Victoria, is currently being used to house hundreds of Ukrainians in Leith, Edinburgh, according to The National.
"The Scottish Government is providing accommodation that is safe and sustainable while people are waiting to be matched to suitable longer-term accommodation," Neil Gray, Scotland's Minister for Europe and International Development, said.
The MS Ambition, which has 714 cabins, will reportedly give passengers access to restaurants, child play facilities, shops and cleaning and communal spaces.
Passengers will be free to come and go from the ship, and they can access shuttle bus services that run 24 hours a day, per The Scotsman.
Plans for how the ship will be used are still being finalized, according to Gray, who was given responsibility for the Scottish Government's approach to supporting Ukrainian refugees arriving and living in Scotland in March.
"Now that the MS Ambition has arrived, this work will begin at pace and people will move on board once the Scottish Government and Glasgow City Council are satisfied that the necessary preparations, including health and safety checks, have been satisfied," the official said.
The Scottish government committed to welcome 3,000 refugees when it launched its Super Sponsor scheme in March, the BBC reported.
The program, which got paused in July, "is designed to help displaced people from Ukraine apply for visas by removing the need for applicants to be matched to a host prior to being given permission to travel to the UK," the government said.
About 35,931 applications have been submitted, and 29,992 visas have been issued under the scheme as of Thursday, according to the BBC.
More than 7 million refugees from Ukraine have been recorded across Europe, data provided by the United Nations High Commissioner for Refugees showed.
© Copyright IBTimes 2023. All rights reserved.