Cruz Missile Takes Rangers Closer to World Series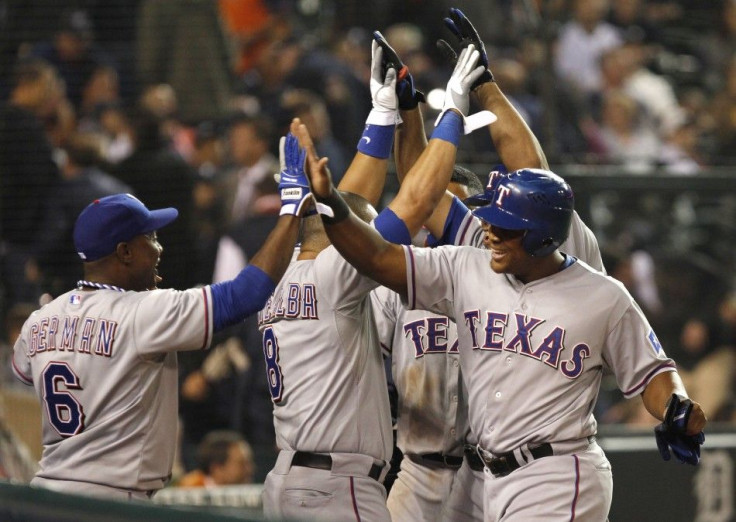 Nelson Cruz slammed a three-run homer in the 11th inning to seal a 7-3 victory for the Texas Rangers over the Detroit Tigers on Wednesday, moving the visitors within one win of a repeat trip to the World Series.
Cruz, who crushed a winning grand slam homer in extra-innings to give Texas a victory in Game Two, delivered the decisive blow again to hand the Rangers a commanding 3-1 lead in the best-of-seven series.
Texas can clinch a spot in the Fall Classic on Thursday with a Game Five victory, also at Comerica Park.
Cruz has been a one-man wrecking crew for the Rangers, pounding four homers in four games and driving in nine runs as well as etching his name in the record books as the only player to hit two extra-inning homers in the same post-season series.
This time the right fielder's heroics came after Mike Napoli had broken open a 3-3 deadlock with a base hit to center that scored Josh Hamilton, who had led off the 11th with a double.
When Cruz was not scoring runs, the flashy Dominican was robbing them, denying Detroit a go-ahead score in the bottom of the eighth by throwing out Miguel Cabrera at home with a perfect dart from right field.
Thank you Nelson Cruz, Rangers manager Ron Washington told reporters. We certainly needed what he gave us.
I don't judge Nelson just because he hits balls out of the ball park. He's a complete player.
He takes pride in every part of his game.
Following a two hour, 13 minute rain delay, Game Four began under a steady drizzle and the Tigers jumped out to a 2-0 third inning lead on a two-run double from Cabrera, that extended his post-season career hitting streak to 11 games.
After limiting the Rangers to just two hits through five innings, Tigers starter Rick Porcello was rocked in the sixth with Ian Kinsler, Elvis Andrus and clean-up man Michael Young each driving in a run to nudge Texas ahead 3-2.
ROCKET THROW
The Tigers found themselves in more trouble in the seventh, Porcello chased from the game as the Rangers loaded the bases but escaped without any further damage when Al Alburquerque came on to get Andrus to ground out and end the threat.
Having survived a scare, Brandon Inge sent a jolt through the Texas dugout when he crushed a towering two-out solo home run in the bottom of the inning, the chilled capacity crowd exploding in a towel-waving celebration.
Detroit had a chance to retake the lead in the bottom of the eighth when Texas intentionally walked American League batting champion Cabrera to get to Martinez.
The Tigers designated hitter made the Rangers pay for the slight, driving a base hit that sent Cabrera to third with one out.
Delmon Young then pounded a fly ball to deep right but Cabrera could not beat Cruz's rocket throw to the plate.
He (Cruz) has one of the best arms in the league, said Napoli, who was able to hold on to the ball despite being flattened at the plate by a charging Cabrera.
He came up firing and gave me a good one hop.
I know in that situation there is probably going to be a collision or it's going to be a close play.
Escaping Detroit with the ALCS will not be easy for Texas with the Tigers sending ace and 24-game winner Justin Verlander to the hill for the must-win contest.
Obviously we've got to win tomorrow, Detroit manager Jim Leyland said. We're sending out a guy who is pretty good.
The Rangers have never won Major League Baseball's biggest prize and are desperate to go one better than last season when they were beaten 4-1 by the San Francisco Giants in the World Series.
© Copyright Thomson Reuters 2023. All rights reserved.