Cyclone Hudhud 'Intensifies,' India's Southeast States Ready For Evacuations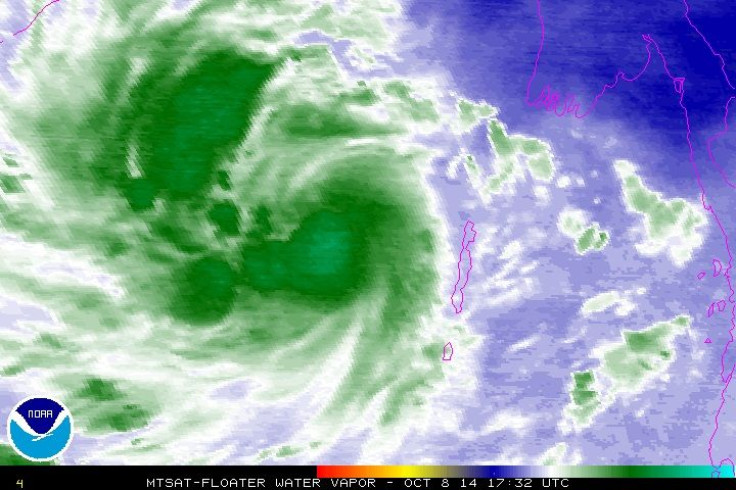 Cyclone Hudhud gathered strength over the Bay of Bengal on Wednesday on its march toward India's southeastern coast, first slamming into the islands of Andaman and Nicobar, where the storm uprooted trees, triggered landslides and downed power lines, the Hindustan Times reported. The storm will continue moving west-northwest and is expected to intensify over the next few days, according to the India Meteorological Department.
Officials say the storm, which formed over the Andaman Sea on Oct. 6, will make landfall in the states of Andhra Pradesh and Odisha along the country's east coast over the weekend. The cyclone winds are expected to top 140 kilometers per hour, or nearly 90 miles per hour. It will likely bring heavy rainfall, rough surf and wind gusts up to 150 kilometers per hour. Authorities have prepared "to meet the situation," Chief Minister Naveen Patnaik said Wednesday, according to the Times of India. "All concerned departments have been asked to make their contingency plans," he said.
The meteorological department has advised fishermen to suspend operations off the Andhra Pradesh and Odisha coasts and for "judicious regulation of aviation, navigation, rail and road traffic." Authorities expect the cyclone to cause "extensive" damage to Kutcha houses, makeshift, tin-roofed dwellings made of mud and wood that are common in India's slum neighborhoods.
In the islands of Andaman and Nicobar, authorities closed schools, halted ferry services and shut down key roads because of fallen trees. National disaster response teams were deployed to clear uprooted trees and reconnect power lines, officials said.
Cyclone Hudhud, while strong, will be less intense than last year's Cyclone Phailin, which battered Odisha in October 2013. Phailin packed winds of up to 217 kilometers per hour and killed 15 people, most of whom died from falling trees or were buried in collapsed huts. However, experts said the death toll from Phailin could have been much higher had the government not evacuated half a million people from Odisha and Andhra Pradesh. The displaced residents took shelter in schools and temples on higher ground. It was one of the largest evacuations ever in India and was prompted in part by a deadly cyclone in 1999 that killed 10,000 people in the region.
Odisha officials have set a "zero casualty" target as Cyclone Hudhud approaches and have begun preparations similar to those made during Phailin, the Indian Express reports. "District collectors must prepare immediately and keep the evacuation plan in respect to their districts ready, giving highest priority to most vulnerable villages [and] habitations," a spokesman of the special relief commissioner said. Rescue operators have started readying flood shelters to house the evacuees, officials said.
© Copyright IBTimes 2023. All rights reserved.