Cyclone Pam, 'One Of The Worst In Pacific History,' Causes Widespread Destruction In Vanuatu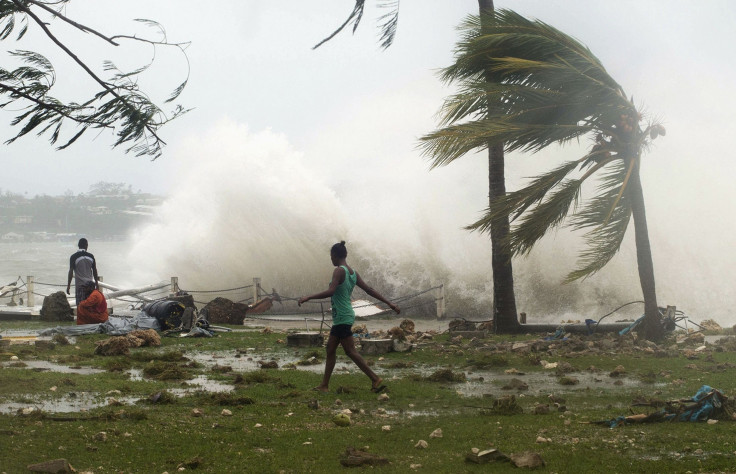 Update as of 4:30 a.m. EDT: Aid officials confirmed that at least eight people died in Vanuatu after tropical cyclone Pam made landfall late Friday. Tom Skirrow, country director for the Save the Children aid group, told Reuters that the figure is likely to rise substantially in the coming days and weeks.
U.N. agencies had earlier said that the number of dead could run into dozens, after reports emerged of widespread destruction in remote areas of the archipelago. The streets of the capital city of Port Vila are also littered with uprooted trees, roofs and power lines, according to media reports.
"It's like a bomb has gone off in the centre of the town. There is no power. There is no water," Alice Clements, a spokeswoman for Unicef, reportedly said.
Meanwhile, Australia's foreign minister, Julie Bishop, said that her government is ready to send a crisis response team to Vanuatu, while New Zealand announced $1 million in initial funds to assist Vanuatu, Fiji, Tuvalu and the Solomon Islands, according to media reports.
Original story below:
Dozens were feared dead in the South Pacific archipelago of Vanuatu and "unbelievable destruction" was reported in the region when Cyclone Pam smashed into the islands late on Friday, according to media reports. The Category 5 cyclone reportedly began subsiding on Saturday as it headed west toward New Zealand.
"While it is too early to say for certain, early reports are indicating that this weather disaster could potentially be one of the worst in Pacific history," Vivien Maidaborn, executive director of Unicef New Zealand, said in a statement released Saturday. "The sheer force of the storm combined with communities just not set up to withstand it, could have devastating results for thousands across the region."
The tiny Pacific island nation of Vanuatu is located about 1,100 miles east of northern Australia and has a population of just 267,000 spread over 65 islands. The capital city of Port Vila, which was directly hit by the storm, has a population of 47,000. Power lines and communications are down in most regions of the country, making it impossible to assess the full extent of the damage, media reports said.
"UNICEF's biggest concerns now are around ensuring that people have somewhere to shelter given that many will have completely lost their homes or suffered immense damage," Maidaborn said in the statement. "Another major concern at this point is around access to clean and safe water. Power outages will have a dramatic effect on access to water which will become scarce very quickly. Waterborne diseases from the aftermath of the storm are also a huge concern."
Pam is forecast to pass north of New Zealand on Sunday and Monday, and is expected to lose strength as it passes over colder waters. The cyclone has also caused significant damage in Kiribati and the Solomon Islands, according to media reports.
"This current situation shows just how much the Pacific region needs investment and support for effective risk reduction measures against cyclones, perhaps more than any other place in the world," the Australian Red Cross said in a statement.
© Copyright IBTimes 2023. All rights reserved.