Dachau Concentration Camp Gate Bearing Nazi Slogan 'Arbeit Macht Frei' Stolen, Investigation Underway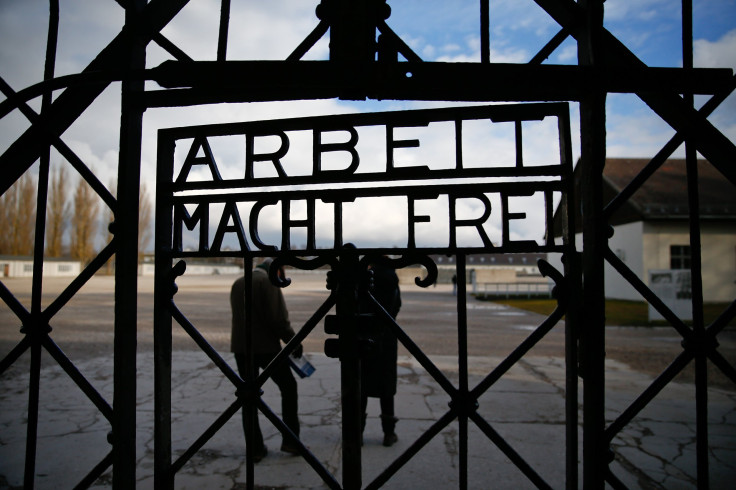 A gate bearing the Nazi slogan "Arbeit Macht Frei," meaning "Work sets you free," was stolen from the former Dachau concentration camp -- the first to be opened by the Nazis in Germany in 1933, police reportedly said Sunday. The concentration camp, which is now a memorial, is located about 12 miles northwest of the city of Munich.
The wrought-iron gate, which was set into a larger gate, was reportedly stolen during the night as security officials noticed it was missing early Sunday morning, police said, according to The Associated Press, or AP. Police reportedly added that the gate could not have been stolen unless someone climbed over another gate to reach it. German police are reportedly investigating the theft.
"The theft of such a symbolic object is an offensive attack on the memory of the Holocaust," Yad Vashem Holocaust Museum in Jerusalem wrote in a blog post on its website Sunday.
Gabriele Hammermann, director of the memorial, described the gate as "the central symbol of the prisoners' ordeal" AP reported, citing Deutsche Presse-Agentur, a local news outlet.
Hammermann reportedly added that the site had no surveillance system but was monitored by a private security agency. She reportedly condemned the theft and said that the decision of not having video cameras in the former camp may now have to be reviewed.
The theft was called an "ignoble act" by Karl Freller, head of a foundation connected to the memorial, Agence France-Presse, or AFP reported.
The camp reportedly held nearly 200,000 people from across Europe and more than 40,000 Jews were killed there before it was liberated by U.S. troops in 1945. According to AFP, nearly 800,000 people visit the memorial each year.
In 2009, a similar sign was stolen at the Auschwitz-Birkenau camp in Poland. The theft triggered global outrage at the time and led to the imprisonment of Anders Hoegstroem, a former neo-Nazi leader from Sweden, who instigated the theft.
© Copyright IBTimes 2023. All rights reserved.