Dallas Cowboys 2019: 3 Predictions Include Dak Prescott's Contract, Struggles With Easy Schedule
The Dallas Cowboys are one of the most interesting teams ahead of the 2019 NFL season. The defending NFC East champions have Super Bowl aspirations, though the biggest story of the preseason has been about how they might be able to afford their best players, most of whom are seeking new contracts.
Here are three predictions for Dallas' 2019 campaign:
Dak Prescott will sign a contract extension
As the Cowboys negotiate new contracts with Prescott, Amari Cooper and Ezekiel Elliott, it's hard to believe that all three players will get the money they're looking for. If anyone is going to get a long-term contract, the quarterback is the safest bet. Maybe Dallas prefers not to pay Prescott north of $30 million a season, but that's close to what it's going to take to retain their most important player. Expect to two sides to come to some sort of agreement before Week 1.
Despite the questions that some have about Prescott, there's no denying how successful the team has been with him under center. The fourth-round draft pick has led the Cowboys to three straight winning seasons, including a 32-16 record and two appearances in the divisional playoffs. Prescott has made the Pro Bowl twice since entering the league in 2016. His career 96.0 passer rating ranks higher than that of Philip Rivers, Ben Roethlisberger, Matt Ryan and Andrew Luck.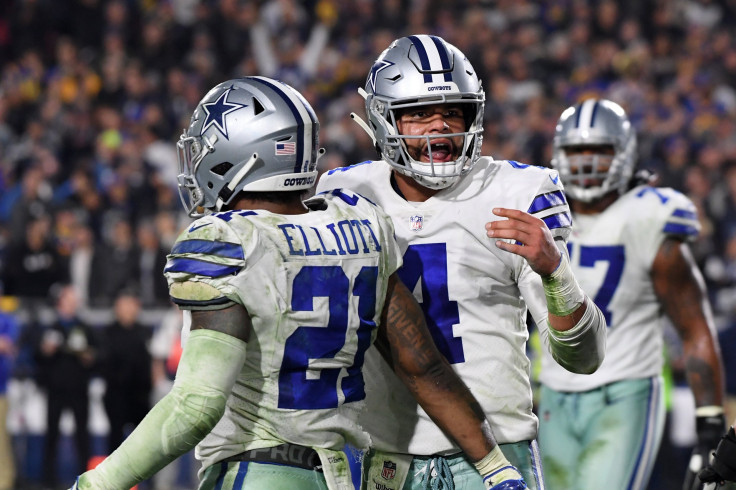 Dallas will have a top-five defense
When the Cowboys led the NFC with a 13-3 record in 2016, they did so with the NFL's No.5 scoring defense. Dallas hasn't ranked in the top five in either points or yards allowed over the last two seasons. Don't be surprised if the unit cracks the top five in either one of those categories in 2019.
The Cowboys have stars at every level of the defense. Byron Jones became an All-Pro by moving from safety to cornerback in 2018. Jaylon Smith, Leighton Vander Esch and Sean Lee make up the NFL's best linebacking corps. Even on the defensive line, where Dallas isn't particularly strong, Demarcus Lawrence has proven to be a force with two straight Pro Bowl selections. Robert Quinn will also provide more pass-rushing when he returns from his two-game suspension.
Dallas will face early-season struggles
The Cowboys understandably have high expectations. If all goes right, they've got what it takes to make a run to Super Bowl LIV. That could depend on getting off to a fast start as Dallas opens the year against some of the league's worst teams before the schedule gets much more difficult. While some might be penciling the Cowboys in for a 3-0 start against the Giants, Redskins and Dolphins, a perfect record in that stretch is far from a guarantee.
It could take Dallas some time to play their best. Elliott could miss all of training camp, and there's even a chance his holdout will extend into the regular season. Lawrence is no guarantee to play in Week 1 after undergoing offseason shoulder surgery. Amari Cooper is dealing with a foot injury. Ailments to all of those Pro Bowlers could, at the very least, make the Cowboys a poor bet in the first month. Dallas is one of just three teams favored by more than a touchdown in Week 1, according to OddsShark, and you can be sure they'll be big favorites in the following two weeks.
© Copyright IBTimes 2023. All rights reserved.