Dallas Cowboys' Dak Prescott Reveals Struggles With Mental Health During Offseason
KEY POINTS
Dak Prescott reveals having to seek professional advice to address his struggles with anxiety and depression
Prescott said the pandemic did not help in his mental recovery process
Prescott lost his brother to suicide seven years after his mother died of colon cancer
It was an offseason to forget for Dallas Cowboys quarterback Dak Prescott.
The two-time Pro Bowler opened up about the struggles he went through while football was on a break. With the Coronavirus pandemic messing up his mental state just like most of the world population, Prescott admitted how he had to seek help to address his depression and anxiety, which was made worse by the passing of his older brother, Jace.
"When you have thoughts that you've never had, I think that's more so than anything a chance to realize it and recognize it, to be vulnerable about it," Prescott said in a report from ESPN.
"Talked to my family, talked to the people around me simply as I did at the time. Some of them obviously had dealt with it before, was able to have those conversations, and then reach out further just to more people.
"I think being open about it and not holding those feelings in was one of the better things for me."
Prescott bared that he sought professional advice from New York Yankees psychologist Chad Bohling, who is said to be close to the Cowboys during Jason Garrett's tenure as coach.
It was an accumulation of pain over the years for Prescott, who also lost his mother to colon cancer in 2013. He said that having people around him had helped him cope with his personal struggles – until the pandemic entered the picture and made things tougher for him to handle.
"I'm a people person. I'm somebody that likes to be around people. I like to inspire. I like to put a smile on people's faces, day in and day out, and I like to lead," Prescott said. "When that's taken away from you simply because you're forced to quarantine and not be around people and get around people as much as you would like to, yeah, it's tough."
The 27-year-old appeared in an episode of "In Depth with Graham Bensinger" where he divulged on the subject surrounding the unfortunate death of his brother in April.
"I mean, obviously tears and tears and tears," bared Prescott as he described the pain of losing a loved one to suicide.
"I mean, I sat there and tried to gather what had happened and wanted to ask why for so many reasons. ... And as much as you want to ask why as much as this, I mean, I know my brother, and as we said, he had a lot of burdens on him."
Although he is still far from getting over his personal battle, Prescott has already vowed to advocate for mental health awareness in hopes to break the stigma by inspiring others to ask for help.
"Mental health is a huge issue and a real thing in our world right now, especially the world we live in where everything is viral and everyone is part of the media," Prescott said. "All those things create emotions and put things in your head about yourself or your situation in life that aren't true. I think it's huge. I think it's huge to talk. I think it's huge to get help. And it saves lives."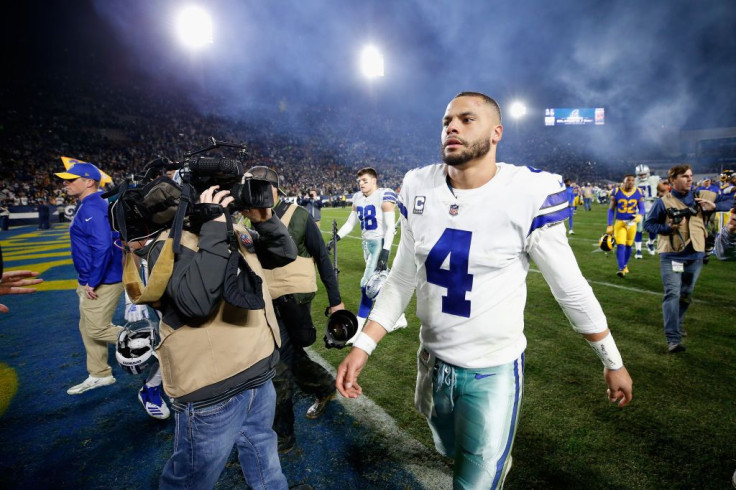 © Copyright IBTimes 2023. All rights reserved.