Dallas Cowboys News: Dez Bryant Puts Past Behind Him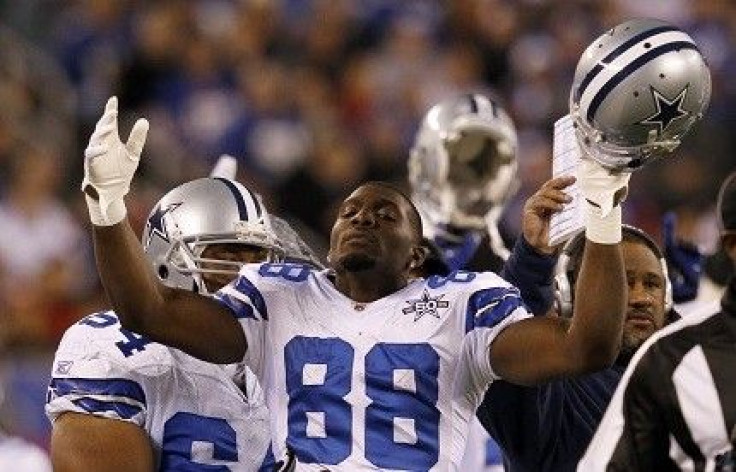 Dallas Cowboy receiver Dez Bryant's career has been more about the things he has done wrong that the things he has done right. Before he was drafted, it was his suspension from Oklahoma State for failing to openly disclose to the NCAA the full details of his interaction with a former NFL player not affiliated with OSU. Bryant had dinner with former Cowboy Deion Sanders and paid for it with the final 10 games of his college career.
He dropped like a stone down draft boards when concerns over his character, were raised. When he was drafted in 2010, Roger Goodell had started penalizing teams for poor off field behavior by their players, and his reputation hurt his draft stock. Once he got to Dallas, his legacy was as much about unpaid jewelry bills, baggy jeans and run-ins with mall security guards.
But this season, things seem to be changing.
I feel like I have learned a lot from all aspects, on the field, off the field, Bryant said. I see a lot of things more clear now, and I'm more confident in everything that I do. On the field and off the field, I try to make the best choices possible, and I feel like I'm doing a great job of that.
Another major factor in his improvement has just been having structure to his offseason. Last year, coming off of a broken leg that ended his rookie season, there were no organized workouts because of the lockout.
The combination of injury and lack of workouts robbed Bryant of some of his conditioning, and fans and coaches alike bemoaned his tendency to fade late in games. This season he is working out harder and more focused, and he is in much better shape.
His conditioning, I don't think there's any question watching him ... you can see how he can help you win football games, owner Jerry Jones said. His conditioning to me is where his focus is and where it should be. If we can have him better conditioned, then we've got a chance to see him more focused in the latter part of games, as opposed to the first part of games.
Bryant and Miles Austin are established as the top two wideouts on the Cowboys roster headed into the 2012 season, but there is no clear delineation between the two of them as to who is number one. That will be determined by whichever receiver can build a better rapport with quarterback Tony Romo.
There's a lot of trust that he's earned already in his career. But he too has to take the next step, and he's going about it the right way in the offseason program, said head coach Jason Garrett. It's a work in process for everybody.
Garrett went on to the say the best quarterbacks and receivers he has been around could play together for 10 years and still be working at refining and getting better.
That's a process (Bryant) and Tony are going through right now, he said.
Much can change between now and September, but Bryant appears poised to be on pace for the kind of season the Cowboys were dreaming about when they drafted him, and if he can do that it will go a long way towards getting the Cowboys back to the postseason.
© Copyright IBTimes 2023. All rights reserved.