DALLAS COWBOYS NEWS: Receivers to Watch After Jason Witten Injury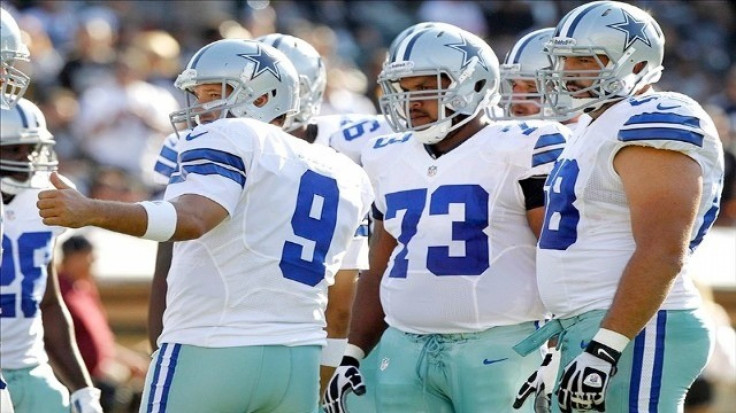 Training camp injuries can devastate teams, but can also lead to the emergence of a new star.
The Dallas Cowboys lost All-Pro tight end Jason Witten for the rest of the preseason due to a spleen injury in their 3-0 win over the Oakland Raiders Sunday. This was just the latest blow to a dwindling Dallas receiving corps.
Last week, seven-year receiver Miles Austin reinjured a hamstring that kept him out six games in 2011. He has been held out of practice so far this week. Finesse receiver and returner Dez Bryant also tweaked his hammy during drills on Aug. 11th, but saw action at Oakland. Still the Cowboys will not put too much pressure on him to go full speed yet.
And back on July 25, Dallas had to place 2012 fifth-round draft pick Danny Coale on the physically-unable-to-perform list.
Unless Pro Bowl quarterback Tony Romo has healthy targets, the Cowboys cannot expect the same production from a passing offense ranked No. 7 in the NFL last season. Not to mention Witten was his favorite receiver since Romo took over in 2006.
Until the infirmary clears out, the Cowboys will have to glean through a plethora of young receivers. Below is a list of receivers who must step up over the last weeks of training camp:
Kevin Ogletree
After Austin, Ogletree is the most experienced receiver on the Cowboys roster entering his fourth season in the NFL. This will give him a leg up over most other Dallas receivers.
The Queens, N.Y. native only has 25 receptions for 294 yards with no touchdowns for his career, but seniority has to play a factor as Dallas is working out six rookie wide receivers, all of whom have no idea what is waiting for them on an NFL field.
Dwayne Harris
His accomplishments in college haven't carried over so far, but they do show Harris has the pedigree to help Romo in the pass game. He was the 2010 Conference USA MVP while at East Carolina, and recorded team records with 101 receptions for 1,123 yards.
In 2011 he was only used as return man, but he did play in Dallas' first preseason game against Oakland and caught one ball for 13 yards. Look for Romo to spread the ball around a lot more in their next game against St. Louis. Harris could establish himself with his 4.45 40 speed.
Raymond Radway
This season is a comeback year for Radway, who broke his leg in the Cowboys' final preseason game in 2011. It was huge blow not just for the rookie, but for Dallas. After Radway had six catches for 91 yards and a touchdown during that preseason, he seemed ready to contribute in Week 1.
Out of Abilene Christian, the 25-year-old has participated throughout training camp, but did not see the field at Oakland. Saturday's game against St. Louis could be a career maker or breaker for Radway.
© Copyright IBTimes 2023. All rights reserved.