Dallas Cowboys Not Among NFC Favorites, Seattle Seahawks, Green Bay Packers Have Best Super Bowl Odds
It took one month for the Dallas Cowboys to no longer be among the NFC favorites.
America's Team has 30/1 Super Bowl odds following their 49-38 loss against the Cleveland Browns Sunday, according to FanDuel Sportsbook. Twelve teams, including five in the NFC, are given a better chance than the Cowboys to win the championship in February.
Just prior to the start of the 2020 NFL season, Dallas had 15/1 Super Bowl odds, tying them for fifth in the entire league. Only the Kansas City Chiefs, Baltimore Ravens, San Francisco 49ers and New Orleans Saints had better odds in Week 1.
The Cowboys have a 1-3 record, keeping them out of first place in the NFL's worst division. The Philadelphia Eagles sit atop the NFC East at 1-2-1.
Philadelphia only has 50/1 Super Bowl odds after its slow start. The Seattle Seahawks lead the NFC with 8/1 odds, followed by the Green Bay Packers (13/1), Saints (13/1) and Tampa Bay Buccaneers (14/1).
Dallas might have the worst defense in the NFL through four weeks, surrendering a league-high 36.5 points per game. The Cowboys rank 30th in total defense.
Under new head coach Mike McCarthy, Dallas is moving the ball as well as any other team. The Cowboys are first in total offense with 509.5 yards per game. They are one of three teams scoring more than 31.0 points per game.
Dak Prescott is far and away the NFL passing leader with 1,690 yards through the air. The quarterback is on pace to smash Peyton Manning's record of 5,477 yards in a season.
It won't matter if Dallas' opponents continue to put up big numbers on a weekly basis.
The Cowboys have a chance to right the ship over the next few weeks. Dallas is set to host the winless New York Giants in Week 5. The Arizona Cardinals, who are on a two-game losing streak, visit Dallas in Week 6.
Dallas' next four opponents have a combined 4-11-1 record. The three teams that have beaten the Cowboys are 10-2 this season.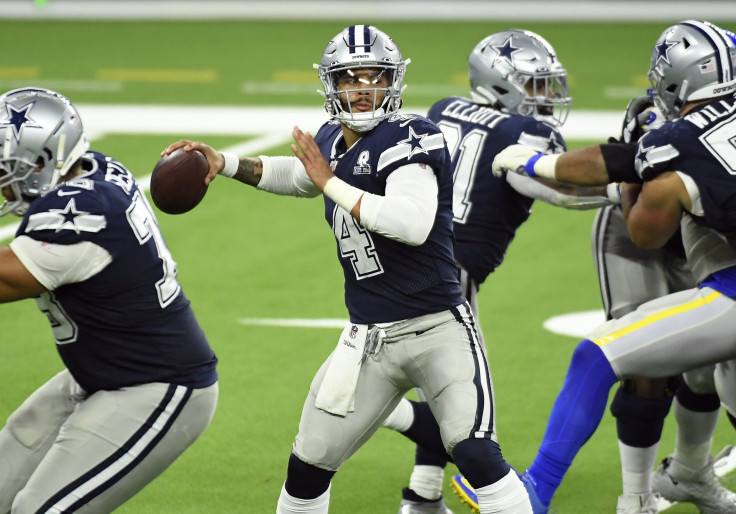 © Copyright IBTimes 2023. All rights reserved.