Dallas Cowboys Owner Doing 'Fine' After Car Crash
KEY POINTS
Dallas Cowboys owner Jerry Jones is doing well after the recent car crash incident
Tyler Smith's role with the Cowboys remains unclear
The Cowboys need to figure out how to maximize Smith
Dallas Cowboys team owner Jerry Jones--who was involved in a car crash on Wednesday, May 4--is reportedly doing well after the accident.
According to his son Stephen, the 29-year-old is "all good" since the unfortunate incident that happened at Wolf St. and Harry Hines Boulevard, ESPN reported.
The younger Jones said that his dad made it home late Wednesday evening after being checked at a hospital for minor injuries.
The accident happened roughly 20 miles away from the Cowboys team facility at about 8:10 p.m. C.T., TMZ reported.
The names of the other persons involved in the two-vehicle car crash were not revealed by the police.
A spokesperson for the Dallas Police Department explained that they do not usually give out names of individuals involved in accidents unless there is a fatality.
However, they did reveal that one person was brought to the hospital following the accident but for precautionary measures.
The incident occurred just days after the 2022 NFL Draft. Dallas took in lineman Tyler Smith from the draft with Jones visibly in high spirits and laughing with reporters at the time.
Smith was taken in with the 24th pick in the 2022 NFL Draft by the Cowboys, and it appears Dallas has big plans in store for the 23-year-old tackle.
This is despite the presence of another player with the same namesake in Tyron Smith.
It appears that Dallas may use the rookie at left guard. This was explained by Cowboys executive president Stephen Jones on the PFT PM podcast.
"I just think his upside is tremendous," Jones said via The Athletic's Jon Machota. "He played at a smaller school there at Tulsa. He only played in 18 games at Tulsa. But we just feel like his skill set really lends to him having an opportunity to be a top, top left tackle at some point."
Regardless of what the Cowboys have planned for Smith, the fact is they took in a quality lineman.
But putting him to good use will be something NFL pundits will be closely monitoring.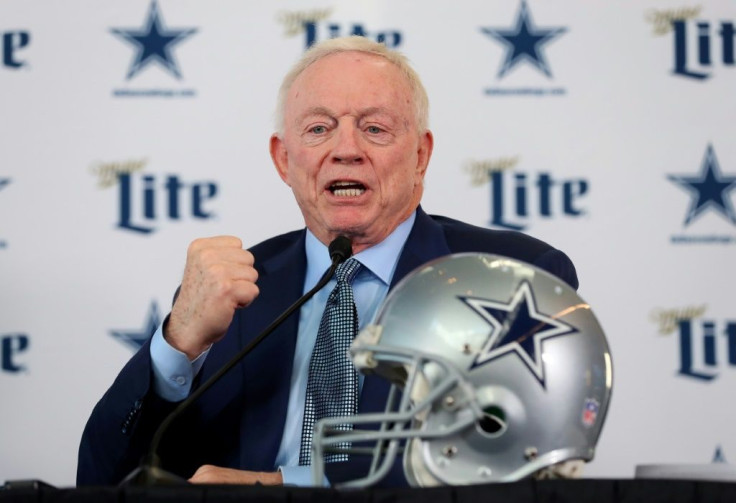 © Copyright IBTimes 2023. All rights reserved.