Dallas Cowboys Rumors: Demarcus Lawrence Seeking Record Contract As Team Trades For Pass Rusher
The Dallas Cowboys are hoping to have one of the best combinations of edge rushers for the 2019 NFL season after completing a trade to acquire Robert Quinn from the Miami Dolphins. Dallas already as one of the league's best defensive ends in Demarcus Lawrence, though the Pro Bowler is technically unsigned at the moment.
Lawrence has yet to sign his franchise tag, which would pay him about $20.5 million next year. He's looking to ink a long-term contract, and the two sides are far apart as Lawrence seeks record-setting money.
According to The Athletic, the Cowboys are willing to meet Lawrence's initial asking price of $20 million per season. Lawrence is now reportedly seeking an average annual salary of $22.5 million over six years. Such a deal would be the largest ever for a defensive player.
Denver Broncos pass rusher Von Miller set a record in 2016 when he signed a six-year $114.5 million contract. Lawrence is reportedly trying to surpass that deal by a good margin because of the increased salary cap.
"Right now, the best way to describe it is we're at an impasse," Cowboys executive vice president Stephen Jones said Tuesday afternoon, via The Athletic. "We're apart. But certainly optimistic. No one thinks more of Demarcus Lawrence than we do. He represents what we want on our football team, in terms of the way he plays the game. He certainly plays it at a high level. We'll continue to chop wood."
Miller also set a record with $70 million guaranteed. Lawrence is reportedly seeking around $84 million guaranteed.
After struggling to stay on the field in his first three seasons with the Cowboys, Lawrence has been selected to two straight Pro Bowls. He was a second-team All-Pro selection in 2017 when he had 14.5 sacks and four forced fumbles. Lawrence had 10.5 sacks, an interception and a career-high 64 tackles in 2018.
Quinn will make $8 million in base salary next season with incentives. He made two straight Pro Bowls in 2013 and 2014 but hasn't had more than 8.5 sacks in a season since.
The Cowboys are preparing to give both Dak Prescott and Ezekiel Elliott lucrative contract extensions in the near future.
​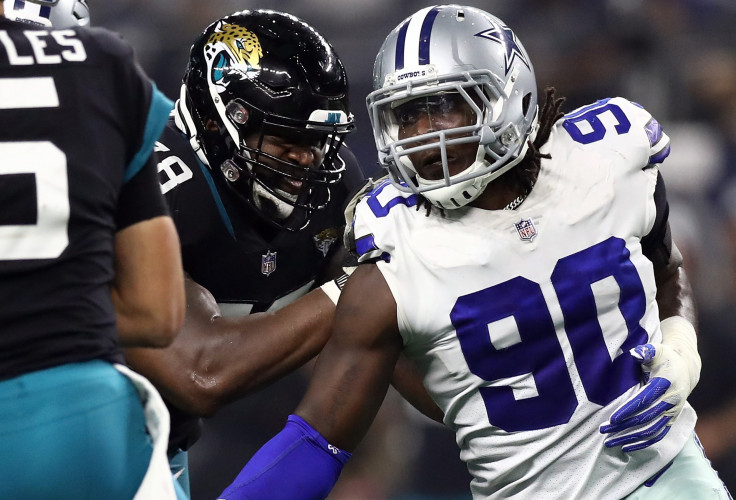 © Copyright IBTimes 2023. All rights reserved.