Dallas Cowboys Rumors: Earl Thomas An Option? Top 2019 Free Agents Unlikely To Join NFC East Team
The Dallas Cowboys and Earl Thomas have seemed like a fit for a long time. The team reportedly tried to trade for the safety last offseason, and now he has a chance to join them in free agency.
While there have been plenty of rumors regarding a potential union between Thomas and the Cowboys, it's probably unlikely that the veteran will sign with Dallas. NFL Network's Ian Rapoport has noted that the Cowboys are far from out of the race for Thomas, but another report indicates that Dallas probably won't meet his asking price.
According to NFL Network's Jane Slater, Thomas is looking to earn about $14 million per season. That price tag might be too high for Dallas, who appears unwilling to spend that much money in free agency.
The Cowboys are preparing to give out a couple of big contracts in the near future.
Dak Prescott is a year away from becoming a free agent, and Dallas is expected to lock him into a long-term deal that will make him one of the highest-paid quarterbacks in football. Ezekiel Elliott is also set to hit the open market in 2020, and the Cowboys might have to give him an extension similar to the $60 million contract Todd Gurley signed last year.
Defensive end DeMarcus Lawrence was recently franchised by Dallas for a second straight year. He didn't sign the long-term deal he was hoping to get, though the Cowboys will pay him $20.5 million for the 2019 NFL season.
If the Cowboys didn't give Lawrence a lengthy deal and won't go $14 million a year for several seasons for Thomas, don't expect them to sign any other big names in free agency.
Thomas had three interceptions and five passes defensed in four games last season before suffering a broken leg. He made the Pro Bowl six times from 2011-2017.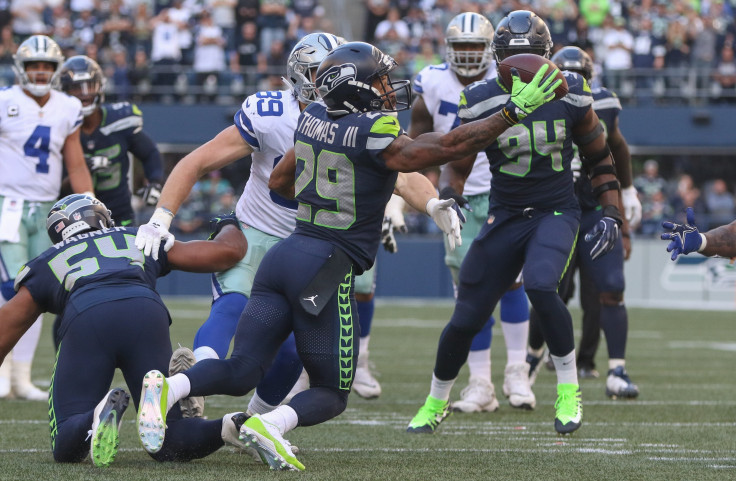 © Copyright IBTimes 2023. All rights reserved.